The Talent Pool is a place to store and communicate with candidates you are nurturing for future roles. There are two stages in the Talent Pool: Sourced and Applied.
Sourced candidates: found through People Search, uploaded or referred
Applied candidates: emailed their resume as a speculative application (see below for further details)
To comply with data protection laws (e.g. GDPR) Workable recommends that you reach out to candidates as soon as they are added to your Talent Pool. Find out more about candidate sourcing and complying with the GDPR.
Interact with candidates in the Talent Pool via the toolbar at the top of their profile. All the basic candidate interactions are available, except for interview scheduling. When you have an opening for which a candidate is a good fit, click the Move to job button. You'll be able to select or search for the appropriate job and select the right stage from the dropdown menu.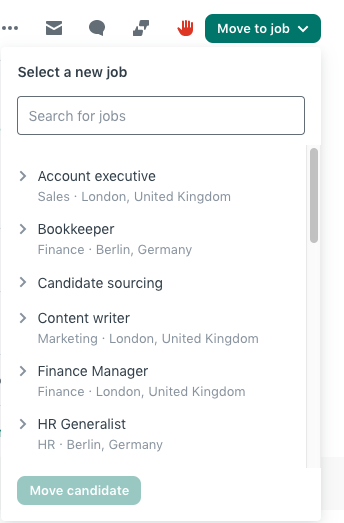 Once moved to a job, candidates cannot be moved back into the Talent Pool, but they can be moved to other active jobs at any time. When a candidate moves from the Talent Pool to a job, their details are searchable and accessible via your candidate database.

Finding the Talent Pool
If your Workable account is new, the Talent Pool will appear automatically when you enable speculative applications or setup your first job.
If you already have jobs on your account, the Talent Pool will appear at the bottom of the main jobs dashboard.

To pin Talent Pool to the top of the page, click the star.

Click on "Talent Pool" to access its candidates.

Talent Pool access rights
The Talent Pool is available for all Workable plans. By default, all the users on your account can access it. This means that:
All account members have access to everything in the Talent Pool; every candidate profile and any comments made by other users.
Every Workable user in your account can access the Talent Pool to upload, refer and interact with candidates.
Non-admin users will not be able to view comments that have been set as 'visible to hiring managers'. To add sensitive or confidential information to a candidate in the Talent Pool, set the visibility to 'Hiring managers only'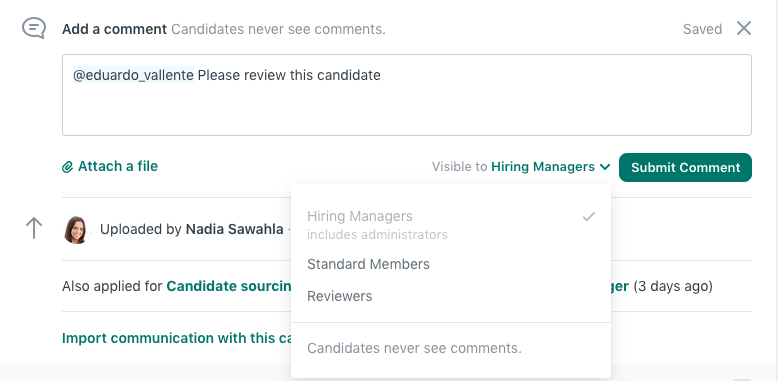 External recruiters can access the Talent Pool, but will only ever see the candidates they have uploaded. They will not see applied candidates or candidates that you and your team have sourced.
It is also possible to restrict access to the Talent Pool to Super Admins and Recruiting Admins only.

Enabling speculative applications
When candidates have taken the time to visit your careers page it shows a high level of intent. To make the most of this and stay in touch with those most enthusiastic about your organization, enable speculative applications on your account.
Click your profile icon in the upper right of Workable and select Company Profile (you must be a Super Admin to do this).
At the bottom of the Company Profile, set the Speculative Applications switch to ON.

The information in the text box will be added to your Workable-hosted careers page (yoursubdomain.workable.com). Edit the information to suit your employer brand. The only required text is the 'account mailbox' placeholder. Add this placeholder by clicking the * icon at the top of the text box. The placeholder will show the email address to which candidates should send their resume. The mailbox address is based on your own subdomain: subdomain@jobs.workablemail.com
The subdomain can be modified in the Company Profile section of Workable.
If you host your careers page on your own website, simply include your account mailbox address with information on how the candidate can apply.
Important:
Candidates should only attach their resume to the email
Text in the body of the email will be added to the candidate's profile in Workable as a comment from the candidate
Accepted file types: .pdf, .rtf, .odt, .html, .doc and .docx
As with every application made through Workable, candidates who send a speculative application will receive an automatic confirmation email when their application has been successfully received. Additionally, if you've enabled EEO (available with a Workable Pro/Enterprise plan) applicants will receive an email reply with an option to fill out the survey.
To comply with data protection laws (e.g. GDPR) Workable recommends that you reach out to candidates as soon as you receive their speculative application. Find out more.

Adding Sourced candidates
Upload
To upload a candidate's resume, hover over the Talent Pool on the main dashboard. Alternatively, when viewing the Talent Pool, click Add Candidates in the upper right.
Important: If the candidate already exists in your account they will be skipped during the upload. You'll be alerted and can choose to add the candidate to the Talent Pool anyway if desired.


Refer
To refer candidates, hover over the Talent Pool on the main dashboard. Search for the person you want to refer by name or email to easily add them to the Talent Pool. If you can't find the person you're looking for an option to manually add them will appear.

People Search
When you source candidates with People Search you can add them directly to your Talent Pool. Search for people by name or by skills/keywords. Select the Talent Pool (or a job on your account) and click the + button to add their profile to your account.
Learn more about using People Search.

Email from Workable user
Your Talent Pool has an email address associated with it, much like the job mailboxes that are generated when you create jobs in Workable.
This email address is yoursubdomain@jobs.workablemail.com. Your subdomain can be found by clicking on your user icon in the upper right of Workable and navigating to Company Profile (you must be a Super Admin to do this).
Account members can send an email to this address with resumes attached. Workable will parse all attached files and add them as candidates in your Talent Pool. Content in the body of the email will be added as a comment.
Important: You should only attach resumes when adding candidates via email. If a cover letter is also attached it will be parsed and added as an extra candidate.

Manual entry
To manually add a candidate, access the Talent Pool and click Add Candidates in the upper right.