At this time Workable only integrates with US Dice accounts, but you can still post to Dice UK through Workable.
To get started, sign in to Workable:
Click your profile icon in the upper right, click on 'Settings' and navigate to Integrations
Locate Dice in the list of Job board integrations and click on it
Paste your Dice ID in the relevant field (if you don't have it you will need to contact your Dice account representative)
Enter your username and password to verify your account
Select your posting type (subscription or classified)
Click Update Settings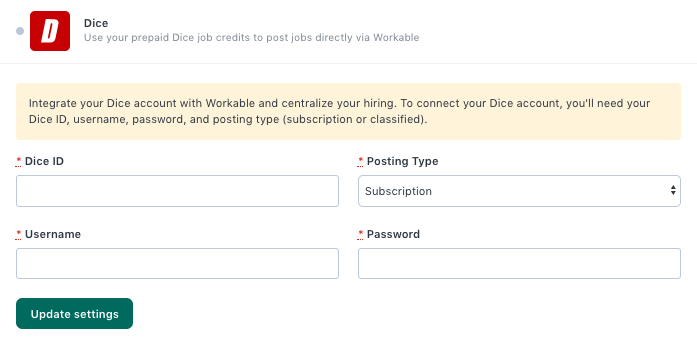 That's it! Your accounts will now be integrated.

Posting your jobs to Dice (US) from Workable
Click on the Find Candidates button on the jobs dashboard, select Premium Job Boards, locate Dice (US) and choose Use recruiter account on it to confirm that you want to use a job slot for that job.
Once published, you can edit your job's details by clicking the cogwheel button on the card and add further details or edit the available information to target your job more effectively for this board.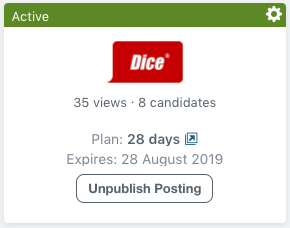 Important: In order to post to Dice, it is a requirement that you add at least one keyword in the job editor.