You can share a link to a candidate's profile with people outside of your account. You may want to do this for reference checking or for coworkers' feedback requests without giving them access to all candidates for a job. 
Note: The sharing link will be available to view by anyone you send it to. Take care not to use the link in emails or calendar invites that include the candidate as they would be able to see internal feedback and comments.
To share a candidate's info with someone outside of your Workable account:
Click the three dots in the candidate toolbar
Select Share Candidate


Options will appear to share by directly sending an email through Workable, or generating a link to share however you'd like.

Select the permissions that you'd like to give to the people you're sharing the candidate with. They can add comments which will be included in the candidate's Timeline.
You can share the candidate's entire Timeline and evaluation history. Turn 'Show timeline and evaluation' OFF if you only want people to see the candidate's resume.
You can also share the candidate's Workable Video Interview (if there is one).
Click Preview to see exactly what you'll be sending to the people you'll share with.
In mobile, you can share candidate profiles from the menu in the candidate profile.
Managing candidate links
To update or revoke access rights, click the option to 'Manage the candidate links you've shared'. 

Revoke access from specific people to whom you've sent candidate information. You can also update the commenting and Timeline visibility permissions by clicking the speech bubble or list icons to the left of the link.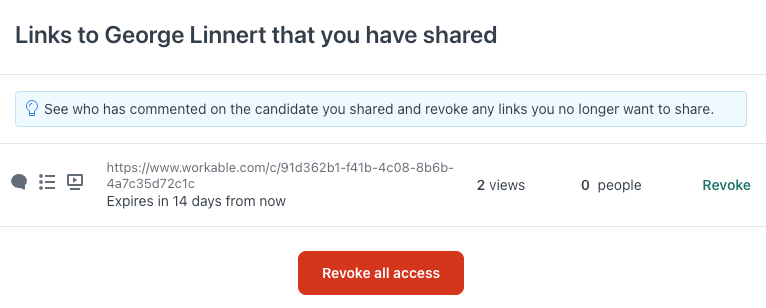 ⚠️ Access to anything that you share will expire after 14 days automatically.
Disabling the feature
Our team can manually disable the feature for the entire account if a Super Admin contacts us. When the share candidate feature is disabled, all members of your account will lose the ability to perform the share candidate action.
Any candidate profile links shared via email or link will no longer work and will redirect to the Workable main page. 
In case you choose to re-enable the feature, our team is able to do so at any point.