All users
except Reviewers
All plans
Occasionally you'll find a great candidate who is interested in talking—just not right now. When this happens, you can snooze the candidate and set a reminder to contact them at a future date.
Snoozing a candidate is also useful for people who have applied, but aren't the right fit just now, or for people who are still studying but will be qualifying soon.
To snooze a candidate and set a reminder to contact them again, click the three dots on the candidate toolbar and select Snooze Candidate.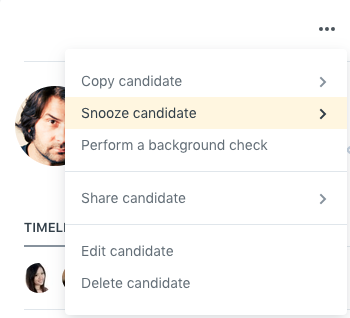 Set a date for when the candidate will 'wake up'. On this date you'll receive an email notification, as well as a notification in your Workable inbox, even if the candidate has been archived.
Choose the number of months for which to snooze the candidate or select 'snooze until...' to choose a specific date. Any notes you add will be included on the candidate's Timeline.
Click Snooze Candidate to finalize the reminder. The candidate will be placed at the bottom of the list of qualified candidates, grayed out with a Zzz icon.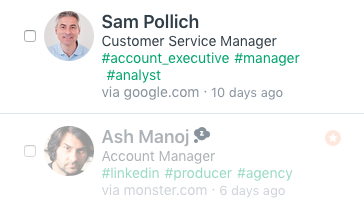 You can still access their profile at any time and continue to leave comments or interact with the candidate if necessary. Unsnooze the candidate early by clicking the three dots in the toolbar and selecting Unsnooze Candidate.