Best for: Pre-employment screening checks - Identity Verification, education, driver checks, etc.
Regions: US
Features: Initiate a background check on a candidate and receive results in Workable
Support: Help center, Submit a Request or start a conversation with Checkr's chatbot at the bottom right of any page on their site
Checkr provides modern and compliant background checks for global enterprises and startups in the US. With Checkr companies can better understand the dynamics of the changing workforce, bring transparency and fairness to their hiring, and ultimately build a better future for workers.
Setting up the integration
You will need to be a Super Admin to set up the integration. To get started, sign in to Workable:
Click your profile icon in the upper right, click on 'Settings' and navigate to Integrations
Locate Checkr in the list of Background checks integrations and click on it
Select Connect to Checkr

A new window will open asking you to Sign Up or Sign In:
If you are already a Checkr customer, select Sign In to connect your current Checkr account to Workable.
If you are not a current Checkr customer, select Sign Up to create a free Checkr account. Add your name and company contact details together with your credentialing information.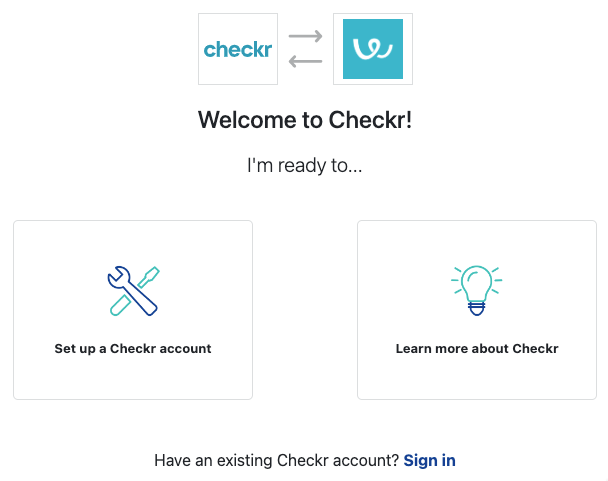 Once you've filled in your details, Checkr performs a quick review and finalizes the integration with Workable. If there is an issue during the review (like a typo in the company name) Checkr will reach out to you immediately to assist. This process typically takes 1-2 business days.
Performing a background check
Once the integration setup is complete, you'll now be able to seamlessly perform background checks on candidates.
If the candidate is in the Offer or Hired stage click the magnifying glass button in the toolbar. For other stages, click the three dots and select the background check option.

If you have set up an account hierarchy in Checkr, you will be requested to add the 2-letter state code (for example, AL for Alabama) and your account hierarchy node.

Select the background check level/package you wish to run for this candidate.

Once ready click Place your order. All orders placed through the Workable integration will be billed directly by Checkr.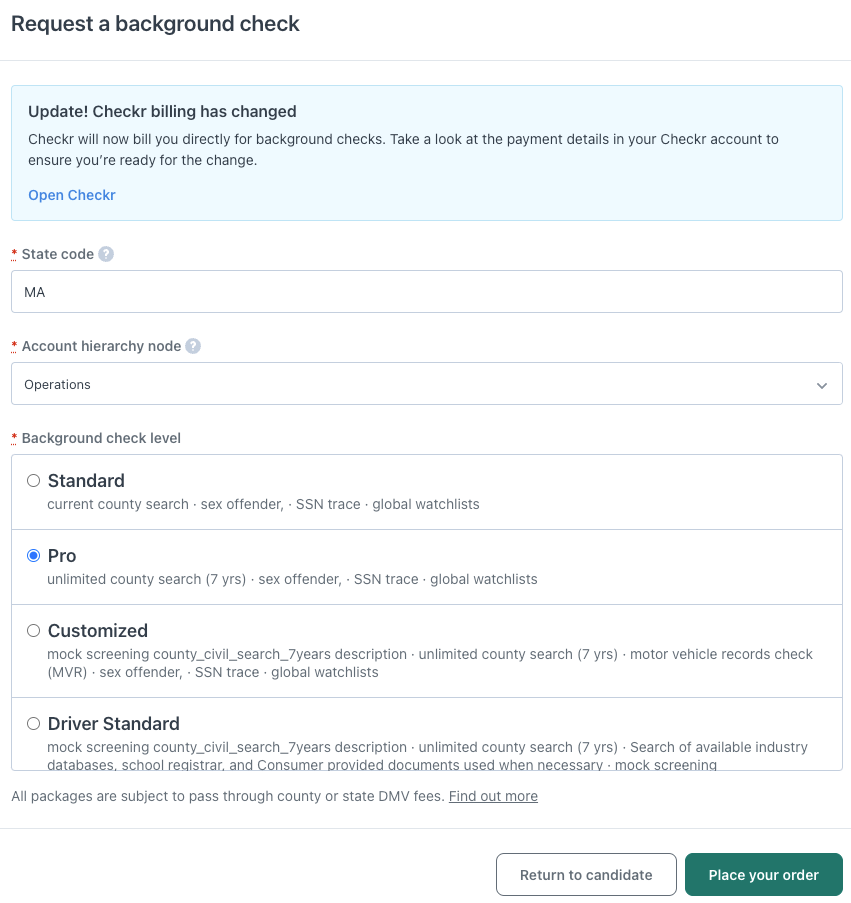 Most background checks will be completed within 24 hours, but the time to complete can vary, depending on the type of check ordered, the geographic location of the candidate, and/or county courthouse operations.
FAQs