Bulk emails help you save time by sending the same email to multiple candidates at once. This is most useful for sending information about the job to your sourced candidates or notifying disqualified candidates about the result of their application.
Notes:
Candidates will not see the other addresses that the email has been sent to - it works like BCC in a regular email.
For better delivery rates, we recommend sending bulk emails in batches of 100-200 at a time. If you are using Gmail the daily sending limits are: 500 (free account) & 2000 (paid account).
Bulk texting is available with Workable's Texting premium tool.
Choosing the recipients of the message
You can send mass emails to candidates who are in the same stage for a job.
Go to the appropriate stage in the pipeline (e.g. "Sourced") containing the candidates you'd like to email
Select the candidates you'd like to email using the checkbox by their name
A bulk actions menu will appear. Click it and select the option to Send bulk emails (or bulk text messages with the Texting premium tool). This will open a form where you can choose what you'll send to the candidates.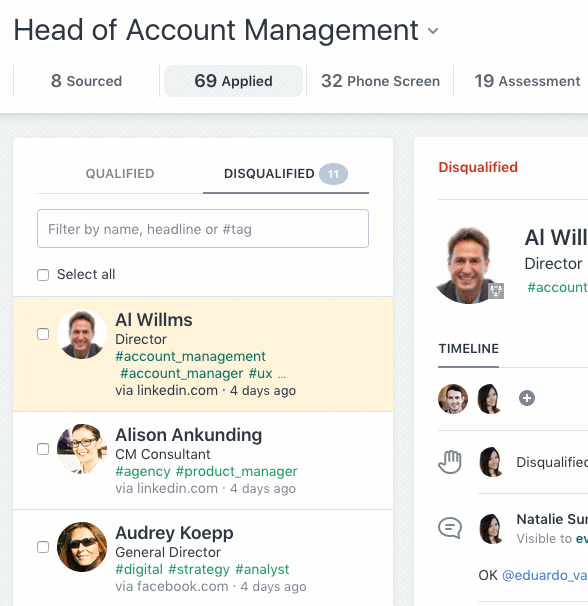 Editing and sending the emails
Mass emails work in a similar way to regular email in Workable; no matter how many candidates you're sending to, you can use templates, attachments and all the other features you're familiar with.
For emails, candidates will not see the other addresses that the email has been sent to - it works like BCC in a regular email. For texts, each selected candidate is texted individually. They are not as a group and cannot see others' numbers or messages.
Unlike sending a single message to one candidate, followers are not copied on bulk emails.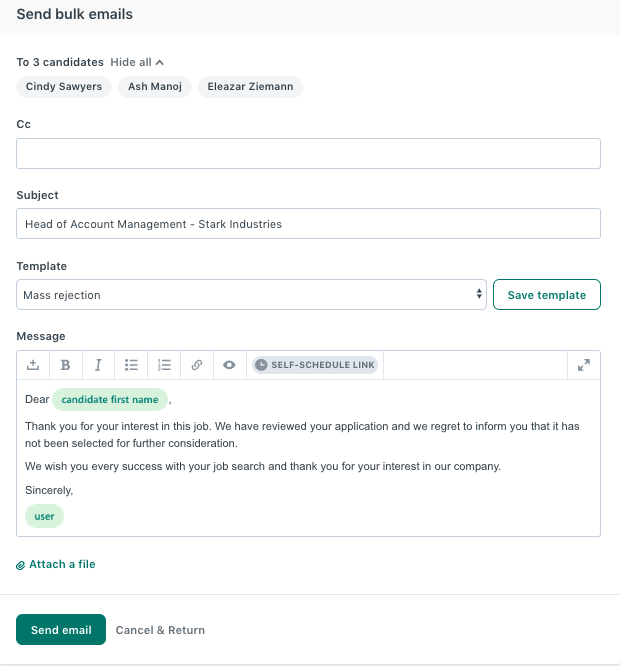 Visibility of bulk emails
Mass emails retain the visibility of the most recent message that was sent to the candidate. This means that, even if sent to multiple candidates, each email will have the visibility settings of the particular Timeline. If this is the first message to a candidate, or the visibility was set to "Everyone", the visibility of the bulk message to that particular candidate will be set to "Visible to all" by default.
If the most recent message on a candidate's Timeline has limited visibility, the bulk message sent to that candidate will also have limited visibility.
You can always update the visibility of the messages on the candidate's Timeline directly, or set the Confidential zone to keep the bulk messages private by default.

Duplicate detection
If you're using a template to email multiple candidates (e.g. if you've created a personalized rejection template), Workable will detect candidates who have already received the template, to help prevent it from being sent twice. This works on a job basis and not generally for the entire account.
Note: The duplicate detection will only work with templates. We strongly recommend creating and using templates for the most frequent types of communication.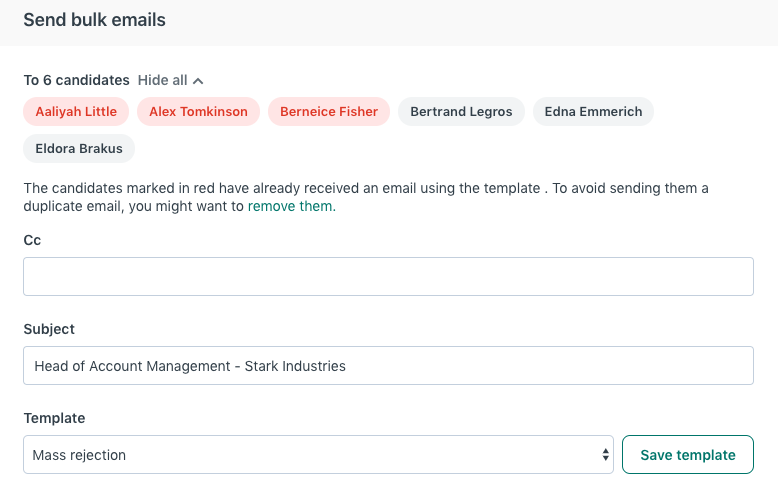 For example, if you send out emails in bulk using a "mass rejection" template, any candidates who have received this template already (under this job) will have their names highlighted in red. A link will appear to remove them. Click the link to leave only the candidates who have not yet received an email using this template.
Alerts for bulk texting
If a candidate in a bulk text has not provided their consent to be texted, or if they have opted out from text messages then an error is displayed. The candidate can be unselected individually.
If there is no phone number for the candidate on their profile, an error is also displayed. Remove the candidate from the bulk message individually or edit their profile to add their number in the Phone Number field.