Key info: Shows the activity of your hiring team and tracks actions taken by members
Data filter: Includes data based on the user activity date (e.g. the timestamp on a comment)
Update frequency: Every 6 hours
To access the report, click on the pie chart icon in the navigation bar to visit the Reports page. Use the drop-down options to filter the report and specify the desired timeframe.

At the top of the report, you'll see a dashboard, breaking down your hiring team's activity. For every action you will see two numbers:
The number of actions taken within the given timeframe
The percentage difference in activity between the current and previous time period; eg. filtering the report for this month, the system will compare this month with the previous month. Similarly, when filtering for this week, the system will compare this week with the previous week.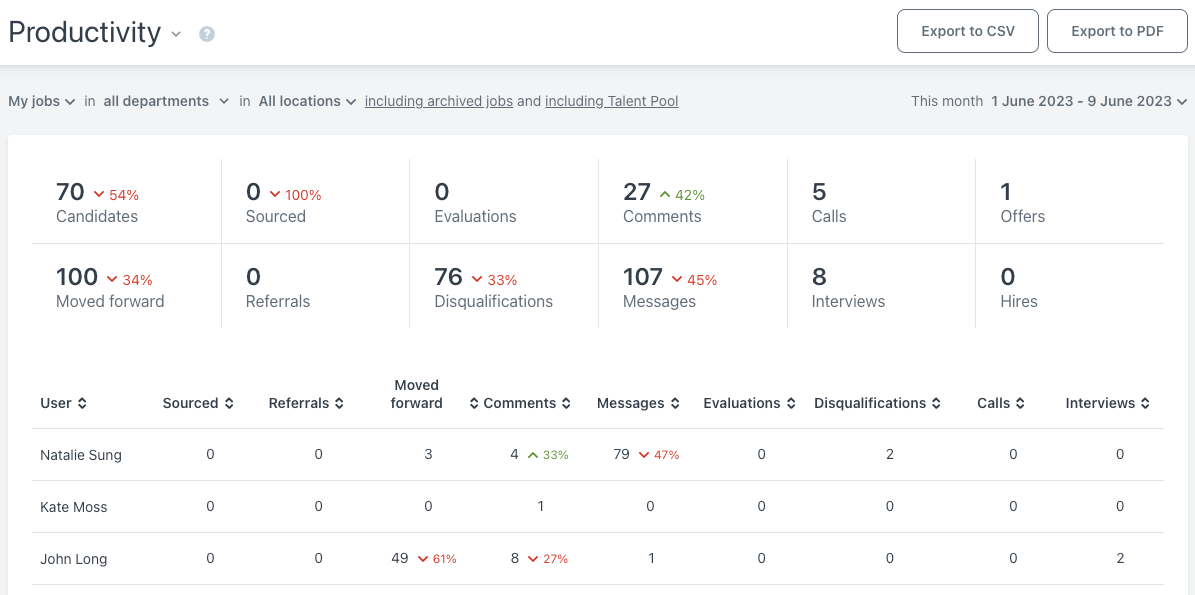 Candidates will count the total number of candidates who applied and/or were sourced during the specified period.
Interviews and calls will count the number of events that were created within the filtered timeframe, which may not equal the number of events that took place. If an interview was first scheduled in September to take place in October, you would need to filter the report dates to include September to have that event counted.
Note: We count the number of interviews/calls you were an attendee of and not the ones you just scheduled for other attendees.
Messages will count both emails and text messages.❗Bulk emails and bulk text messages are not calculated here.
Offers is tracked by the action of moving a candidate to the Offer stage.
The number of hires is tracked by the action of moving a candidate to the Hired stage and intends to represent the work associated with wrapping up the recruiting process. If a candidate is moved repeatedly into the Hired stage, they can be counted in this statistic multiple times.💡To review reports on individual hires reports like Time To Hire and Historic Pipeline are best.
Underneath the chart, you'll see a table outlining each of your hiring team members' activities. Arrange data in ascending or descending order by selecting the arrows at the top of each column.