When you setup a job in Workable a custom shortlink and mailbox will be created for that job. These links can used to post to boards outside of the Workable network.
The shortlink and mailbox address are located in the Find Candidates tab of the job editor.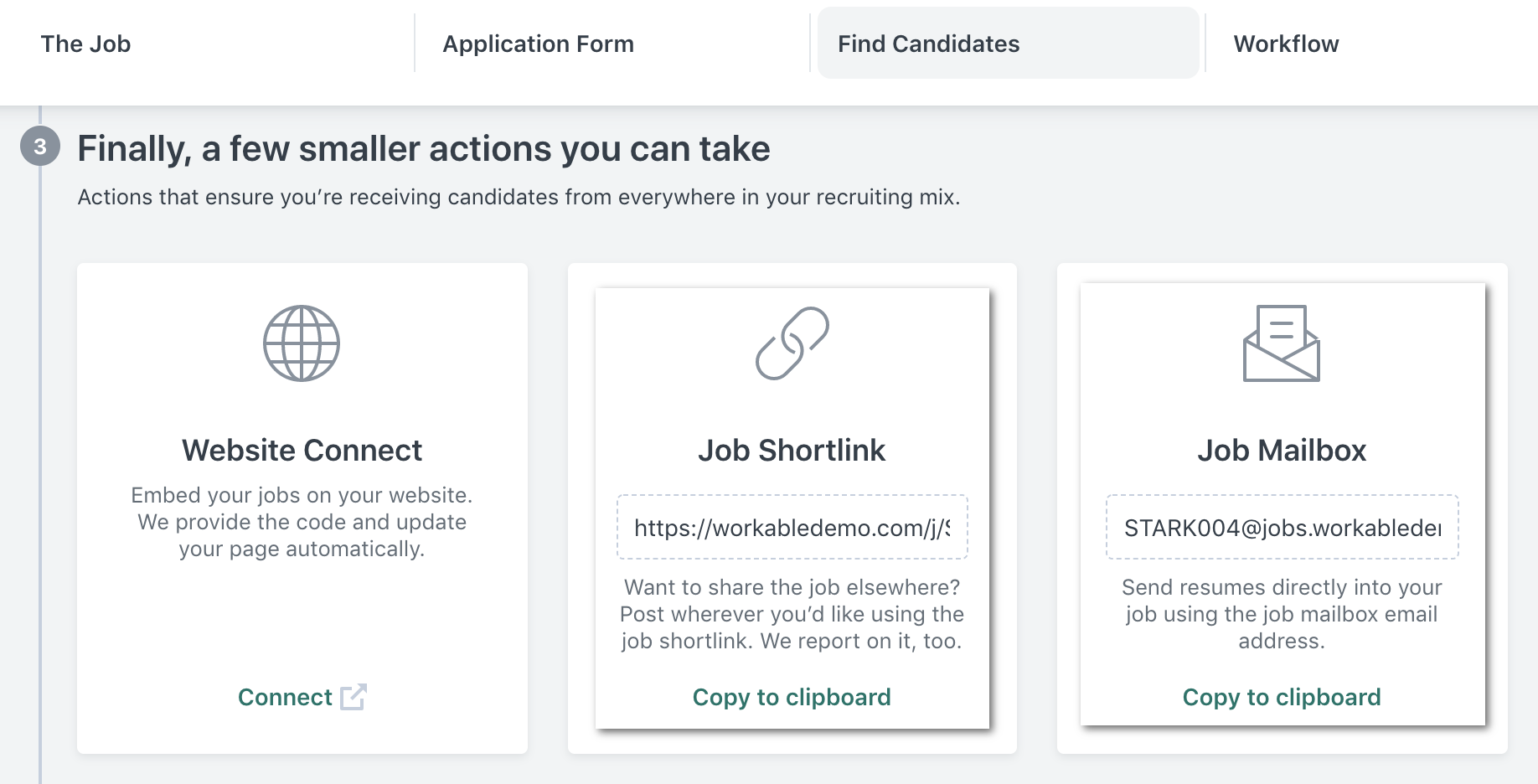 Using the job shortlink
The job shortlink links to this specific published position on your Workable careers page. When you unpublish the job the link is automatically deactivated. This link can be used in the following ways:
Copy and paste the link to share on social and professional networks or with contacts via email.
Insert the link into job posts that you create on any job board outside the Workable network. Either paste it into the job description text, or in the separate field some boards provide specifically for directing candidates to your website to apply.
Using the job mailbox
The job mailbox is an email address created specifically for this position (whether it's published or internal only). The mailbox works in two main ways:
1) For candidates: Candidates can email a resume to the job mailbox in the following formats: .pdf, .rtf, .odt, .doc & .docx
Resumes will be uploaded directly to the applied stage of the pipeline to create a candidate profile
Information contained in the resume is automatically extracted (parsed) and added to the profile as structured data (e.g. Name, Address, etc)
If the applicant has included a message in the email, this will be added as a comment in the candidate's timeline.
If you've set this as a recruiting preference (via your account settings), Workable will also look up the candidate on social media to grab their photo and links to their public social profiles (e.g. LinkedIn, Twitter etc).
Note: Candidates should only attach one file to their email.
2) For hiring team members or recruiters: Account members and recruiters can send multiple resumes (accepted filetypes: .pdf, .rtf, .odt, .doc & .docx) attached to one email and a candidate profile will be created for every resume. Members and recruiters must send resumes from the same email address used to login to Workable.
Note: Content in the body of the email from team members or recruiters will be uploaded as a comment and added to every candidate profile when resumes are sent in bulk. If a team member or recruiter wishes to email a different comment for each candidate, they should send a separate emails with an individual resume attachment for each.
After sending an email to this address an email auto-response is sent to confirm that new candidates have been added to Workable.