Admins and standard access members on your account are able to create jobs in Workable. Start by clicking Create a New Job in the upper right of the main job dashboard.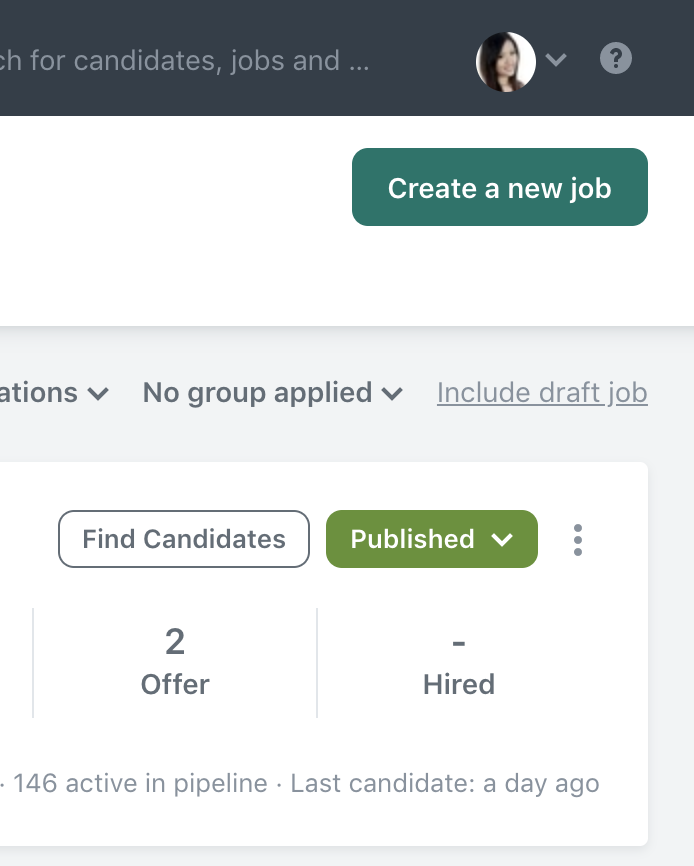 Job title and department details
As you type, a wide range of job titles are auto-suggested. These are common job titles – and the ones most likely to be searched by potential candidates on job boards. Avoid using all capital letters, jargon, special characters, or eye-catching terms ('Ninja', 'Guru') as this can impact the visibility of the job in search results.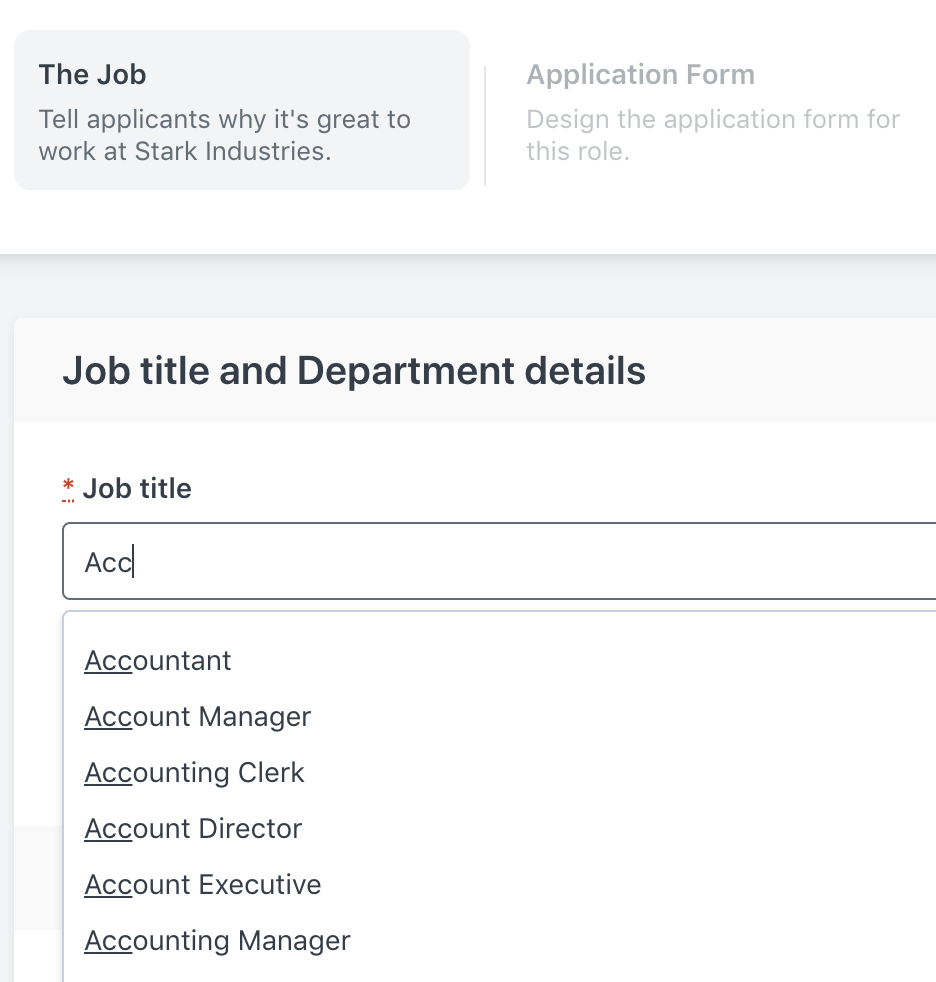 Next, select one of the departments added to your account from the dropdown menu. This will impact the filtering options on the main dashboard and in reports, the department name shown on your careers page, and any feature segmenting by department. Super Admins can add new departments by visiting the Departments settings page.
Job location
You can create jobs that may be on-site, hybrid, or remote.
On-site jobs: a city is required under the 'Office location' field
Hybrid jobs: a city is required under the 'Office location' field
Remote jobs: at least a country (or state) is required under the 'Employee location' field; you can choose to show or hide the location on your careers page.
Locations will be auto-suggested as you type. In case the location is not available in the list, click "Add it manually" and fill in the details.
💡Learn more about workplaces and their impact on job boards here. 

Job description
Job boards have their own guidelines for jobs that they will accept so make sure you follow them to ensure that your job gets approved for posting on all available boards.
Fill out the job description, requirements, and benefits. The information included in these sections will form your public-facing job advert. This is your chance to explain to potential candidates what the job involves. You'll see a short list of tips on the right-hand side of your page. Take note of these as they will help speed up the job board review process.
You can choose to generate your job description with AI. The generated text is still editable. When you generate with AI, we look for similar jobs you've created in the past and use the data to create content that's impactful, accurate, and personalized to your company. Once your job description is generated, you can regenerate, selecting the tone of voice (formal/friendly/engaging) to suit your needs. You can also revert to previous versions of the description or clear all sections. 

Format the text in your description using the toolbar. You can add images and text emphasis to give it some flair.
Images and embedded links may not appear on job board posts, but will always appear on your careers page. Important links (e.g. a link to a GDPR or privacy policy) should be copied and pasted into the description as normal text.
Job targeting details
At the bottom of the page, you'll see a short section with the information required to better target your job post. These include Industry, Function, Salary, Employment type, etc. To speed up the process, these will be auto-filled where possible, but remain fully editable. 
The fields here map to filtering options on the job board. Completing these fields helps qualified candidates find your job more easily.


'Save draft' or 'Save & Continue'
After completing the fields, you'll see two options at the end of the page.
Save draft: choose this option if you need other members of your team to feedback on the job before it's published, or you need to stop working on the job before it's complete. The draft will be saved and accessible via the link at the top right of the main dashboard. 

Save & continue: choose this option to continue to the next step: creating an application form.
Job publication
Once ready you'll see the option to 'Publish' the job at the top right. Depending on how you like to hire, there are multiple publishing options. 
Admin users
Only Super Admins (and recruiting admins for their assigned department(s)/location(s)) are able to publish jobs. 
Your jobs will be available right away on your Workable careers page
For free job boards, the job will enter the review queue, where our experienced specialists will check it so that matches the job posting guidelines. The review will usually only take a few hours and will be expedited once your jobs consistently pass the review process.

Make sure you check our 

Job board initialization guide

.
Standard access users
Once you click 'Publish' you will be prompted to send a publish request to an admin user. The jobs will be stored as drafts until an admin reviews them.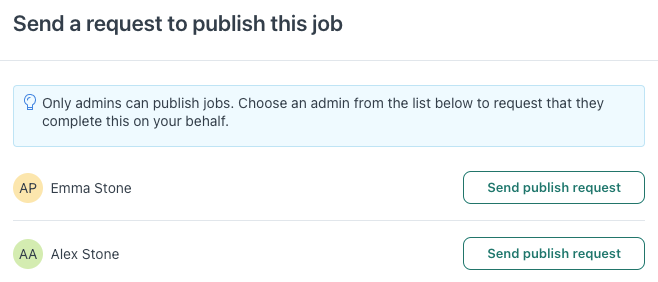 Note: It takes up to 36 hours after the jobs are approved in Workable before they are published on job boards as each of the boards goes through its own internal review process.