A recruiting pipeline is a process that your company uses to hire. A pipeline is made up of stages like "Phone Screen", "Assessment" and "Offer". This article outlines how to manage pipelines, take action to add/delete stages, move stages and more.
💡Additional Resources

Manage the recruiting pipeline
Select your profile icon in the upper right of Workable and navigate to Settings > Workflow. Your pipeline settings will be at the top of the page.

View an overview of the stages, set the Confidential Zone and click Edit to adjust the pipeline. Editing the pipeline will impact all jobs that are using or have used that pipeline.
There are two ways to manage the recruiting pipeline:
Use one pipeline, which will be applied to all jobs. Have candidates skip stages as needed. Modify stages with unique assessments and interview questions on a per job basis.
Use multiple pipelines for different types of jobs. All pipelines must fit into an overall "reporting pipeline".
The options in this article apply to either method.
Important: If you use multiple pipelines, it is not recommended to frequently adjust the reporting pipeline. Most changes should be made to specific pipelines instead. Changes to the reporting pipeline impact all pipelines.
Create multiple pipelines
You can add multiple pipelines for different types of jobs.
Pipelines should have broad applications so that they can be reused and typically are not unique to every single job. For example, you might create one pipeline for all "Associate" level jobs and another for all "Manager" level jobs.
When you create a job post you'll select which pipeline to use for that job.
All pipelines must fit into an overall "reporting pipeline". In the below example, the stages 'Technical Interview' and 'VP Interview' fit into the 'Interview' stage of the reporting pipeline.

View our pipeline best practices to learn more about how to design pipelines.
The very first time you create an additional pipeline, the current recruiting pipeline will be converted into a regular pipeline too. This will maintain the pipeline used for any jobs already in your account.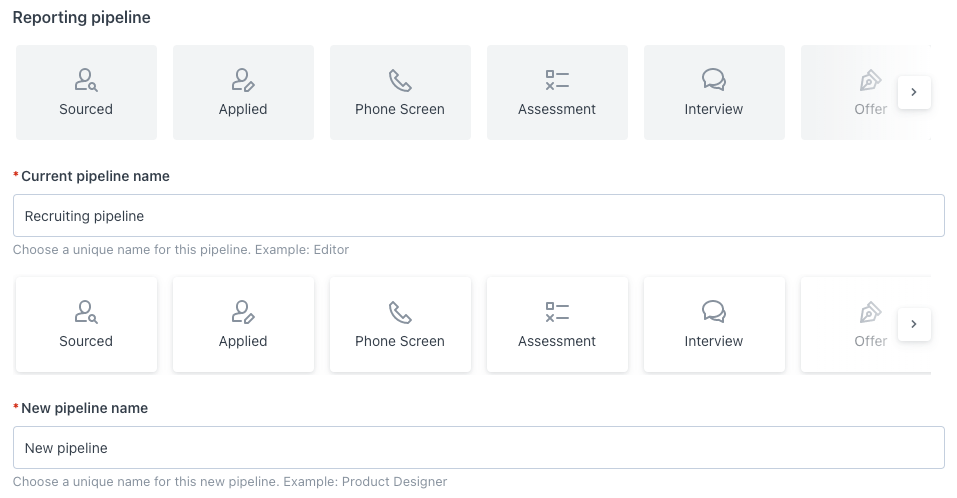 Set a name for both the "current pipeline" and the "new pipeline" you're creating, then save it. This will save both pipelines and make them available for further editing and customization.
Add stages to the new pipeline (see below) to build out its process. Adjustments can be made to any pipeline at any time as detailed below.
Manage stages
Add a stage

Pipelines can have a maximum of 32 stages but the most effective pipelines are 12 stages or less.

With a single pipeline, edit the pipeline and simply add stages as needed. The same pipeline will be used for all jobs.
With multiple pipelines, select the specific pipeline you want to edit. You'll add a stage within a reporting pipeline stage.

In this example with multiple pipelines, the reporting pipeline has a stage called "Phone Screen". We want to add a new stage to one of our job-specific pipelines.

To modify our "Engineering pipeline" specifically, we edit the Engineering pipeline (not the reporting pipeline itself). Then we add a stage that is mapped to a reporting pipeline stage -- in this case, "Phone Screen".

Adding stages to the reporting pipeline will have the impact of making a new mapping group available to all pipelines. For example, if we add an "Assessment" stage to the reporting pipeline, we could then edit any of our individual pipelines to map new stages to Assessment. Adding a reporting pipeline stage does not automatically add stages to specific pipelines.

Important: Avoid frequent changes to the reporting pipeline as they impact all pipelines in your account. Only add to the reporting pipeline if you want a new mapping stage for reporting purposes.

Stage types

When you're adding a new stage, in addition to a name, you must select a 'type'.

The stage type will match an icon to the stage, which is used on candidate timelines and in reporting, as well as change some of the functionality when interacting with candidates in the stage.

Phone Screen, Assessment, Interview: Most common stage types. Take all standard candidate actions, plus set up unique interview kits, assessments and video interviews for each job as needed.
Shortlisted: Use to separate stand-out candidates into their own stage. Take all standard candidates actions. Cannot add interview kits, assessments or video interviews to this stage type.
Offer: Send offer letter e-signature requests and take candidate actions, excluding evaluations.
Hired: Final pipeline stage. Candidates in this stage have accepted an offer. They may be exported to an HRIS. We recommend only using 1 Hired stage and not adding further stages after Hired.
Sourced/Applied: These stage types cannot be modified. They represent the first step in the hiring process.

The type of stage used for the reporting pipeline will dictate what stage types can be mapped within that stage.

For example, when mapping a stage to the "Assessment" part of our reporting pipeline, the stage type is limited to Phone Screen, Assessment and Interview.
Change stage type

On the Settings > Workflow page, edit a pipeline and select the stage you wish to edit. Use the dropdown menu to change the stage type.

Changing the stage type will update visual aspects including colors and highlights used in reporting, as well as the icons used when viewing the pipeline.

If a stage has already been used to add an assessment, video interview or interview kit, then its type can only be swapped between Phone Screen, Assessment, and Interview.

If an offer has been sent out in an Offer stage, its type cannot be changed to Hired.
Reorder stages

Edit a pipeline and drag and drop stages to reorder them.

When reordering the reporting pipeline, any pipelines with stages that map up into the reporting stage will be moved too. We do not typically recommend reordering the reporting pipeline unless you intend to impact all pipelines.

If you have multiple pipelines, when moving stages you may need to change how it maps to the reporting pipeline.

In this example, we are reordering stages and want to move "Interview with Hiring Manager" to the "Assessment" part of our reporting pipeline. Selecting Change Mapping lets us move the stage out of the "Phone Screen" group.

The type of stage used will dictate where a stage can be mapped. For example, an evaluation has been added to an Interview stage, then it cannot be remapped to an Offer stage.
Delete a stage

Edit a pipeline, hover on the stage and choose the Delete option.

A process will appear with 4 steps to be reviewed. If a step is not applicable (for example, if there are no automated actions), it will be skipped automatically.

Evaluation Methods: Highlights evaluation forms (Interview Kits and Video Interview questions) that will be removed from the job. Saved evaluations, assessments and video interviews on candidate profiles are not impacted. This refers only to the setup for Interview Kits and Video Interviews. E.g. you'll need to write a new interview kit form after deleting the stage, unless the questions have been saved to your account as a template.
Automated Actions: Notifies you if any Automated Actions are impacted by stage deletion. E.g. deleting a Phone Screen stage where an email is automatically sent to candidates will cause that automation to be deactivated. After deleting the stage, edit the automation under Settings > Automated Actions as needed. To transfer the Automated Action to a new stage, edit the automation and update the stage for which it triggers.
Candidate Activity: Choose a stage to move candidates to. This will preserve any items that are in progress with candidates (e.g. upcoming events, pending offers, assessments, etc.). Any evaluations on candidate profiles will be turned in comments with all feedback and notes intact.
Overview: Review the previous three steps to confirm the impact on your account.

Immediately after completing this process, Workable will delete the stage and transfer candidate details to the selected stage. Pipeline editing will be disabled for a brief time during this transfer to avoid data conflicts.

Your reporting will be impacted by stage deletion. The deleted stage will no longer be shown in reports and all activity metrics will be moved to the stage selected for Candidate Activity.

Reporting pipeline stages cannot be deleted until all pipeline stages associated with the reporting stage are deleted. You must first edit your pipelines to remove those stages.
Rename a stage

Choose the option to edit the stage and enter a new name. Changes will be reflected across the account immediately.
Deactivating a pipeline
If you won't be using a pipeline anymore you can deactivate it from the Settings > Workflow page. Hover over the pipeline and click Disable.
All data and candidates will be preserved. Once the pipeline is deactivated it will not appear for selection when creating new jobs.
Deactivated pipelines will appear at the bottom of the pipeline list and can be reactivated at any time.
Segmenting pipelines by department and location
With multiple pipelines, editing the pipeline will provide an option to set departments and locations with which that pipeline can be used. When you create a job that matches the departments/locations listed, the pipeline can be selected. If the job does not match, then the pipeline cannot be selected.
This helps to reduce errors and streamline the job creation process. Learn more about organizing features on your account.