When you first start using Workable, your account will be set up with a default recruiting pipeline. It has common recruiting stages used by most companies. You can move, edit and rename these stages to streamline your hiring in the way that works best for you and your team.
Accounts on Workable Growth or Premier plans are able to add multiple custom pipelines. Learn more about the setup and editing process for custom pipelines.

Setting recruiting pipeline stages
Click your profile icon in the upper right of Workable, click on 'Settings' and select Workflow from the menu. Your pipeline settings will be at the top of the page that follows, and look a little like this:

Re-order the stages by dragging and dropping them into your preferred position.
Rename a stage by clicking the name.
Add a new stage by clicking "add new stage" at the top right of the pipeline and enter the name and stage type.

Stage types
When you're creating a new stage, in addition to a name, you must select a 'type' from the dropdown menu.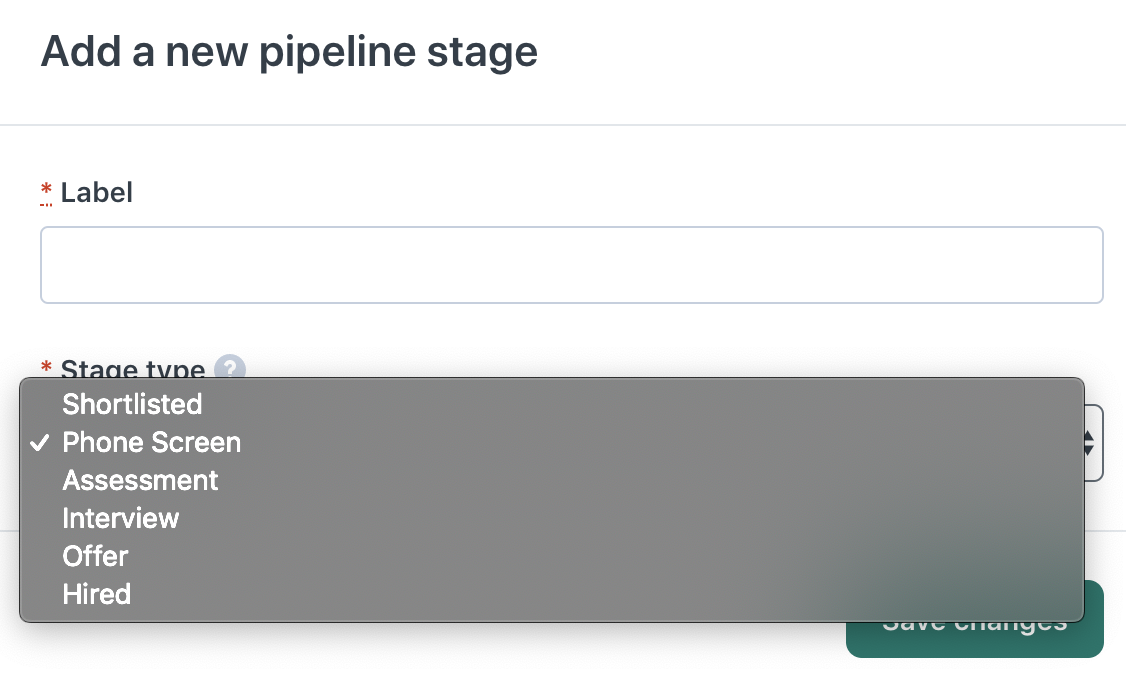 Selecting a stage type will:
match an icon to the stage, to make it clearer on candidate timelines and in reporting
for the phone screen, assessment and interview stages of the hiring pipeline, open up the ability to create interview kits and scorecards
create more accurate reports detailing the flow of candidates, e.g.: how many interviews have taken place this month
You can have multiple stages for each type if needed. For example, 'First', 'Second', 'Third' interview would all be 'interview' stages, and you can create an interview kit for each one.
If you're creating a stage that doesn't match any of the stage types listed, use the generic 'Shortlisted'.

Recommendations for pipeline setup
Keep the Offer and Hired stages at the very end of your pipeline
Do not add 'Rejected' or 'Talent Pool' stages to your pipeline. There are other options already built into Workable for disqualified/rejected candidates and for talent pools. Adding these types of stages may negatively impact your reporting
Think in terms of departments, not specific roles. Your pipeline should be designed to fit a broad spectrum of roles. You can always skip candidates over a stage if it is not relevant for that role

Deleting a stage
To delete a stage, access the recruiting pipeline setting and click on the stage. Click the option to delete the stage.
If you have candidates in that stage, in any of your jobs (including archived jobs), then the stage can't be deleted. The candidates must be moved to a different stage. You may need to unarchive a job and move candidates in bulk.