Best for: Behaviour, Personality, Aptitude, and Emotional Intelligence assessments
Regions: UK & Europe
Features: Send assessments and receive results back in Workable
Support: Help Center, support@thomas.co.uk, +44 (0) 1628 470980
Thomas Perform combines technology, psychology, and data to help businesses to make smarter, more informed people decisions. Thomas generates millions of assessments each year for clients in 140 countries, helping them unleash the power of their people.
When you integrate Workable with Thomas Perform you can send assessments to candidates right from Workable and receive the results back on the candidate's Timeline for the hiring team to review. A link will be included to see the detailed report in your Thomas Perform account.
Setting up the integration
To set the integration up, you should have a Perform account. Start by contacting your dedicated Customer Success Manager and request the API key for your Workable integration. Once you receive the API key, copy it to the clipboard.
In your Workable account:
Click your profile icon in the upper right, click on Settings and navigate to Integrations
Locate Thomas Perform in the list of assessment providers integrations and click on it
Paste the API key in the field
Click Update Settings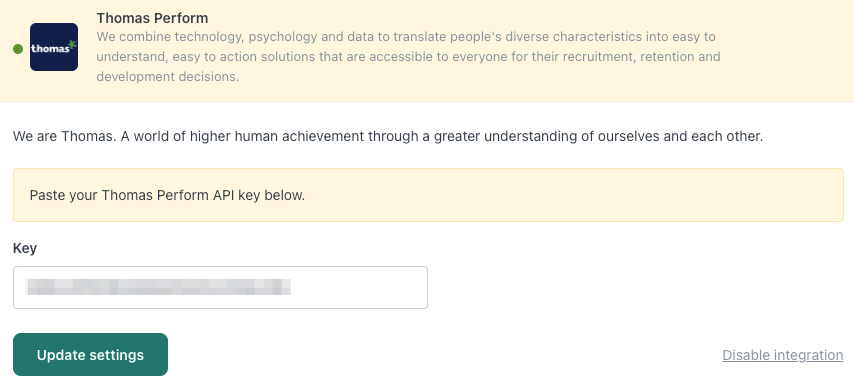 That's it! The connection will be complete and you'll be able to start sending out assessment tests through Workable.
Using the integration
Start by creating a job role in Thomas Perform for the job you are recruiting. Although job titles between platforms don't have to exactly match, this can help you keep your data organized. You can now add Thomas Perform assessments to relevant pipeline stages in the Workflow tab during the job creation process. To do so:
Select Thomas Perform from the list of third-party assessment providers
The Thomas Perform job roles will be displayed. Select the relevant job role and click Save changes.
Send assessments to candidates when they reach a relevant stage and get the results in the candidate's Workable timeline.
After the candidate has completed the assessment, the result will be available in the candidate's timeline along with the full report link. Results will be shown as star ratings (out of 5) for each assessment.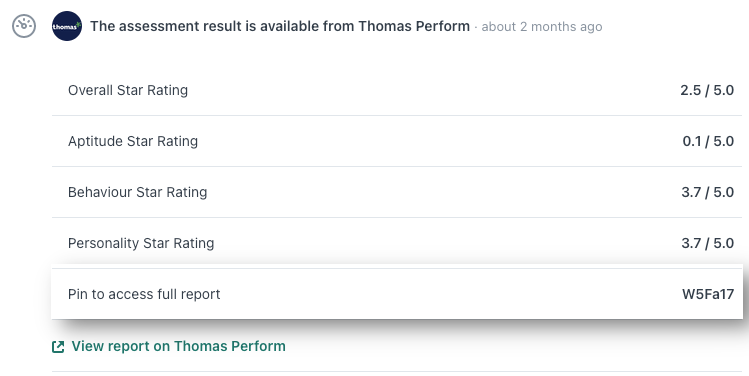 The results link is accessible for 12 months after the assessment completion and can be accessed via a unique pin code that is displayed under the star ratings.