Maintain a record of the progress of your company's onboarding workflows and take action as required. To get started, navigate to the Company page and then click the Onboarding tab. 
📌 The Onboarding page is only visible to HR Admins and Standard members with direct reports; standard access members not managing anyone won't be able to view this page.
Onboarding statuses
According to the status of the onboarding process, each tab corresponds to one of the following: 

Pending: Newly hired draft employees (❗whose start date is after two days or later) will be displayed here in order to assign them to start their onboarding sometime in the future. 
Scheduled: All employees displayed here were assigned an onboarding workflow but this will start at a future date. 
In progress: All employees with an onboarding workflow in progress; workflow has started but not all tasks have been completed. A progress bar will show the percentage of tasks completed and a warning sign will appear when the start date is in the past or is approaching. 
Completed: All active employees that have completed all tasks of their onboarding. Inactive (offboarded) employees won't be included here. 
Incomplete: All employees that haven't completed all their onboarding tasks before their start date. Any completed tasks will be logged normally in their profile.
Starting onboarding
Prerequisite: Prior to starting employee onboarding, configure your onboarding workflows as an HR Admin.
HR Admins can begin the onboarding process for Pending employees by clicking Onboard. In the window that opens:
Select the onboarding workflow that will be applied to the employee. Onboarding workflows available for selection will be those that match the employee's assigned department or are available to employees of any department. 

Choose when this onboarding workflow should begin.

Click Start onboarding and the employee will be moved to Scheduled onboarding status.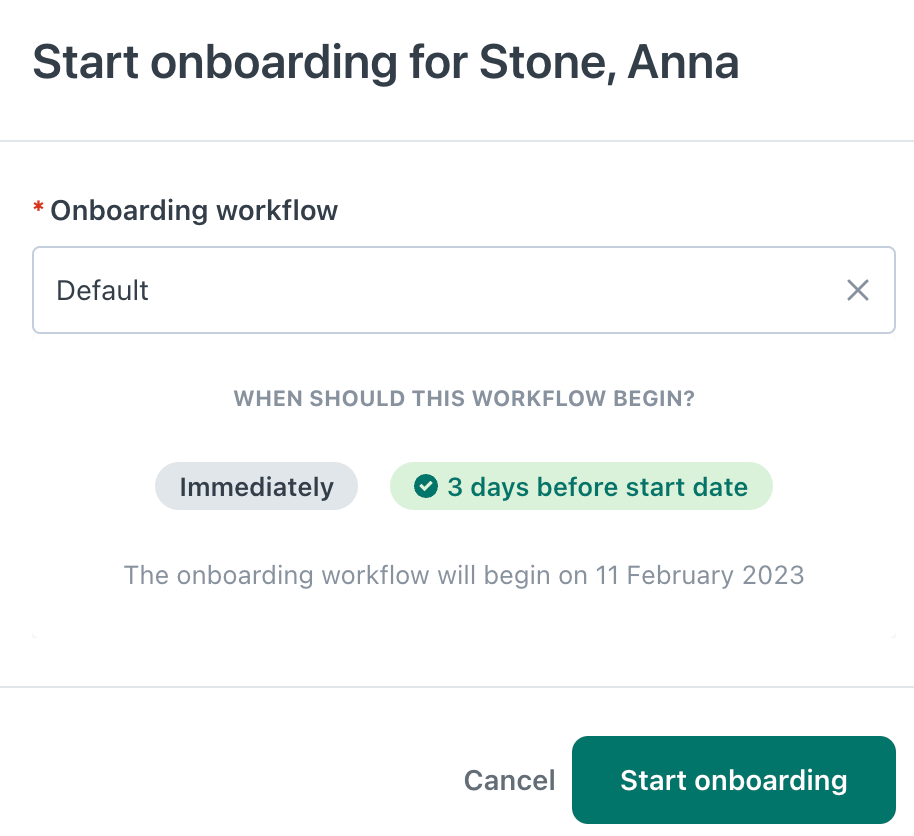 Editing or stopping onboarding 
HR admins can perform specific actions for each employee under the three dots menu. 
Edit onboarding (available for Scheduled employees)
Select a different onboarding workflow and/or change when is the onboarding workflow to begin for this employee.

Stop onboarding (available for Scheduled & In progress employees)
Stop an onboarding workflow that has started (in progress) or remove it from the scheduled list. Upon taking this action, the employee will be moved to Pending onboarding status (if their start date is after two days or later from the date of the action).