Depending on your needs you can either restrict the visibility of comments/emails manually or set a Confidential zone for specific stages of your pipeline. This action works per user type and not per specific member of the hiring team.
Adjust the visibility manually
If you're a Super Admin, Recruiting Admin, or Hiring Manager for a job, you can hide sensitive comments or emails from other collaborators.
Click on 'visible to everyone' to reveal the menu
Uncheck specific user types to hide comments/emails from those users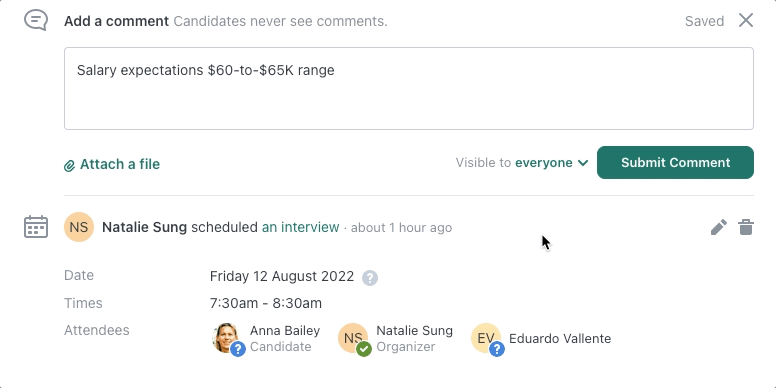 After posting the comment, the visibility will be listed under the commenter's name and will be editable even after the submission. When you set the visibility on a comment, this will become the default visibility option for your comments or emails about that specific candidate.
The visibility setting will also apply to any files that are attached to the comment.

Set a Confidential Zone
For ease of use and consistency, a Super Admin can set a Confidential Zone in your hiring pipeline (typically starts from the very end of the pipeline). Pipeline stages within the Confidential Zone will limit the default visibility for comments and emails to the person posting them, and those with the same or higher level of access. To access this:
Navigate to Settings > Workflow
Just beneath the pipeline stages, you will see padlock icons. Click a padlock icon to add that stage and all following stages to the Confidential Zone.