Best for: Pre-employment screening checks - employment verification, reference checks, etc.
Regions: Worldwide
Features: Initiate a background check on a candidate and receive results in Workable
Support: Help Center, support@veremark.com, +44 (0) 7920 548 515, +65 9789 4233
Veremark minimizes your hiring risks by identifying any compliance or integrity issues in prospective candidates. They deliver clear insight into the employment history, academics, character references, political exposure, criminal records, and a wide range of other checks for companies that want to protect their culture and guarantee the best hiring outcomes.
You can connect your Veremark account to Workable in order to initiate background checks directly from a candidate's profile. You'll receive the results on the candidate's Timeline with a link to view more details when the check is complete.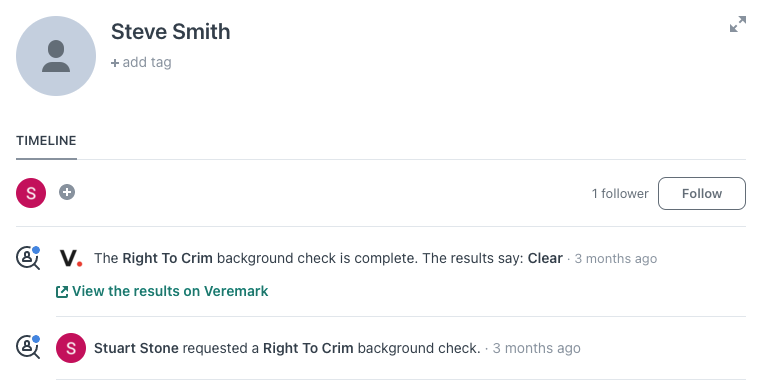 Setting up the integration
To integrate, within your Veremark account, navigate to Settings > Integrations, and click the Workable panel. You will then be provided with an API key which is a long string of random letters and numbers.
With the API key in hand, sign in to Workable:
Click your profile icon in the upper right and navigate to Settings > Integrations
Locate Veremark in the list of background check integrations and click on it
Paste the API key into the field that appears
Click Update settings
That's it! You can now perform background checks based on your Veremark packages.