Best for: Tax credit processing
Features: Automated export of candidates' information and email/text with WOTC form
Support: Website, IT@wotc.com, 212-635-9500
WOTC.com is a Tax Credit Service Provider specializing in both Federal & State corporate tax credits. WOTC.com's software identifies and certifies more eligible applicants by simplifying the process and streamlining the forms required for certification.
By integrating WOTC.com and Workable, Workable candidates who are moved to a specific stage of your process can be automatically exported and receive an email or a text to fill out the WOTC form.
Exported Information
First Name
Last name
Personal email address
Personal phone number
Application date
Address
Prerequisite before setting up the integration: In order to utilize the integration, you must first register for a WOTC.com account. Once the account is created, your WOTC.com Partner Alliance Manager will reach out to confirm the registration. To register, please click here.
Setting up the integration
Start by signing in to Workable:
Click your profile icon in the upper right, click on Settings and navigate to Integrations
Locate WOTC.com in the list of Other integrations and click on it
Click on Generate Token, which will result in a long string of random letters or numbers and can be found in the field below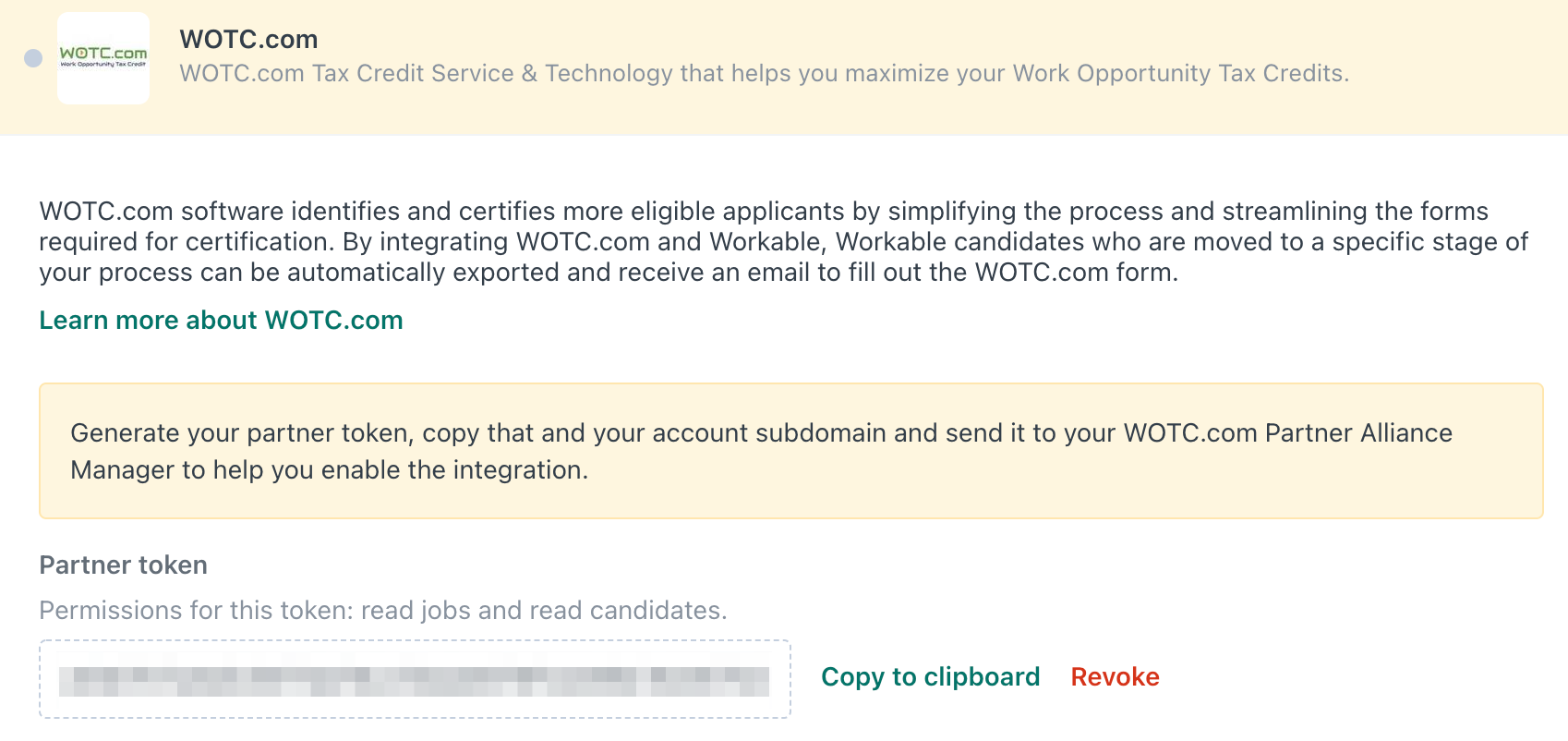 Copy that and your account subdomain.

Your Workable subdomain is the first part of the URL you see when signed in to Workable - usually your company's name. "https://[

subdomain

].workable.com"

Now it's time to reach out to your WOTC.com Partner Alliance Manager and send over the token along with your subdomain and let them know which pipeline stage you want WOTC triggered
That's it! WOTC.com will finalize the integration setup and notify you when it's complete. When a candidate is moved to the configured stage for WOTC, their profile will be exported and they will receive an email or a text to fill out the WOTC form.