The assessment
Workable's personality assessment is designed to help you understand how candidates approach challenges and interactions in the workplace. Candidates are asked to complete a short assessment, responding to workplace scenarios.

There are no right or wrong answers. Some personality traits may be more important for certain jobs - some traits less relevant for a job.
A team with diverse personalities that shares core values will have strong teamwork. A homogenous team may subscribe to a single way of thinking or tackling problems and have more difficulty working together.
The results
The categories of personality assessed are:
Agreeableness
Conscientiousness
Extraversion
Emotional Stability
Openness To Experience
Each category also contains more detailed sub-categories and results appear on a scale, indicating which trait a person is more likely to exhibit.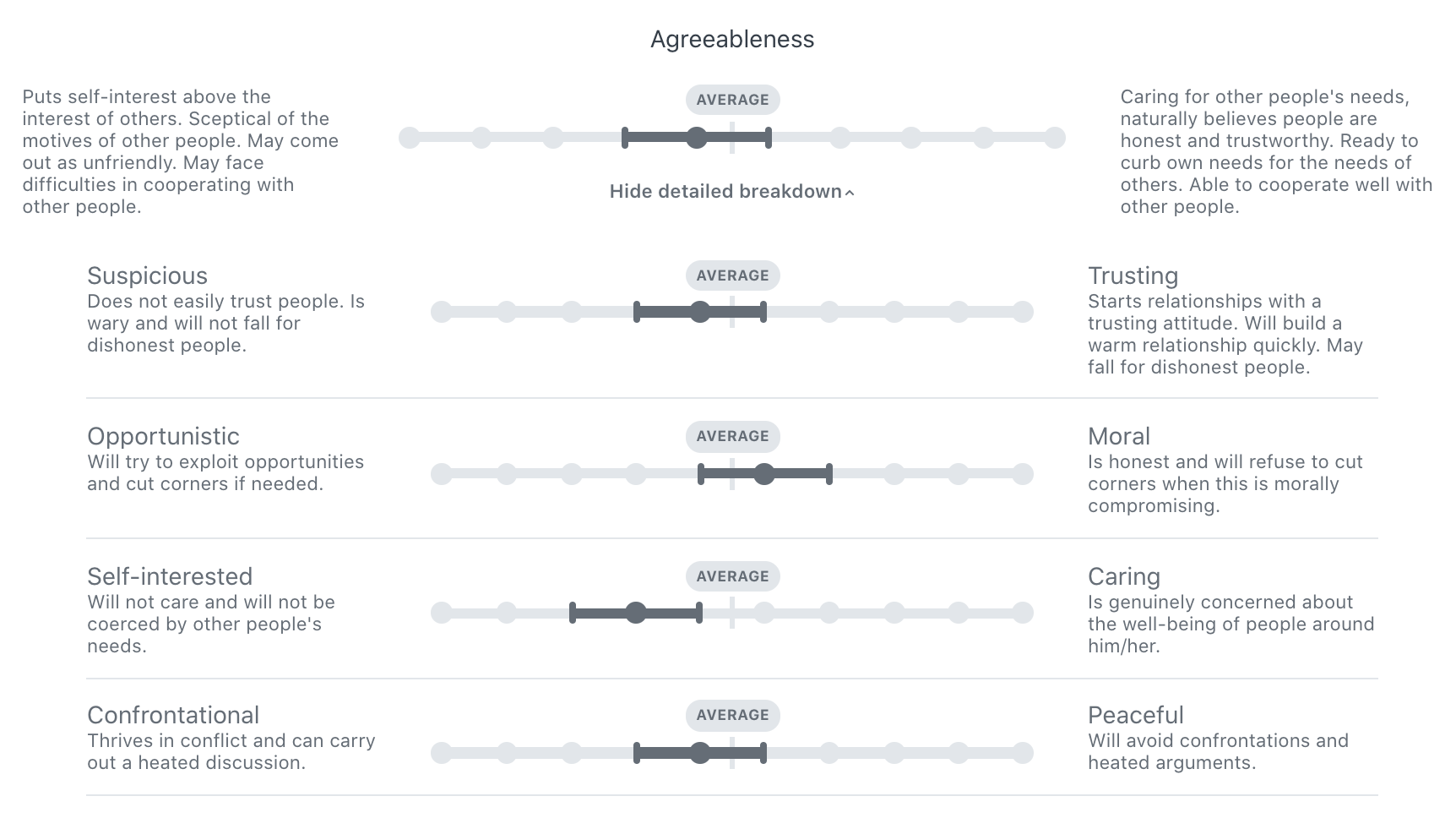 Important
One might think that a person who is agreeable is easier to work and someone who is disagreeable is hard to work with.
But consider work situations where you want an employee to be disagreeable.
A salesperson negotiating a deal should be somewhat self-interested
A support person working with a customer who demands a refund without a receipt should be suspicious
A designer may need to be confrontational so they aren't bulldozed with design input from others
These traits may have appeared to be negative at first glance. Really, there is value in these traits that provides perspective and contrast compared to other team members or highlights an important skillset based on the job.
For example, the "chaos-tolerant" trait might be important for a growing small business where employees need to take on new responsibilities or projects suddenly.
Use the results not as a test to disqualify candidates, but as a way to understand how the candidate would fit the job and organization.