As of July 1st, 2023, Universal Analytics ID is no longer supported by Google. 
Workable has a Google Analytics integration available as part of the careers page site builder. Activity throughout your careers page will be tracked in Google Analytics. You'll be able to see information on the number of visitors, time spent, their source, and more.
Setting up the integration
Navigate to the Careers Page settings in Workable
Fill in your GA4 measurement ID (G-###).❗The integration process can take up to 24 hours to complete.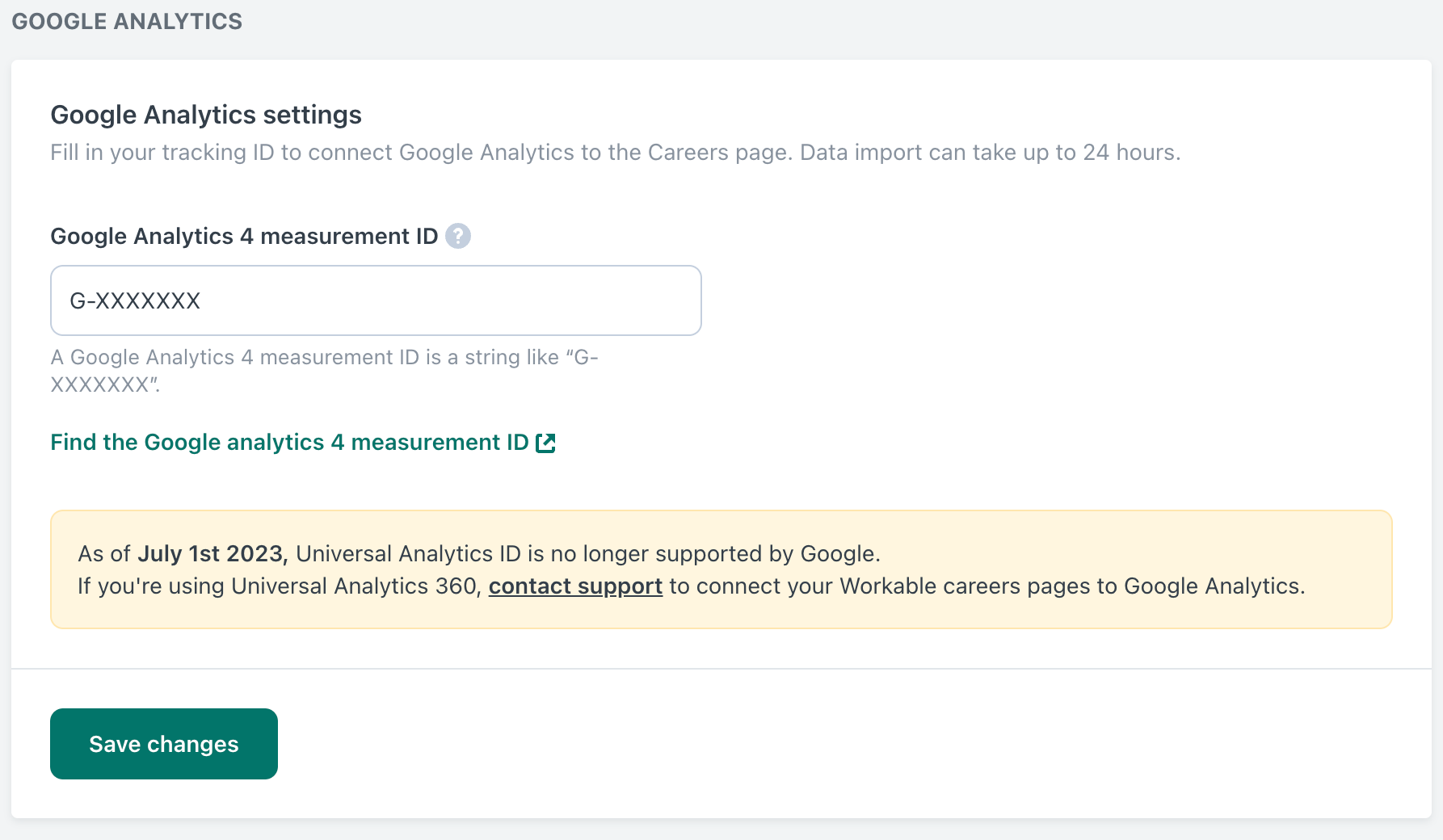 To find your measurement ID in Google Analytics:
You will need to have or create a GA4 property in Google Analytics
Under the GA4 Property's Web Stream details, you will find the Measurement ID that you need to copy and paste into Workable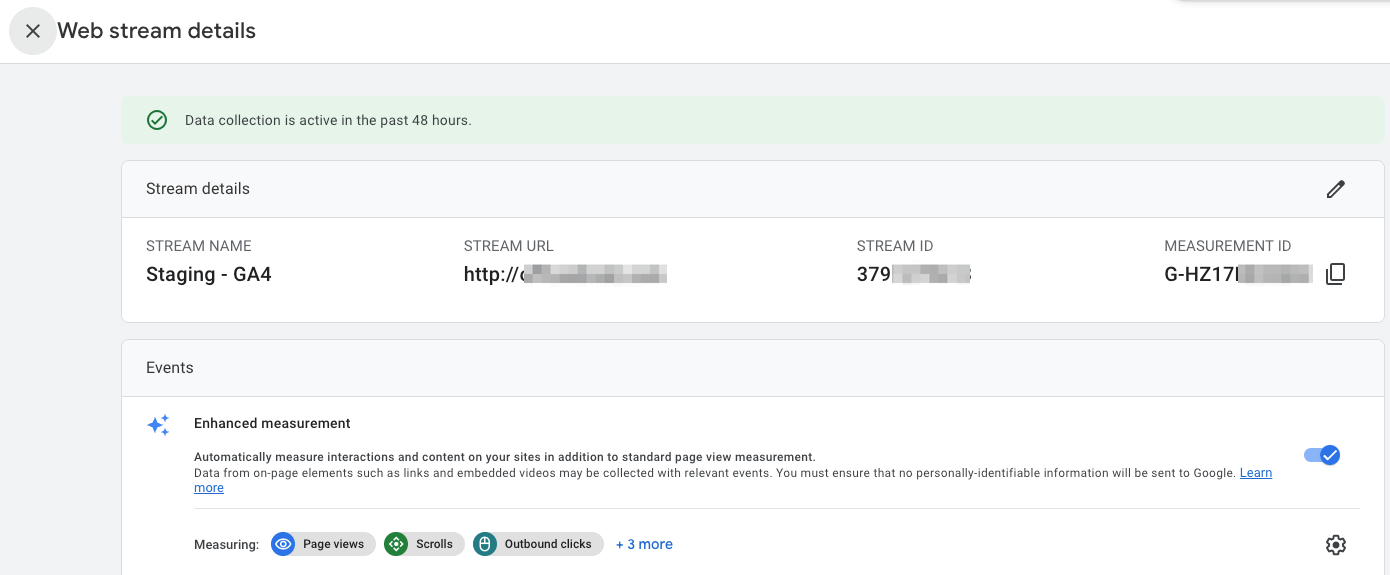 We would also recommend to:
Set the Enhanced measurement: On.
Under the Enhanced measurement cogwheel settings untick the "Page changes based on browser history event" in order to avoid duplicate pageviews.

Not migrate your existing UA property to GA4. Check more on our FAQs below in this article.
💡For more guidance make sure you check the below Analytics help articles:
Tracking application submissions
Note that the below process will only track submissions via Workable application pages, and not applications that arrive via tools like "EasyApply" on LinkedIn. Workable's reports will automatically track the number of applicants and their sources under the Candidate Sources report.
To measure successful applications:
Create an event and name it "application_success". As shown below, the event_name should equal to page_view and the page_location should end with 'success'.

This event can then be marked as a "conversion" event and shown as such in each conversion report in your GA4 account. 

Tip: Do you want to confirm that you are collecting data? Check here how.
FAQs
Can I use both UA and GA4 at the same time?

As of July 1st, 2023, new data signals sent to the UA tracking ID are no longer collected. 
What happens if I am a GA 360 customer?

GA 360 customers who want to add their UA ID and continue collecting data in UA after the cutoff date can submit a support ticket for assistance. Although the option to use UA will not be available on the user interface after July 1st, the team is willing to set it up on a per-request basis.
What is the difference between a goal in Universal Analytics and a conversion event in GA4?

In Universal Analytics, a goal was counted once per user session. Even if users performed the relevant action multiple times (e.g. application_success) whereas in GA4, by default, a conversion event is counted every time the relevant action happens. 
Should I migrate my existing UA property to GA4 in Google Analytics?

No need to migrate your UA property to GA4 in Google Analytics. We've implemented a new client for sending signals to GA4 independently from any pre-existing UA client you might or might not have set up in the past, so you can keep your existing UA setup or start fresh with GA4 according to your preferences.