If you are currently under one of our older plans, you might be using our Basic Careers Page. For a better candidate experience, we would encourage you to switch to the careers page site builder option.
Workable's careers page site builder provides the customization and flexibility to make the careers page your own. Use templates to set the style, add images, track activity with Google Analytics and design the layout with the branding you want.
Invite team members to work on the page design in a user-friendly builder - no coding required. They'll be able to update the page design, but won't have access to candidates other Workable data. Access these options under the Settings menu in your user icon.
By default, the link to your careers page will be apply.workable.com/[subdomain]. The "subdomain" is usually your company's name. It's the same as what you see in the URL when logged in (e.g. [subdomain].workable.com).
💡To have your page hosted on your own website (e.g. at careers.companyname.com), contact your Account Manager and check more details here.
Settings in Workable
Go to the Careers Page settings under your user icon to manage the page.
Careers page overview
If you're just setting things up for the first time, just create your first job and a careers page will be created automatically.
At the top of the page you can see:
Preview of the careers page's header
Last person to edit, including timestamp
Number of published jobs
When the last job was published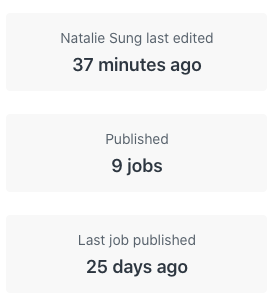 Use the buttons that appear to edit or view the page.

Analytics options
Optionally, receive Google Analytics tracking throughout the careers page. Add your Google Analytics tracking ID to the appropriate fields and click Save Changes.
To find your tracking ID:
Sign in to Google Analytics and click Admin
Select an account and a property in the relevant columns
Under Property, click Tracking Info, then Tracking Code and the tracking ID will be displayed at the top
The careers page site builder also supports tracking pixels. By adding a tracking pixel you'll receive analytics upon successful applications through your pixel provider.
If you don't choose to do either of these options, Workable still automatically reports on information like the source of the candidate.
Careers page editors
At the bottom of the Careers Page section, invite editors who should have access to build the careers page. They will be able to edit and manage the branding components, add content and publish new versions. Super Admins always have access to edit the page. See more about how this works.

Note: Careers page editors are managed entirely separately from account members. If a user is deactivated as a careers page member they retain any account access granted to them if they are also an account member.
Editing the page
To begin setting up your page (or when making changes) follow the outline below.
Update the Styles for the overall look of the page
Add sections like Testimonials, Image galleries, Benefits...
Edit each section individually with custom text and images
Save or publish changes before exiting the editor
Builder user interface
Use the buttons in the header and click on or between sections to start making edits.

Styles: Set the overall page design. Click a color box to see a color picker.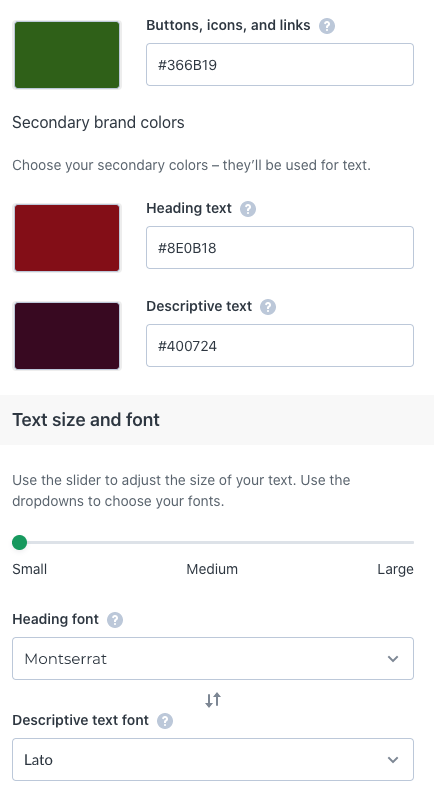 Undo/Redo: Use the left and right arrows in the top bar to undo or redo changes. Changes are only stored for that one editing session. If you close the browser or tab then you will not be able to undo changes with the button. The changes made once you leave the page are saved as the current draft, even if not published.

Save / Preview page: Save your work and see a draft version (for desktop, tablet and mobile) with all current changes before publishing.
Publish: Set the current version you've edited live. Changes will appear on the live version after a few minutes.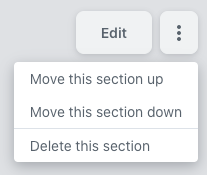 Edit section: The edit button will open a panel where elements of a section can be updated. Change the layout, background color or icons.
Add section: Hover between two sections to see a + button appear. Click it to choose a new section to add.
Move and delete: Select the three dots on a section to move its position on the page. Deleted sections can be recovered with the undo button, but will be permanently lost if the page is closed.
Change language: If you have multiple language options, select which language version of the page to edit or publish.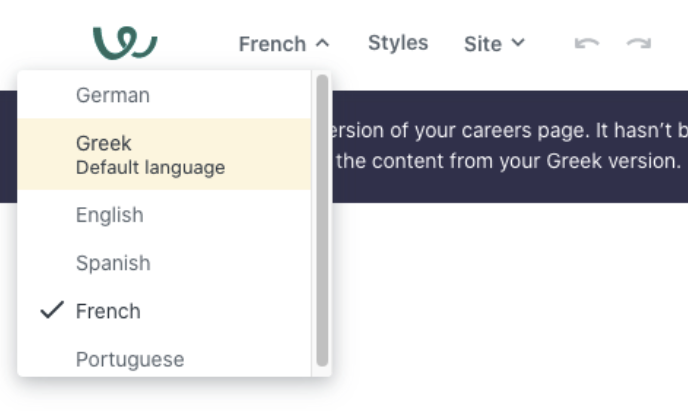 Section types and examples
A variety of templated sections can be used to build out your careers page.
Header (required)
This section always appears at the top of the careers page. Add a picture or select a background color. Choose if you want to display headings/descriptions.
Footer (required)
This section always appears at the end of the page and is not directly editable. It contains information about GDPR/EEO based on your account settings, a link to your website and a link to support help for candidates.
List of jobs (required)
Edit details like the heading and description. Choose to include things like search functionality and general applications (Talent Pool).

Important: With the job search enabled, you must have at least 6 published jobs for the search bar to appear.
Image with text
Upload an image to be shown alongside custom text. This type of section can be used creatively to highlight anything where you'd include a supporting image. Adjust the image layout to be on the left or right.
To format the text (bold/italics/underline/link), highlight any part that you'd like to change and a menu with formatting options will appear.
Paragraph
Paragraph sections are helpful for including information like the company's mission statement or a description of the culture.
To format the text (bold/italics/underline/link), highlight any part that you'd like to change and a menu with formatting options will appear.
Testimonial
Testimonials can be used to add employee pictures and quotes. When using this type of section, try to include perspectives from a range of employees across departments.
Image gallery
A gallery is best used for showing off company photos: office space or worksites, group employee photos, products. Optionally, include a header and description.
Departments
Setup a dynamic list of departments that currently have published jobs. The departments shown, as well as the number of open jobs, will automatically update as you publish and unpublish jobs. You can also choose to hide or show specific departments when editing the section.
When a candidate clicks on a department they'll be shown the jobs for that department.
Locations
Add office locations to this section. It's best to include a specific address so the candidate knows where you're located.
Benefits
In this section, create "tiles" for each major benefit you want to highlight. While most elements of this section are optional, we recommend including an icon, title and description for each benefit. If you include an element in one benefit tile (e.g. an icon), that type of element must be included for all other tiles too.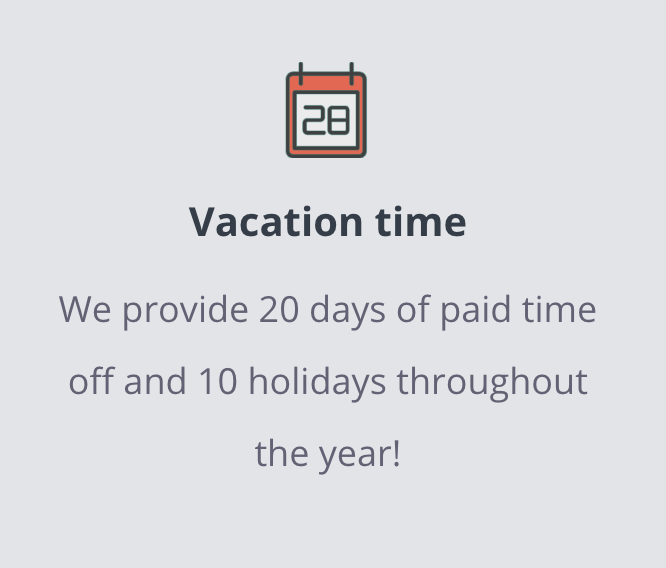 Select an icon and its style by clicking on it.
Video
Include a video about what your organization does and what it's like to work there. Add a video by pasting in a YouTube or Vimeo link to the video. Workable will embed it automatically.
Numbers
Call out important numbers that are important to your organization and are compelling to prospective candidates.

Social media
Add links to direct candidates to your social media pages: Facebook, Twitter, LinkedIn, Instagram and YouTube.