Language Kit enables you to provide fully translated candidate experiences in French, Spanish, German, Portuguese or Greek.
This feature can be activated by your account manager, success specialist or customer support. Follow the steps in this article to set up and manage the candidate experience in different languages:
Our team will activate Language Kit following your request
If you have set up candidate-provided custom fields you will need to provide the translations for them under the Workflow section and the relevant language tab
Review and update your GDPR privacy notice for new languages
After those steps, you can begin adding jobs in different languages. We recommend updating other customizable features in your account for other languages - this can be adjusted at any time:
Customize your company profile description and templates
Set a 'default' language to be used for jobs/locations that are not supported by Language Kit


Provide translations for custom fields
As part of the activation process, you should translate any custom fields that appear on your application forms:
Navigate to Workflow
Locate the Candidate profile category
Expand each section and edit the fields provided by the candidate
Translate each of these candidate-provided fields (and the multiple-choice options if applicable) under the relevant language tab and save your changes in bulk when you are done
Note: You can also provide the translation at a later point; until then the system will be using the default account language for these fields.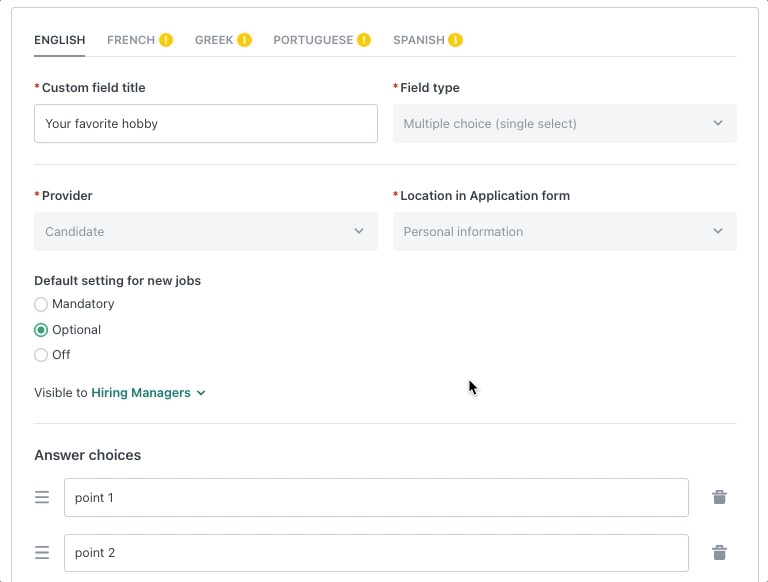 Review and update Privacy Notice details
Note: If you have GDPR features enabled you must review and update your account's privacy policy settings for each selected language in the Compliance section. This must occur after our team has enabled the languages and is required before Language Kit can be used.
Standard Privacy Notice (Workable-provided)
The Workable-provided standard privacy notice will be translated automatically except for the fields that you fill in yourself. For example, any "additional processing purposes" must be updated with the relevant language under that language's tab.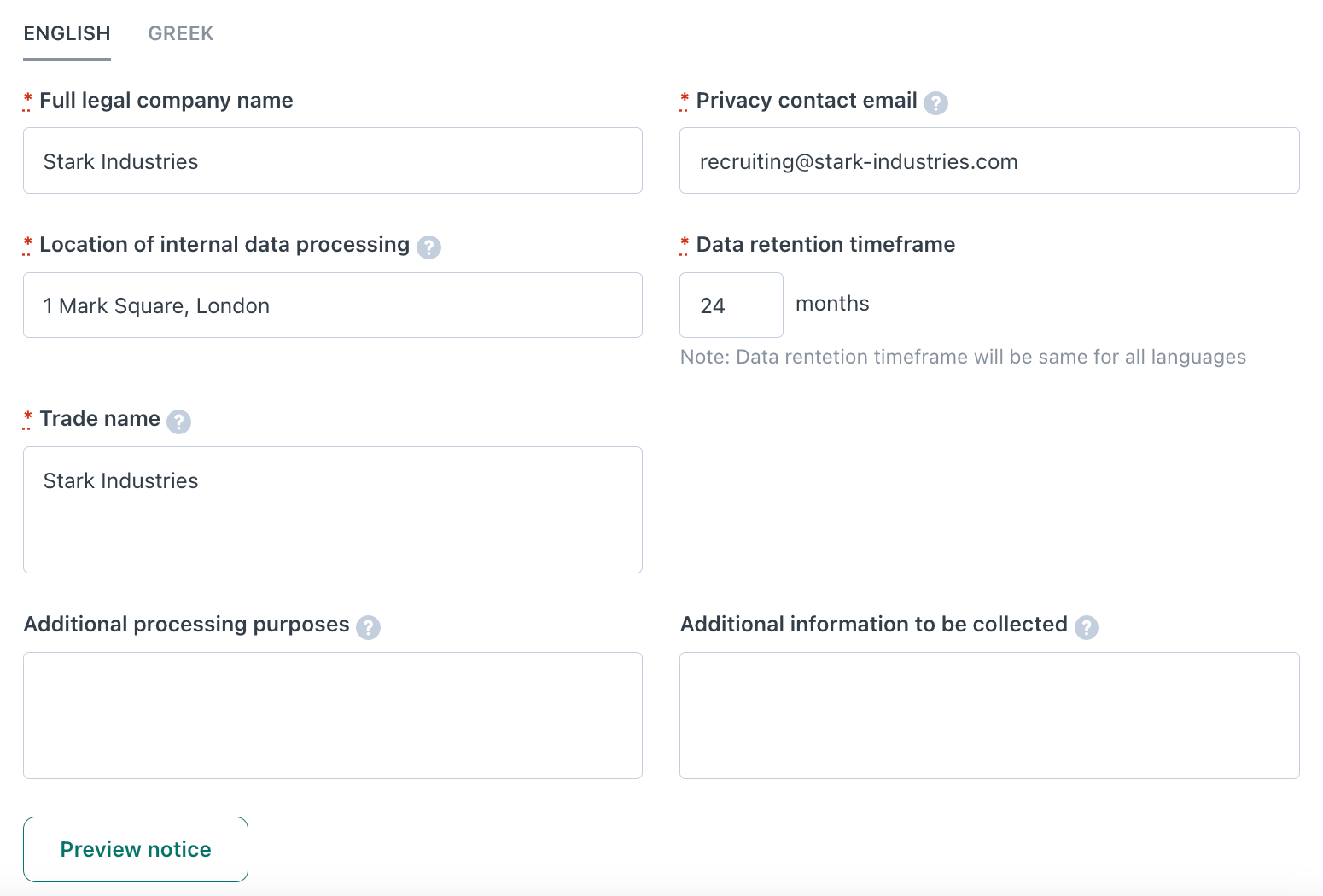 Custom Privacy Notice
If you use your own privacy notice link we recommend linking to translated versions (or a relevant country page) for each of your supported languages.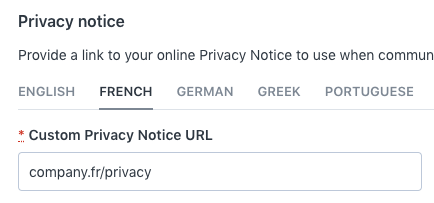 Translate customizable account features
While Workable automatically translates all aspects of the candidate experience, there are some areas where you can provide your own custom translations.
Careers page & Company profile
If you use the Workable-hosted careers page, add translations for your company profile (the company description/mission). This is not required - if you don't add a career page translation for one of your languages then a profile description will not appear for that language.
Navigate to Settings > Careers page
Click the button to edit your careers page and change the language at the top of the page builder to design pages in multiple languages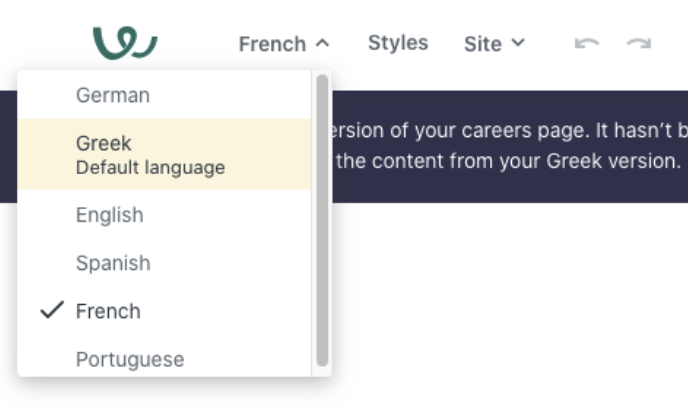 To add a company description in multiple languages:
Navigate to Settings > Company profile
Locate the 'Company Description' text box
Select the tabs for your extra languages
Save the changes
Talent Pool mailbox text
Customize the speculative application info that appears at the bottom of your Workable-hosted page.
Navigate to Careers page
Locate the Talent Pool mailbox section
Select the tabs for your extra languages
Save the changes
Creating email templates
Translations for other languages can be added for each of your email templates.
Workable default templates will have translations available automatically when Language Kits are activated. You can add translations for your own templates as needed.
In the Templates section, edit or add a template and select the various language tabs to add a version of the template for that language. Each email template only has one name, even if multiple languages are used.
Any templates you've added before enabling Language Kit (no matter what language you've used), will be set as "English" templates. Copy and paste the template under its respective language to make sure it's available for jobs in that language.
If you prefer to have unique template names for each language, add new templates and only include text for the specified language.
Creating e-signature templates
Upload new e-signature templates for your desired languages. The offer document you upload must be written in the desired language. The language is automatically detected when you upload (and can be adjusted if needed).
The offer email template should also be written in the chosen language.
Add department name translations
In the Departments settings select a given language from the tabs at the top of the page. You can translate each department name if required. Flip the switch to see which departments still need review.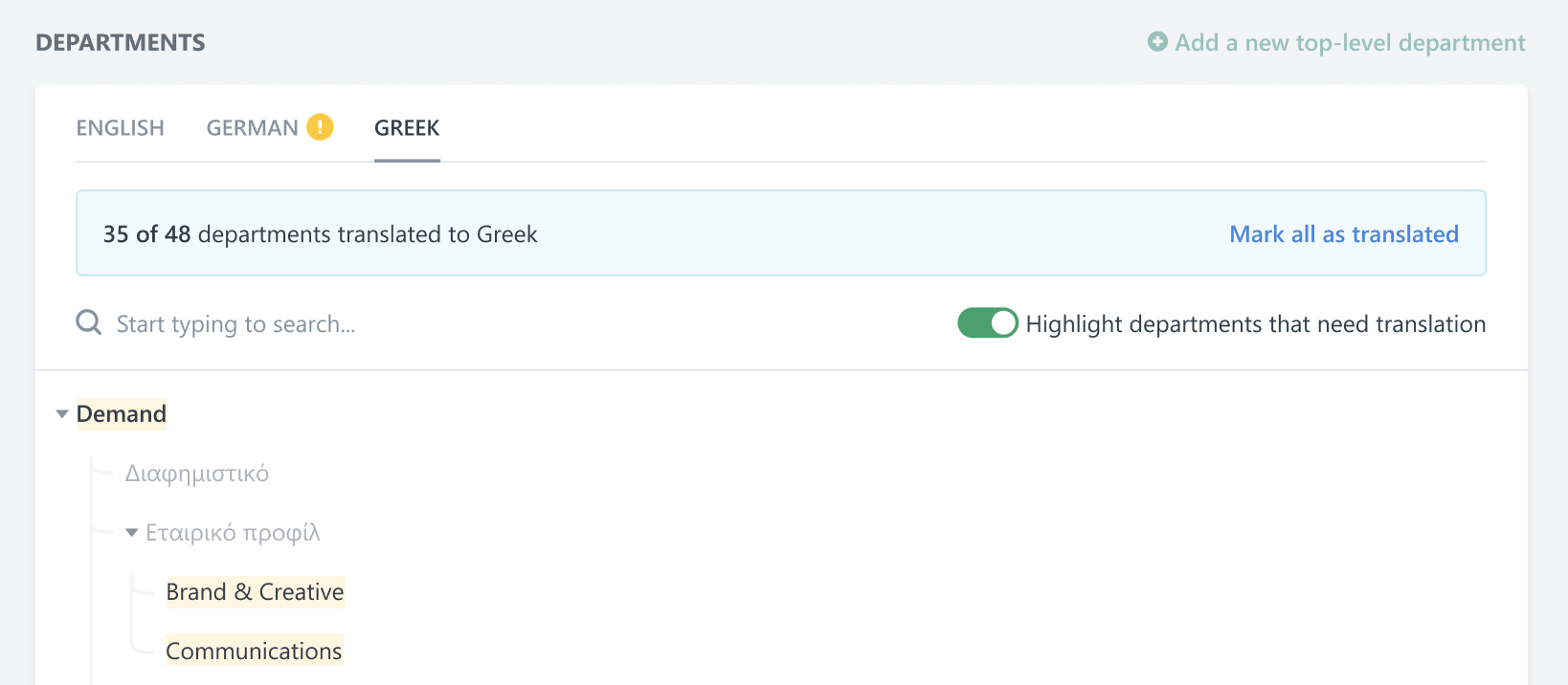 Set a default language
Navigate to Language Kit under your user icon to choose one of your languages to be the "default" language.
Workable will automatically detect the right language to use. The detection is based on the candidate or user's location. For example, a candidate browsing your career page in France will see the French version of that page.
The default language will be used as a fallback. If the candidate was in Sweden they would see the career page in the default language - since Swedish is not currently supported.
The default language is also used for department selection when a Workable user creates a job or requisition.