How do I delete a requisition?
Follow
Super Admins, Recruiting Admins, Hiring Managers
Advanced Annual with Hiring Plan
If something has changed, and you need to adjust your Hiring plan and delete a requisition, you can do so by clicking the three dots menu and selecting Delete Requisition: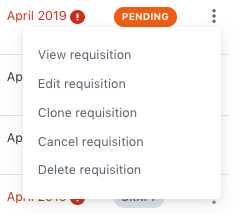 Please note that Filled requisitions cannot be deleted. If you have marked a requisition as filled by mistake, please contact our Support to help you correct the issue.