Navigate to the Hiring Plan dashboard and click the three dots to select Edit Requisition: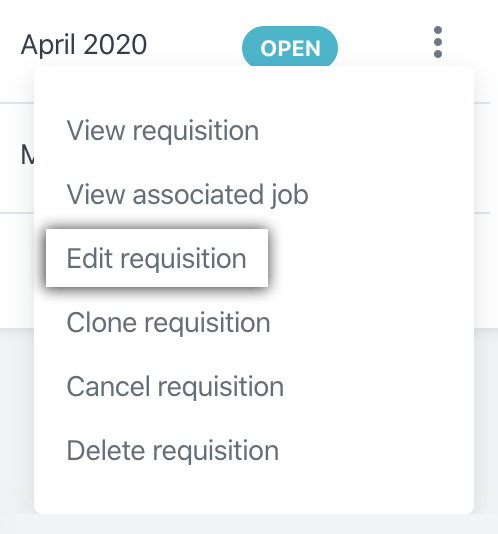 You can edit open, approved (or sent for approval) and rejected requisitions. Edits to fields that do not require reapproval can be made at any time without re-triggering the approval process.
If you edit a field that requires reapproval (e.g. salary budget changes might be marked to require approval), then the req's approval workflow will re-initiate. This is a good workaround if you need to change one or more requisition approvers for a pending requisition. Learn here how to do this.
The approvers will receive an email and inbox item that enables them to see the fields that have been edited as well as what was the previous value. The change will only be finalized once the approval workflow is complete.
Navigate to your Hiring Plan settings to check which fields require re-approval and make edits if needed (three dots menu).
Filled requisitions cannot be edited. To change the salary or start date of a recently filled requisition:
Move the hired candidate back to the previous pipeline stage
Disqualify the candidate to reopen the requisition
Revert the candidate
Move the candidate back to the Hired stage, entering their new salary and start date info
Please note that the following fields are not editable: job title, department, location, and requisition code. If you changed one or more of these fields in the job and you wish to reflect the changes in the requisition contact us for assistance.