How do I edit a requisition?
Follow
Super Admins, Recruiting Admins, Hiring Managers
Advanced Annual with Hiring Plan
If you've entered the wrong information when creating a requisition, or something has changed and you need to update it, you can click the three dots and select Edit Requisition: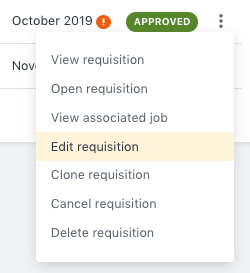 If you need to edit the requisition that has been already approved or has been sent for approval, it will have to go through the approval workflow again.
Please note that some fields, such as the job title, department, location, and the code are not editable. If you need to change those values, you will have to delete the req and create a new one.
Moreover, Open and Filled requisitions cannot be edited. Please contact support if you need to adjust such requisitions.