You must be a Super Admin in Workable to enable integrations.
Enable this integration to use your CV-Library job slots when publishing jobs through Workable.
To get started, sign in to Workable and click your profile icon in the upper right. Navigate to Integrations.
Locate CV-Library in the list of integrations and click on it
Enter your CV-Library

username, password and poster email

Click Update Settings
That's it! You'll now be able to use CV-Library job slots directly from Workable.
Posting a job to CV-Library from Workable
 After publishing a job, navigate to the Find Candidates tab and click Premium Job Boards. Select "Use recruiter account" on the CV-Library card and confirm that you want to use a job slot for that job.
Once the job has been posted to CV-Library, you will be able to select more details under the cogwheel button, such as the Industry, Job Type, hide the salary or select whether this is a relocation offer: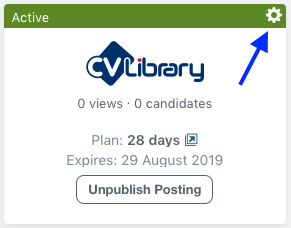 Please note that the posts on CV-Library should follow several guidelines for the job posts:
Maximum number of bold characters is 300

Maximum number of italic characters is 100

Maximum number of bullet points is 30
If your job description exceeds the above numbers, you will see an indication in the Premium Job Boards menu and will be able to update the job post.
Note: If you need to update the job description, please keep in mind that only the changes that are done within 48 hours after the job is posted to CV-Library, will be reflected in the job post on their job board.