Best for: One-way video interviews, Q&A tests
Features: Send interviews, receive and view the recording in Workable
Support: Help Center, support@astrnt.co, Chat available
Astronaut is a robust video interview platform that helps you create simple, fast and effective Q&A sessions for your candidates. Astronaut will ensure you achieve high engagement levels, avoid phone screening and screening candidates based on their CV only.

The Astronaut candidate facing interface can be set either in English or Indonesian.
Through this integration, you can send the request for an Astronaut video interview or Q&A assessment directly through Workable. After the candidate completes the interview, you'll receive a notification and you and your team will be able to view the video directly from the candidate's profile in Workable.


Setting up the integration
You must be a recruiter admin in Astronaut to set up this integration.
To set the integration up, start by signing in to your Astronaut account:
Click your username in the top right corner and navigate to Organization Details
The API key for the integration can be found under on the Overview tab of your company settings on the left side
Copy the API key (a long string of letters and numbers)
Next, you'll need to sign in to Workable:
Click your profile icon in the upper right, click on Settings and navigate to Integrations
Locate Astronaut in the list of Video Interview providers and click on it
Paste the API into the field that appears and click Update Settings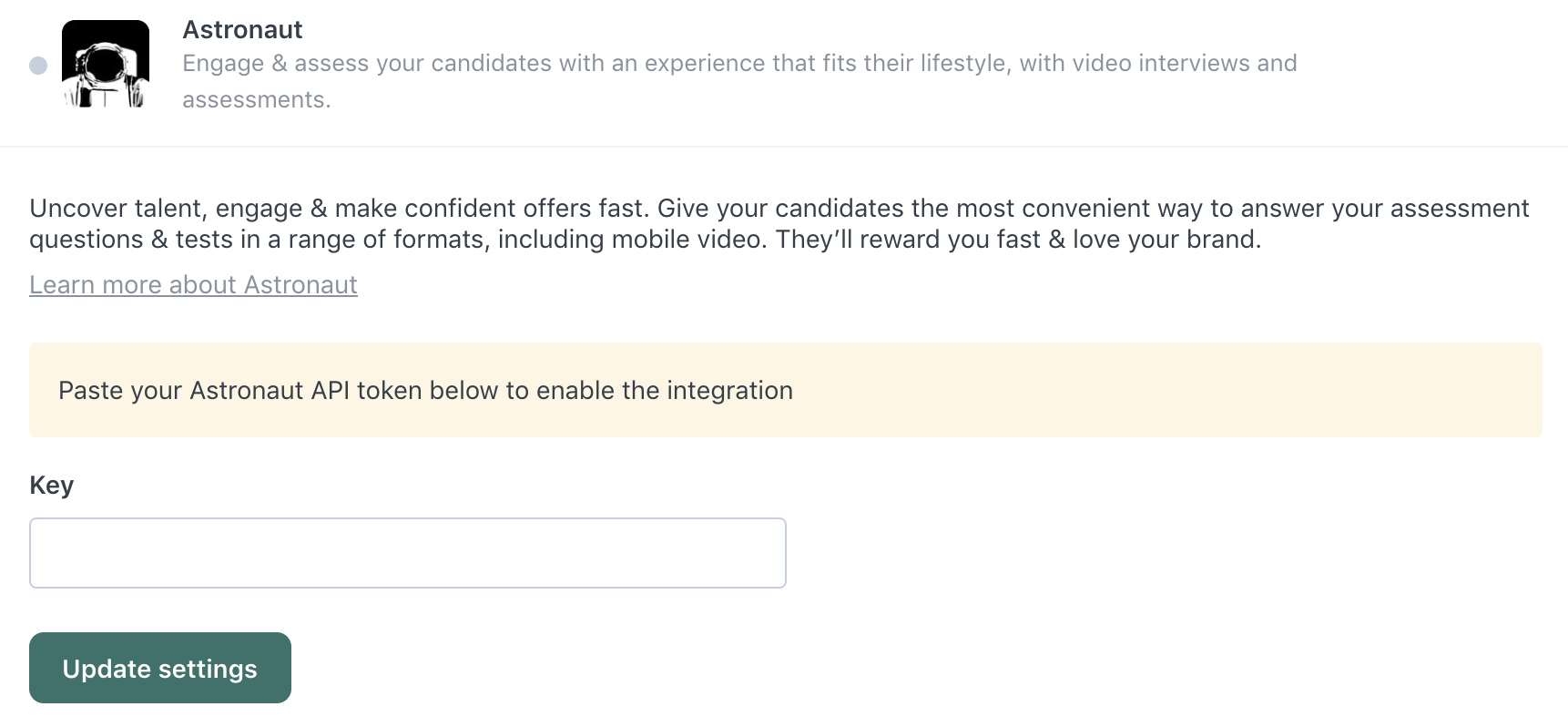 That's it! The connection will be complete and you'll be able to start sending out video interview requests to candidates.
Learn how to add Astronaut interviews to specific stages for a job in the Workflow tab of the job editor and how to send a video interview and view the results directly in Workable.
Note: The Q&A sessions need to be set up as video interview assessments in Workable. They will also be labeled as such on the candidate's timeline, but the candidate will receive the Q&A quiz as usual.