Workable updates and release notes
Follow
Workable is regularly making updates, fixing bugs, adding integrations, releasing new features, and making behind-the-scenes improvements. We won't note everything here, just a highlight of things we think you shouldn't miss.

April
Updated
March
New Features
Native Video Interviews - Set up, send and evaluate one-way video interviews natively in Workable to screen candidates at scale
Applicant conversion tracking pixel - Added support for conversion tracking pixels. Include your third party conversion tracking pixel to collect more reporting about applicants
Updated
Job editor interface

Changed the "Hiring Team" / "Workflow" tab name to "Team Members". Hiring team assignments are still managed from this tab as normal
Changed the "Assessments" tab name to "Workflow". Moved option to choose a custom pipeline to this tab and redesigned the interface for adding an assessment, video interview or interview kit to a pipeline stage

Offer Letters

Added option to have every page of an offer letter be signed. After uploading a template, flip a switch to have the candidate's signature (and internal signature for Advanced Annual plans) appear on every page: See "Adjusting signature settings"

Hiring Plan

Added ability to put a requisition on hold if hiring is paused. Reports account for the time spent on hold; it does not contribute to "time to hire" statistics
Updated experience for editing requisitions. When edits are made and sent for re-approval, the fields that changed are highlighted for the approvers to focus on
February
New Features
Updated
Offer Letters:

Added option to collect candidate and company signatures in multiple places within an offer document. E.g. include the "[candidate_signature]" variable on every page of an offer.
Candidates will now automatically received a PDF copy of the signed offer after accepting

Hiring Plan:
Integrations
Speexx

(Background & reference checks)

January
Integrations
December
Updated
New customization options for Campaigns. Now, select your own branding options or let Workable do the work for you.
Integrations

November
Updated
Improvements to application flow for

Campaigns
Integrations

October
Updated
New look & optimizations for Workable-hosted career pages
Set a unique brand color for buttons and links
Candidates can auto-fill application forms by uploading a resume file
Search and filtering
Improved SEO
More optimizations for mobile applicants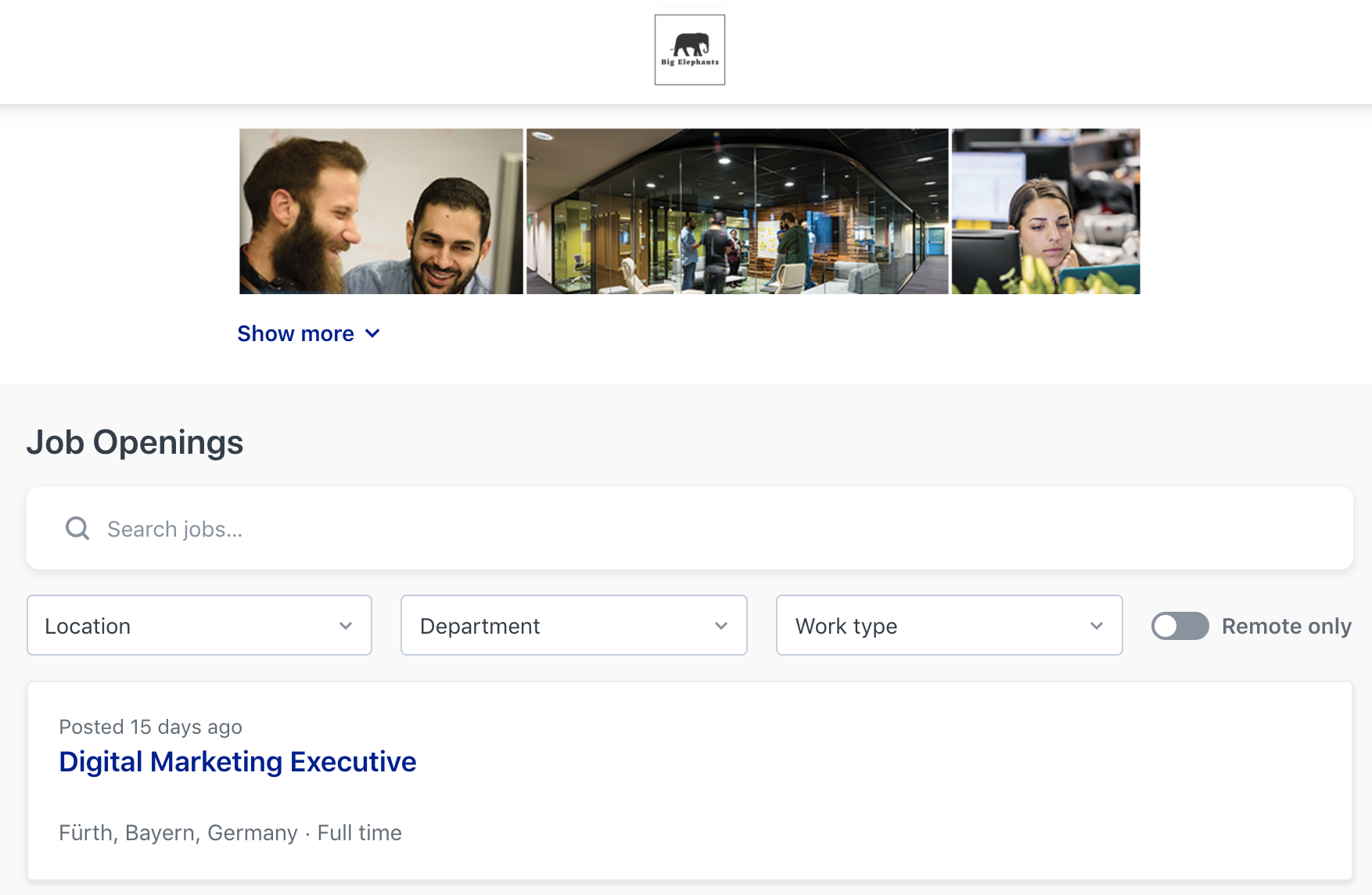 Integrations

September
Updated
Resume uploads through Referrals are now parsed to auto-fill fields like name, email and phone for easier and more accurate referrals.
Integrations

August
Updated
Brand new look for Workable interface - same familiar functionality, but remastered for a cleaner, lighter, faster and a more contemporary UI.

iOS app, minor fixes/improvements
Integrations

July
Updated
Brand new look for Workable interface - same familiar functionality, but remastered for a cleaner, lighter, faster and a more contemporary UI.

iOS app, minor fixes/improvements
Integrations

June
Updated
New Features
Integrations

May
Updated
Improvements to chat support UI
Enhancements to People Search results
Integrations

April
Integrations

March
Updated
Hiring Plan dashboard improvements including: links to reqs from main dashboard, more filtering options, options to edit/cancel reqs
Changes to LinkedIn Premium posts: Premium LinkedIn posts must now be directly purchased from LinkedIn and then

connected to a job

in Workable
Changes to Apply with LinkedIn: The Apply with LinkedIn option on application forms is now limited to accounts with

Recruiter System Connect activated
Integrations

February
Updated
Location filtering for reports: added job location dropdown filter to all reports
Google events enrichment: Events booked with the Google Calendar integration enabled now allow for more detailed room reservations
Improvements to login security: Migrated accounts to 'Shield' architecture
New Features
Referrals add-on

(v1.0)
Google Hangouts/Meet calls: Call events booked with the Google Calendar integration now have an option to automatically include a Google Hangouts/Meet link
Integrations

January
Updated
Integrations

now available on all plans (job board, assessment provider, HRIS and more)
Changes to Indeed posts for staffing agencies: due to a change in Indeed's policy free job posts from staffing agencies will no longer be accepted in US/CA. Sponsored job posts are still available.
Integrations