Workable is regularly making updates, fixing bugs, adding integrations, releasing new features, and making behind-the-scenes improvements. We won't note everything here, just a highlight of things we think you shouldn't miss.

December
New
Anonymized resume screening: Automatically have personally identifying information for candidates in the Sourced/Applied stages redacted to reduce unconscious bias.
Workable native Assessments beta: For participating accounts, send cognitive and personality assessments natively through Workable.
Updated
Workable Video Interviews: Added ability to include welcome video and video questions for candidates.
Advanced Referrals

Increased visibility of "Apply" button for internal applicants to make it easier to find
Implemented automatic email notifications for candidates who know they are being referred. If the referrer states that the candidate is aware of the referral, the candidate receives a message with the job title, company name and location.
November
Updated
For Advanced Careers Page, added rich text formatting options (bold/italics/underline/links) for Paragraph and Image with Text sections. Highlight text to reveal formatting options.
October
New Features
CCPA - For Advanced Annual accounts, activate California Consumer Privacy Act (CCPA) features under Compliance settings. This enables the inclusion of links to your privacy notice on candidate-facing pages and communication.
AI-created interview questions for video interviews - When creating a Workable video interview an option will appear for AI-selected interview questions. The questions will be automatically chosen and arranged by the AI. You can always edit them as needed (and build questions from scratch too).
Updated
Added Workable video interview preview option. When creating or editing a video interview, click the Preview button to see the candidate's experience for the interview you've set up.
September
Updated
E-signature templates now support "simple" document types. For non-offer documents (NDAs, relocation agreements, etc.), upload a custom e-signable document and send it to get the candidate's e-signature at any stage of the pipeline
Texting [Beta]

UK sender numbers added for UK and EU
Texting consent management feature added, disable or enable texting for specific candidates
Integrations
Enboarder (Onboarding) - Connect your Workable and Enboarder accounts to have hired candidates automatically exported to Enboarder.
July
New Features
New account settings options to add, edit, merge and delete departments. Advanced Annual accounts can create folders/hierarchy for departments and select which level of department name is used internally/externally
Updated
Redesigned account settings pages for improved ease of use. Settings now appear in one of three categories

Recruiting: Settings that affect how you hire (e.g. pipelines, privacy, compliance)
Company: Settings and info about your company (e.g. logos, department management, plan details)
Personal: Your own settings and preferences (e.g. username/password, notification options)
Integrations
HireSweet (Sourcing) - Connect your Workable and HireSweet to have candidates who are sourced or who apply through HireSweet imported to Workable automatically.
June
New Features
ADP Workforce Now integration - Connect ADP Workforce Now and Workable to seamlessly export hired candidates' details to ADP.
Workable Texting beta has begun with select accounts.
Otta integration - Otta helps candidates find jobs at the world's leading technology companies. Connect Workable and Otta to post jobs and source candidates.
Updated
Include other documents to be signed when sending an offer

Upload multiple files (e.g. non-disclosure agreement, relocation contract) to be signed by the candidate along with their offer letter

AI Recruiter is now available for monthly plans. Trial accounts can now also try AI Recruiter during the trial period, though usage is limited to one search.
May
Updated
New options for managing requisition fields:

Set whether a req field must be filled out when the req is created or can be filled in later
Select whether or not a req filled should require re-approval when edited
Example: The salary range may not be decided when the req is created, but will require approval when it's added later. The employee's shift may be required at creation, but can be edited later without approval.

Workable Video Interviews updates:

New flow for sending a video interview to a candidate. You are now able to customize the email the candidate receives. The email must include the "video interview link" placeholder
An email template has been automatically added to accounts with Video Interviews. Edit this template any time and add in other email templates to use for video interviews
Send video interviews in bulk by clicking the "Select all" checkbox above the list of candidates in your interview stage and then choosing "Bulk actions"
Change the due date for unique candidates by customizing the initial invitation email or by editing the Timeline item that shows the due date. This enables you to extend the due date for one candidate as an exception while maintaining the normal due date for others

Bulk requisition management - Added option to create identical requisitions in bulk for Hiring Plan. Set the "headcount" when creating a req then manage that group of reqs together, rather than creating and managing them individually
Referrals user management improvements - Updated Referrals setting page with options for Referrals user management including: Bulk invite, see accepted/unaccepted invites, remove users
Internal offer letter signature - Added option to select a user role as the offer signatory during offer template setup. Previously you had to select a specific user, now you can select a role like "Hiring Manager" or "Super Admin". A specific user can then be chosen from the job's hiring team when sending an offer
April
New Features
Workable Bridge - Undergoing lay offs? Use Bridge to help former employees find a new job. Hiring? Find professionals who are actively looking for work and get references via Bridge.
AI Recruiter - Immediately source up to 50 passive candidates for a job
Updated
March
New Features
Native Video Interviews - Set up, send and evaluate one-way video interviews natively in Workable to screen candidates at scale
Applicant conversion tracking pixel - Added support for conversion tracking pixels. Include your third party conversion tracking pixel to collect more reporting about applicants
Updated
Job editor interface

Changed the "Hiring Team" / "Workflow" tab name to "Team Members". Hiring team assignments are still managed from this tab as normal
Changed the "Assessments" tab name to "Workflow". Moved option to choose a custom pipeline to this tab and redesigned the interface for adding an assessment, video interview or interview kit to a pipeline stage

Offer Letters

Added option to have every page of an offer letter be signed. After uploading a template, flip a switch to have the candidate's signature (and internal signature for Advanced Annual plans) appear on every page: See "Adjusting signature settings"

Hiring Plan

Added ability to put a requisition on hold if hiring is paused. Reports account for the time spent on hold; it does not contribute to "time to hire" statistics
Updated experience for editing requisitions. When edits are made and sent for re-approval, the fields that changed are highlighted for the approvers to focus on
February
New Features
Updated
Offer Letters:

Added option to collect candidate and company signatures in multiple places within an offer document. E.g. include the "[candidate_signature]" variable on every page of an offer.
Candidates will now automatically received a PDF copy of the signed offer after accepting

Hiring Plan:
Integrations
Speexx

(Background & reference checks)

January
Integrations
December
Updated
New customization options for Campaigns. Now, select your own branding options or let Workable do the work for you.
Integrations

November
Updated
Improvements to application flow for

Campaigns
Integrations

October
Updated
New look & optimizations for Workable-hosted career pages
Set a unique brand color for buttons and links
Candidates can auto-fill application forms by uploading a resume file
Search and filtering
Improved SEO
More optimizations for mobile applicants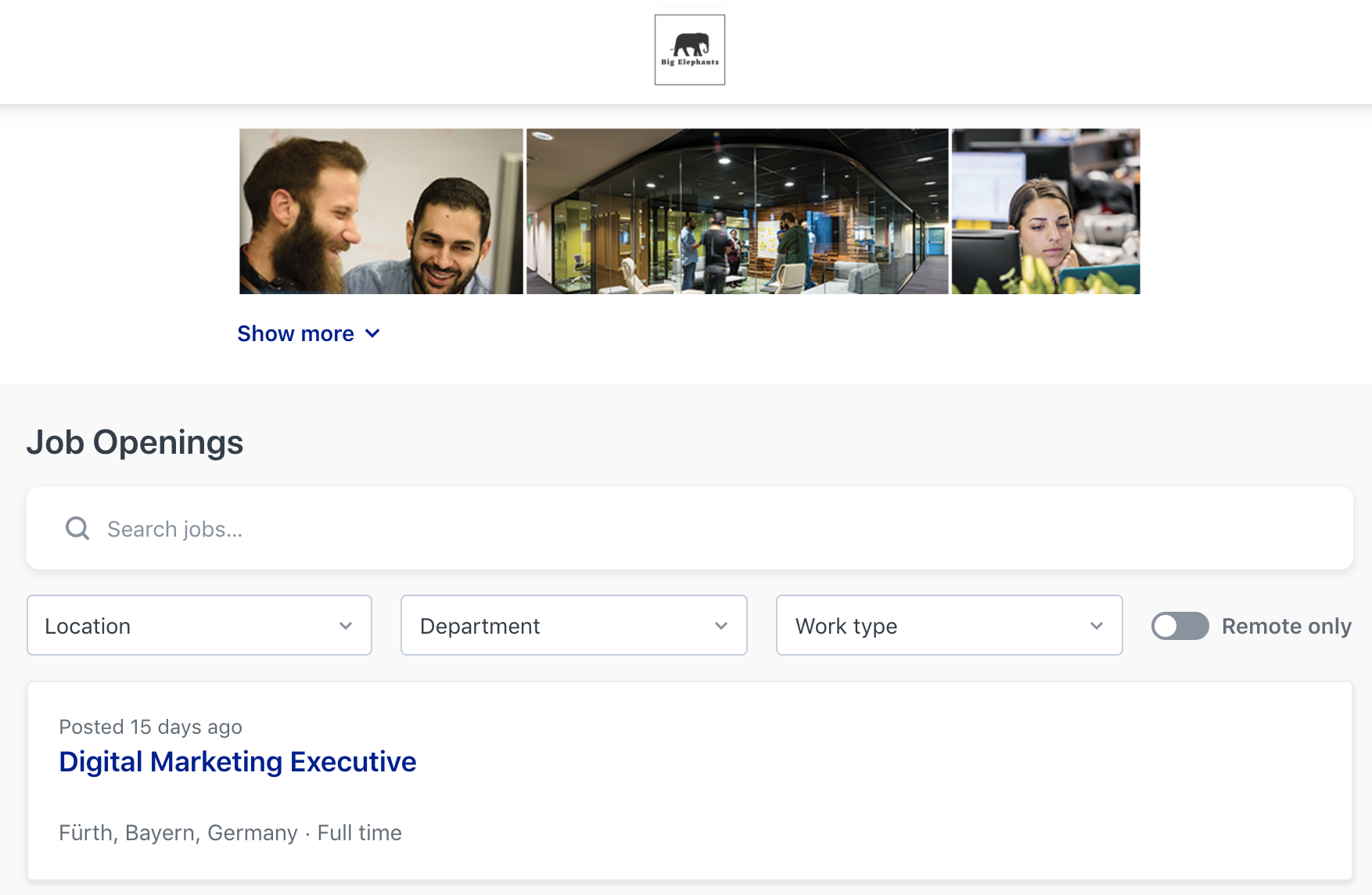 Integrations

September
Updated
Resume uploads through Referrals are now parsed to auto-fill fields like name, email and phone for easier and more accurate referrals.
Integrations

August
Updated
Brand new look for Workable interface - same familiar functionality, but remastered for a cleaner, lighter, faster and a more contemporary UI.

iOS app, minor fixes/improvements
Integrations

July
Updated
Brand new look for Workable interface - same familiar functionality, but remastered for a cleaner, lighter, faster and a more contemporary UI.

iOS app, minor fixes/improvements
Integrations

June
Updated
New Features
Integrations

May
Updated
Improvements to chat support UI
Enhancements to People Search results
Integrations

April
Integrations

March
Updated
Hiring Plan dashboard improvements including: links to reqs from main dashboard, more filtering options, options to edit/cancel reqs
Changes to LinkedIn Premium posts: Premium LinkedIn posts must now be directly purchased from LinkedIn and then

connected to a job

in Workable
Changes to Apply with LinkedIn: The Apply with LinkedIn option on application forms is now limited to accounts with

Recruiter System Connect activated
Integrations

February
Updated
Location filtering for reports: added job location dropdown filter to all reports
Google events enrichment: Events booked with the Google Calendar integration enabled now allow for more detailed room reservations
Improvements to login security: Migrated accounts to 'Shield' architecture
New Features
Referrals add-on

(v1.0)
Google Hangouts/Meet calls: Call events booked with the Google Calendar integration now have an option to automatically include a Google Hangouts/Meet link
Integrations

January
Updated
Integrations

now available on all plans (job board, assessment provider, HRIS and more)
Changes to Indeed posts for staffing agencies: due to a change in Indeed's policy free job posts from staffing agencies will no longer be accepted in US/CA. Sponsored job posts are still available.
Integrations