In the Referrals portal, you can share a personal referral link for one or all open roles to help find candidates and get credit for a referral. It is only possible to share a link when the job is "Published" (made public) by an account administrator.
Sharing a specific job
From the job dashboard in the Referrals portal, locate a specific job and click Share.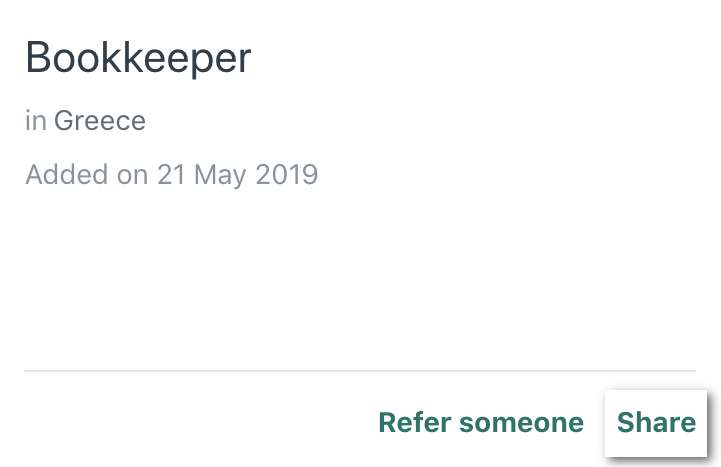 Options to share on Twitter, Facebook and LinkedIn will appear. Click any of these options to open a page where you can sign into your social media account and post your referral link.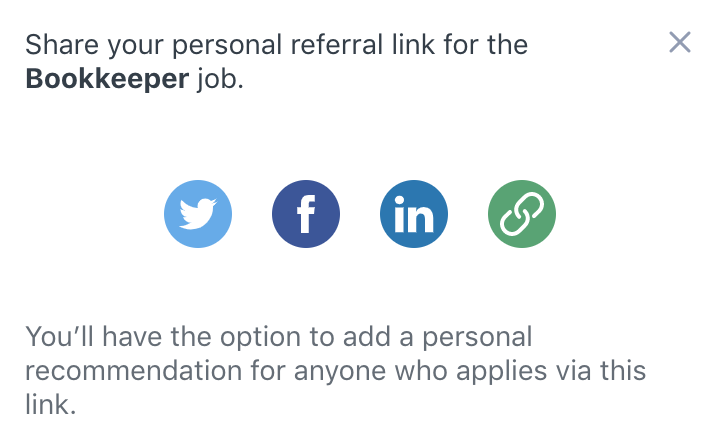 A fourth option to generate a personal link will appear. Click the link button and your personal link will automatically be copied to your clipboard. Paste the link (ctrl + V; cmd + V) to share it anywhere you'd like.
Sharing all jobs
If you want to expand your reach you can also share with your network all jobs posted on your company's careers page. Only publicly available jobs will be visible there. This option can be found right before the list of all active jobs.

Refer or ignore an applicant

Click the Social Shares tab to track clicks and activity with your link.
Regardless of the sharing method (job or careers page) when someone applies through your personal link you are notified by email. Sign in to Referrals to review those candidates under the Social Shares tab.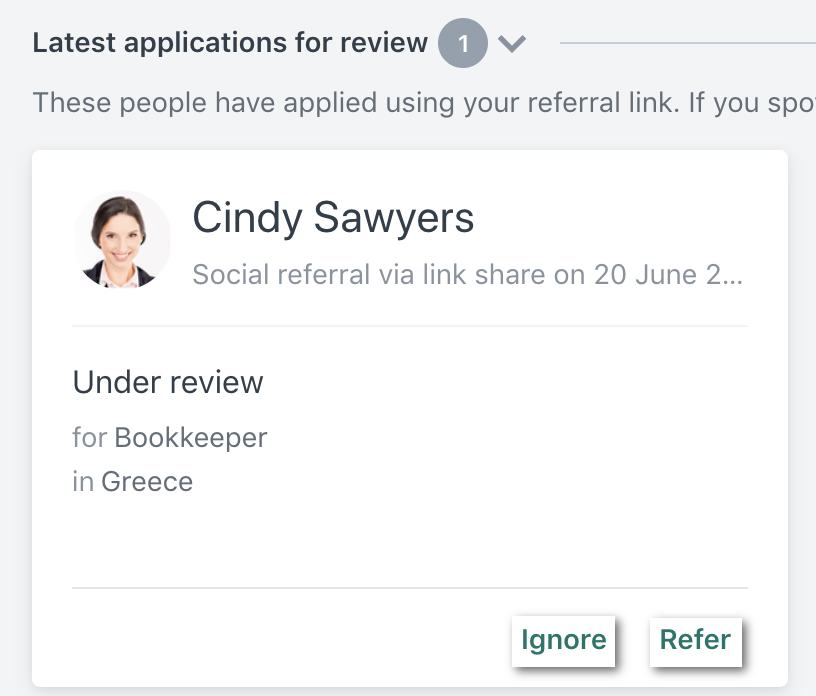 Refer: You'll have the option to officially refer the candidate, where you'll fill in details about how you know them and why you'd recommend them.
Ignore: Since you are sharing a link publicly, people who you would not personally recommend may submit their details. In this case, click "Ignore" and leave a note with feedback for the hiring team.
Note: If you ignore the candidate, or if you don't take any action, the hiring team will still be able to review the candidate, but the candidate won't be tracked as one of your referrals and you would not be considered eligible for a reward.