Best for: Online language assessments (over 40 languages)
Features: Send assessments and receive results back in Workable
Support: Help Center, support@pipplet.com, Chat available
Pipplet is a leading language assessment company that offers innovative and reliable solutions for language testing and certification. Trusted by companies, universities, and language schools worldwide, Pipplet aims to empower individuals and organizations with accurate language data to make informed decisions.
When you integrate Workable with Pipplet you can send language tests to candidates right from Workable and receive the results back on the candidate's Timeline for the hiring team to review. A link will be included to see the detailed report in Pipplet.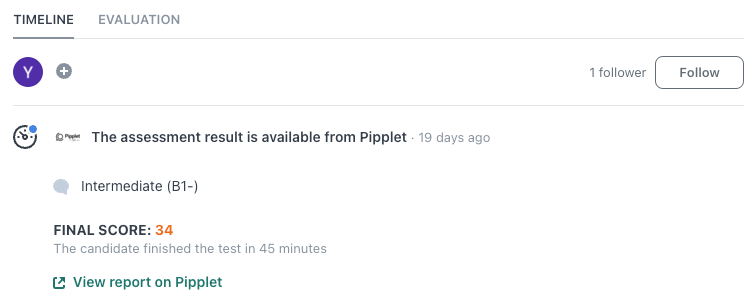 Setting up the integration
To set the integration up, you will need an account on Pipplet (if you don't have one already you can sign up here). Next, contact Pipplet's support team at support@pipplet.com to start the integration process and request the API key for your Workable integration. Once you receive the API key, copy it to the clipboard.
In your Workable account:
Click your profile icon in the upper right, click on Settings and navigate to Integrations
Locate Pipplet in the list of assessment providers integrations and click on it
Paste the API key in the field
Click Update Settings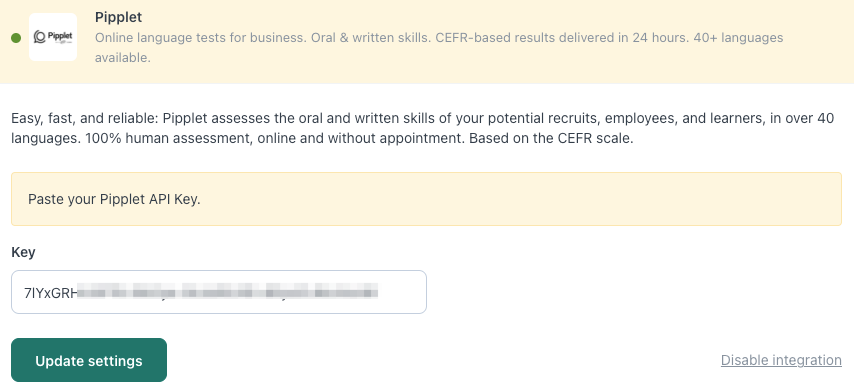 That's it! The connection will be complete and you'll be able to start sending out language tests through Workable.
You can now add Pipplet tests to relevant pipeline stages in the Workflow tab during the job creation process.
When you send a language assessment you can view the final score directly in Workable or click the link to view the full report on Pipplet.