Best for: Startups & tech companies/ Sales, Marketing, Ops, Talent, Product, Finance & Data jobs
Features: Import Workable jobs, Export candidates to Workable
Support: team@kandidate.com, Chat available
Kandidate is a curated hiring platform, that helps startups and tech companies hire pre-vetted talent.
When Workable and Kandidate are integrated, you can:
Import Workable jobs to Kandidate and set search criteria
Export candidates that match the job to Workable
Data exported to Workable can include:
Name
Email
Headline
Address
Phone number
Cover letter
Resume
Profile image
Current company and job title
Skills (e.g. "Marketing" or " Product Management")
LinkedIn profile URL
Setting up the integration
You must be a Workable admin to perform this process.
To connect Workable and Kandidate:
Visit https://app.kandidate.com and login with your Kandidate account.
Click your username in the top right and select Settings
On the next page, input your Workable subdomain in the relevant field. Your Workable subdomain is the first part of the URL you see when signed in to Workable - usually your company's name. "https://[subdomain].workable.com"
Click Update Workable Settings to initiate the authorization process
That's it! The accounts will now be connected. See below for instructions on syncing Workable jobs to Kandidate and exporting candidates to Workable.
Using the integration
The integration works by linking a Workable job to a "position" in Kandidate. Candidates you find can then be manually exported into Workable.
In Kandidate click Manage Positions or create a new position
Choose Workable and the location of the job, confirm the Workable subdomain and click Import. Note that for jobs in Europe, Kandidate currently only supports the United Kingdom, France, Germany and Ireland. Jobs in other countries are not able to be imported.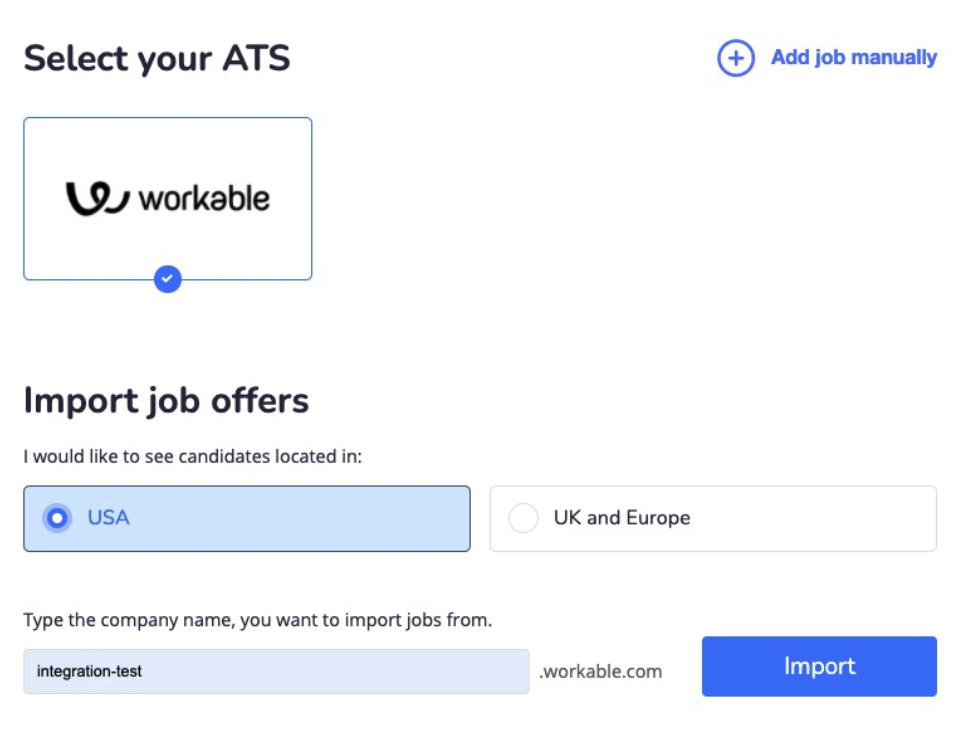 A list of jobs that are "Published" in Workable will appear. Select the appropriate job and click Next.
Set the candidate details you're looking for like salary range and years of experience
Click Show me candidates
Now, when viewing those candidates an Export button will appear. Click it to manually export the candidate's details to the linked job in Workable.
Exported candidates will show up under the Sourced stage of the job in your Workable pipeline and their source will be listed as "kandidate.com".