Best for: Technical Assessments & Interviews
Features: Send assessments and receive results back in Workable
Support: Help Center, for any assistance/issues setting up the integration please reach out directly to Coderbyte support through this link
Coderbyte is the top platform for developers to prepare for interviews and for technical recruiters to screen candidates.
Through this integration, you can send Coderbyte assessments to candidates when they are moved to a specific Workable stage and receive the link with the results back in Workable. If you make any updates to the assessment or interview scorecard within Coderbyte, a notification comment will be sent to you via Workable as well.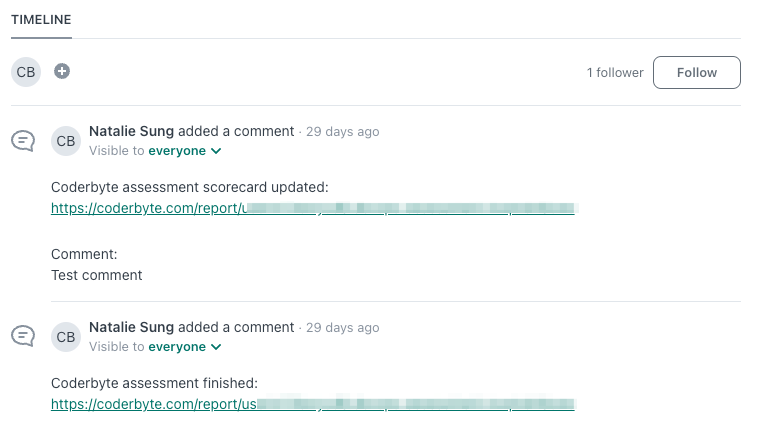 Setting up the integration (via the Growhire tool)
Coderbyte offers an integration with Workable via its recruiting automation suite, Growhire. First, you will need to activate your Growhire account and then follow the below steps:
In your Workable account:
Login as an admin user, click your profile icon in the upper right and navigate to Settings > Integrations
Locate the Access Token section near the top of the page
If the token has already been generated just copy it. If not, click the button to generate a token. Your API key is a long string of random letters and numbers.

In your Growhire account:
Navigate to your Growhire dashboard and go to Settings > ATS (under Integrations)
Click Connect below the Workable logo

Enter your Workable subdomain and your API key as obtained from your Workable account

Click Connect to complete the process
Optional
If you are planning to use Growhire workflows you can select a Workable user who will be listed as the author of candidate updates performed by Growhire. This means that when Growhire adds a comment to a candidate or moves them to another stage, it will appear as if these actions were performed by the selected user.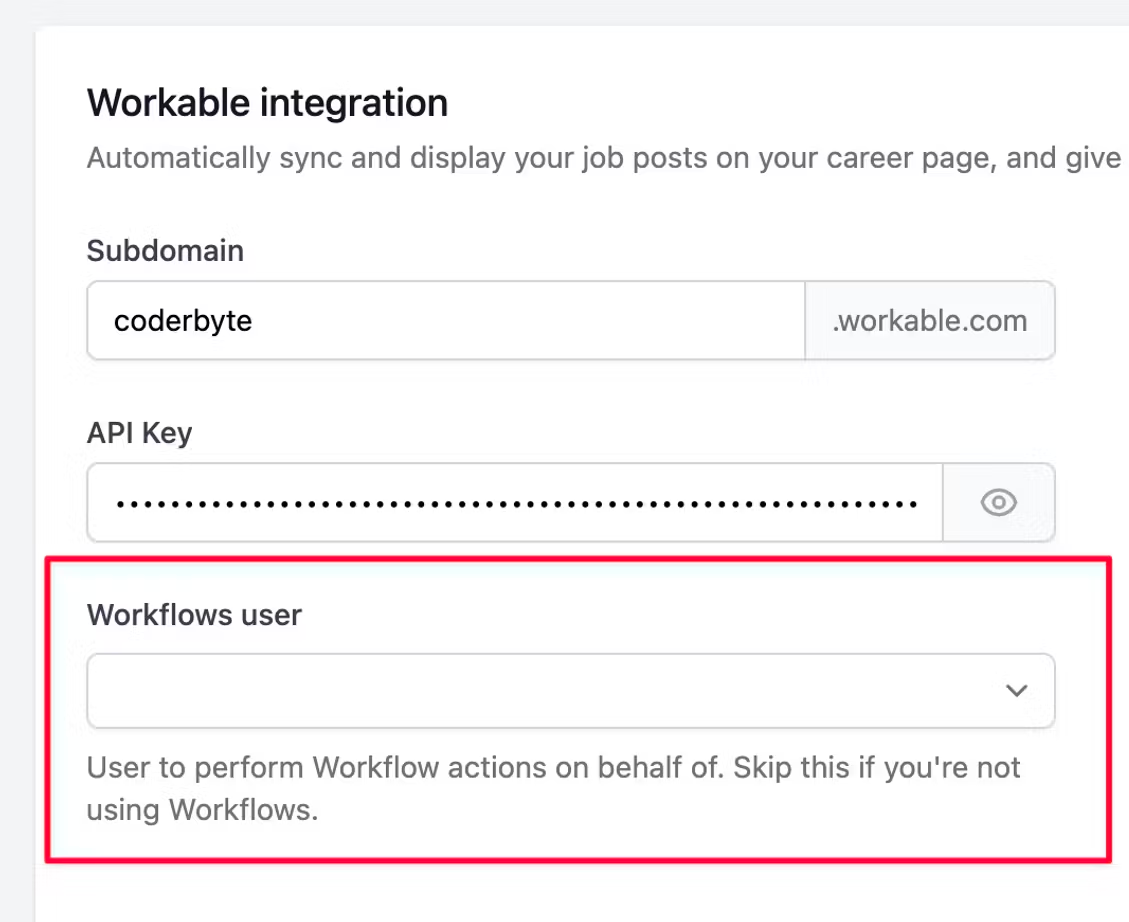 To explore other ways to integrate Coderbyte with Workable (via Zapier or Coderbyte's API) click here.
Configuring your Growhire workflows
Workflows are built on top of the basic integration. Each workflow type describes a single automation process that involves reading and writing between Workable and Coderbyte, for example:
Send a Coderbyte assessment invitation to a candidate once they have been moved to a specific stage in Workable
Attach the Coderbyte assessment feedback to the candidate's profile (visible only to recruiters) or progress them to other stages
To begin, navigate to the Workflows tab in your Growhire account and click the "Add Workflow Group" button.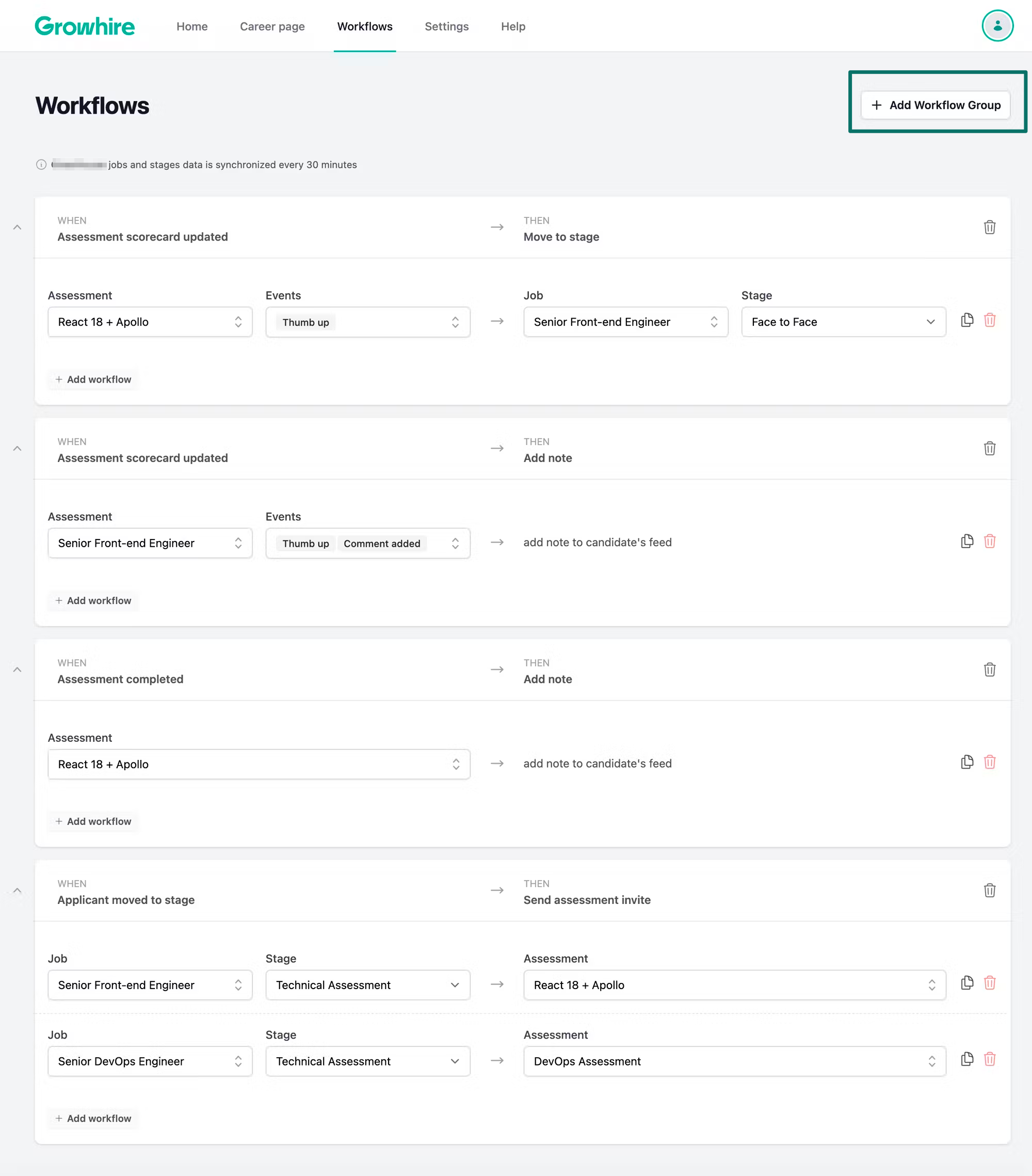 💡Learn more about workflows here.
Using the integration
Once the connection with Growhire is complete and you have configured your Growhire workflows you will be able to:
Invite automatically candidates to an assessment or interview when they are moved to a specific stage in Workable.
Be notified (with a comment) when an assessment/interview is completed or an assessment/interview scorecard is updated.
Move a candidate to a new Workable stage when they complete an assessment or interview.