There are different reasons for deleting a candidate. For example, because you know that they will never be suitable for a role at your organization, or because you need to comply with data protection laws like GDPR and you require an automated data retention process. Another reason would be if an applied or sourced candidate requests their deletion from your system.
Important: Manually deleting a candidate will hard-delete their profile from your Workable account. Timeline information like evaluations and comments, as well as profile information like contact details, resume files and any other information, will be deleted. Deleted candidates may not be recoverable.
🔎 Noticing candidates missing? Check: Why are some candidates not visible in Workable?
Accessing the option
To delete a candidate, click the three dots in the candidate toolbar. Select Delete Candidate. You'll be asked to confirm the deletion.
When a candidate is deleted, no notification will be sent to them.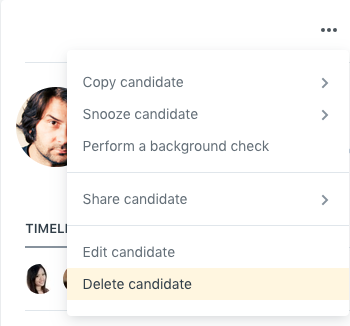 If a candidate has applied for multiple jobs they will have unique (but linked) profiles for each job. Deleting a candidate will only delete the profile you are currently looking at. The candidate will still be available in your account for any other jobs they've applied for.
To ensure that a candidate has been fully deleted, an admin should run a search for their name in the search box in the upper right of Workable. If there are search results for that same candidate, open those profiles and delete them following the same steps above.

Bulk deletion
To delete candidates in bulk:
Click the Select all option in the candidate browser for a stage (or click the checkbox next to individual candidates)
Click the Bulk actions menu
Select the option to Delete candidates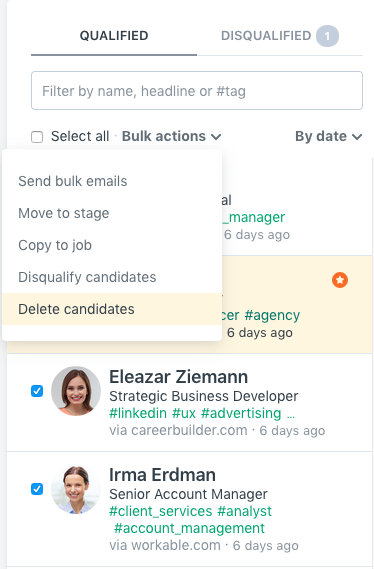 You'll be asked to confirm the deletion. Upon confirming, the candidates and all their data will be completely removed from your account.
Impact in reports
Any candidates deleted by an explicit action by the user in the account (single or bulk deletion) are not retained in any of our reports.
Candidates that withdraw their application, delete their own data via the link, or are deleted by our automated data retention options, will be kept for the Historical reports but not for the Status reports. Learn more about report types here.