How do I sort candidates based on evaluation ratings?
Follow
All users
except External Recruiters
All plans
You can sort candidates by evaluation rating for each stage in your pipeline. Access a pipeline stage. In the candidate list on the left side of the screen change the sorting option from "Sort by date" to "Sort by evaluation".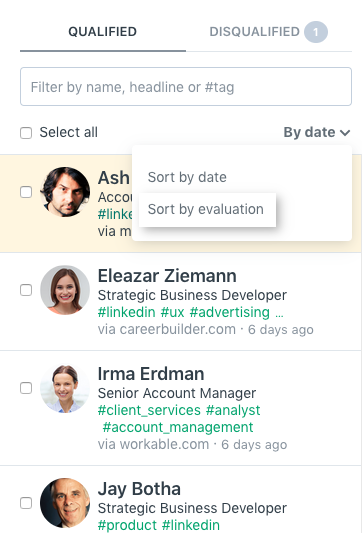 Candidates will be sorted in the following order:
Candidates with the most positive reviews will be at the top of the list

A candidate with 2 stars would come before a candidate with 1 star
Scorecard ratings for individual interview questions are taken into account, i.e. a candidate who got all stars on a scorecard would come before a candidate who got stars and thumbs ups in a single scorecard

Candidates with any type of rating (even a thumbs down) will come before candidates who have not yet been rated