You can use People Search wherever you are on the web by downloading the People Search Chrome extension. Look up candidates and add them right to your Workable account as you're viewing their social media profile.
Installing People Search
To install People Search you'll need to be using the Chrome web browser.
Install the People Search Chrome extension in two easy steps:
1. Visit the People Search page on the Chrome Web Store
2. Click the 'Add to Chrome' button at the top right of the page
The 'W' (for Workable) icon will appear in your toolbar
That's it. You've installed the People Search Chrome extension!

The first time you open the People Search panel you will be asked to sign in (or to create an account).
Using People Search as a candidate sourcing tool
If you have a Workable subscription, the Chrome extension will access the same pool of profile views available to your account (e.g. if you have 1,000 profile views available inside Workable, you will have 1,000 profiles views available in the Chrome extension. If you use 1 profile view in the Chrome extension and switch to using the search inside Workable, you will now have 999 views available). A profile view is used when you click on a search result to view the full profile.
At the top of the People Search panel you will see five icons:

Magnifying glass: use this to reveal the 'search by name' option.
Beta: this option is still in beta mode. Click this to expand the panel to the full width of your screen. Search by skill, keyword location and more.
Clock: revisit your recent full profile views. Revisiting a full profile does not count as another profile view
Cog: see your account settings and check the number of profile views used so far. For those using People Search independently from Workable, you'll also be able to purchase a Recruiter License. If you're already using Workable, Recruiter Licenses are purchased from inside the main ATS, find out more.
Cross/X: click the 'X' icon to close the People Search panel
For most searches (excluding instant look up from social networks), People Search will return a list of results as a profile preview (see example below). Clicking the 'View full profile' button on any profile preview, counts as 1 profile view.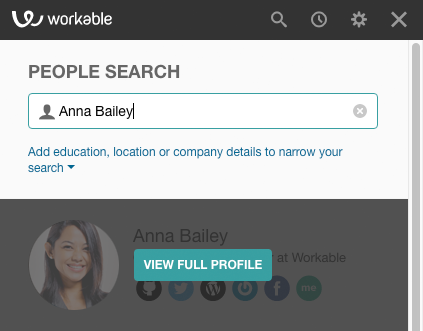 Profiles can contain multiple points of information including:
Name, headline, social media profiles
Email address and phone number
Summary, work experience and education
Keywords
Look up candidates by name
If you already have the name of a prospect, click the 'W' icon in your Chrome toolbar to open the search panel. Enter the name directly, and add filters such as the prospect's education, location or company details. People Search will return a list of possible matches, displayed as profile previews. Click a profile preview to view the full profile.
This type of search is useful when:
Someone recommends a candidate by name
You meet a great potential candidate at a networking event
You see a brilliant prospect speak at a conference or event
Right Click Search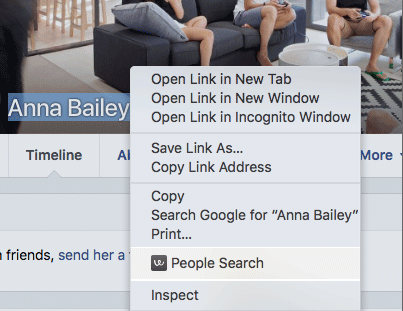 When browsing anywhere online (including your web-based email accounts), highlight a name and right click. This will open the contextual menu. Choose People Search to open the Chrome extension and search for the prospect automatically. People Search will return a list of possible matches, displayed as profile previews. Click a profile preview to view the full profile.
This type of search is useful when:
You use a web based email account and someone emails you the name of a great prospect
You come across a potential prospect in an attendee list for an event or meet-up
You see a prospect mentioned or recommended anywhere online
Social media sourcing
When browsing a profile on Facebook, Angel List, Twitter, GitHub, Dribbble and Behance, click the 'W' icon to open the People Search panel. People Search will automatically display a full profile for the prospect showing data gathered from multiple sources. (Note: this will use 1 full profile view as there is no 'preview' before viewing a profile found in this way.)
This type of search is useful when:
You're doing a focused talent search for multiple candidates on a specialist site (e.g. GitHub)
You chance upon a prospect discussed socially (e.g. Facebook)
You're browsing the social sites you use every day and discover a great prospect
Get the complete picture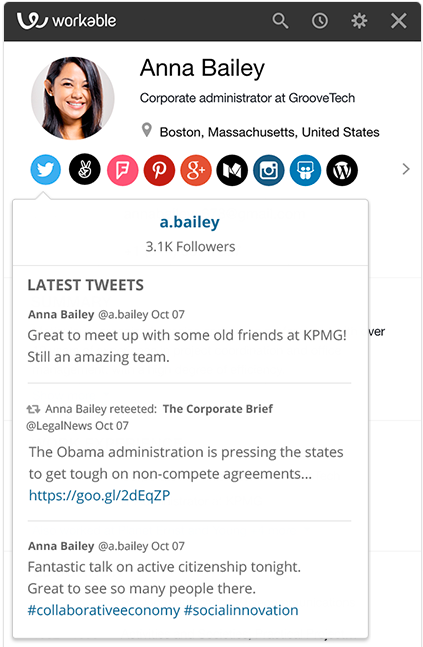 When viewing a candidate's profile, rollover social media icons to find extra details including:
Latest tweets (example shown above)
Contributions and activity from GitHub
Follower numbers, activity and likes from Dribbble
In the education section, roll over the underlined name of any school, college or university to reveal a short description of the establishment.
Add candidates to Workable / Download the profile
At the bottom of every profile you'll see a green + button: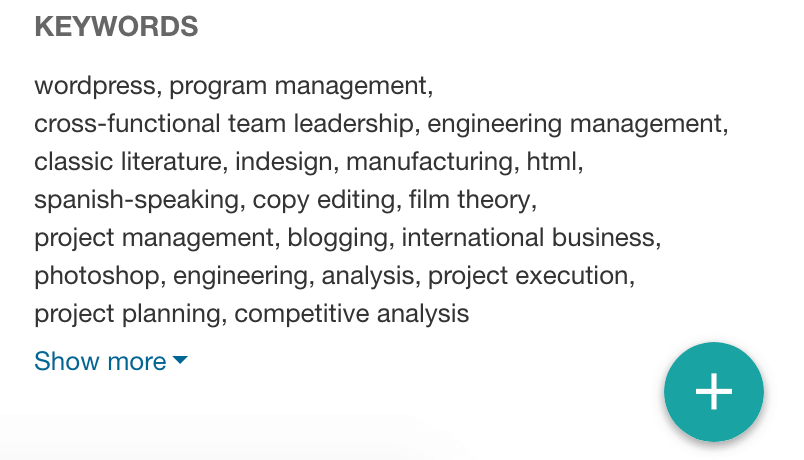 Tap this button to reveal a panel where you can 'clip' the profile into your Workable account. The candidate's information will be pulled into your account for the job you choose. Candidates are not notified when you do this. Alternatively, download the full profile as a PDF.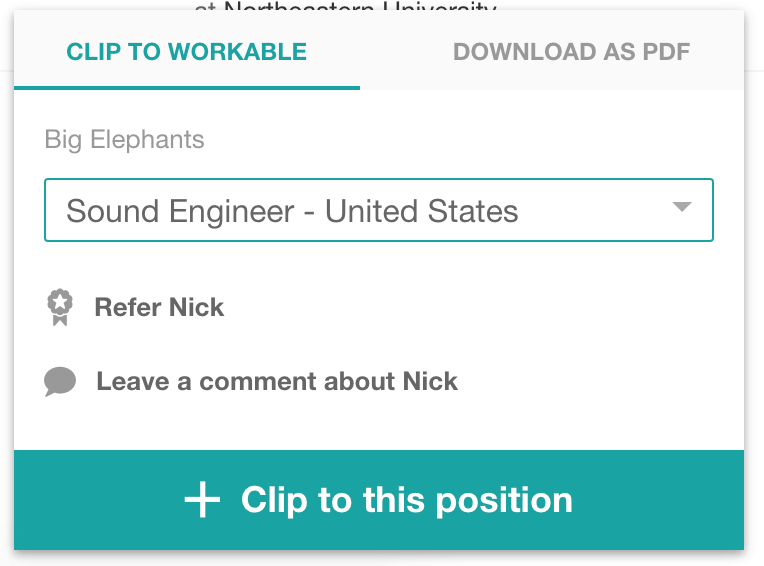 You can also choose to act as a referral for the candidate and to leave a comment which will be stored in the candidate's profile once they are added to your account.