Important: Our extension is not currently available to new users, but existing users who downloaded it before can continue to use it. We are developing a new version with new features.
You can use People Search wherever you are on the web via the People Search Chrome extension. Look up candidates and add them right to your Workable account as you're viewing their social media profiles.

Using People Search as a candidate sourcing tool
⚠️ Each individual search result counts as one profile towards your profile quota. Click here to learn more about your profile views consumption. 
The first time you open the People Search panel you will be asked to sign in with your Workable credentials (or to create an account). Next, an authorization window will open to allow the extension to access your Workable account.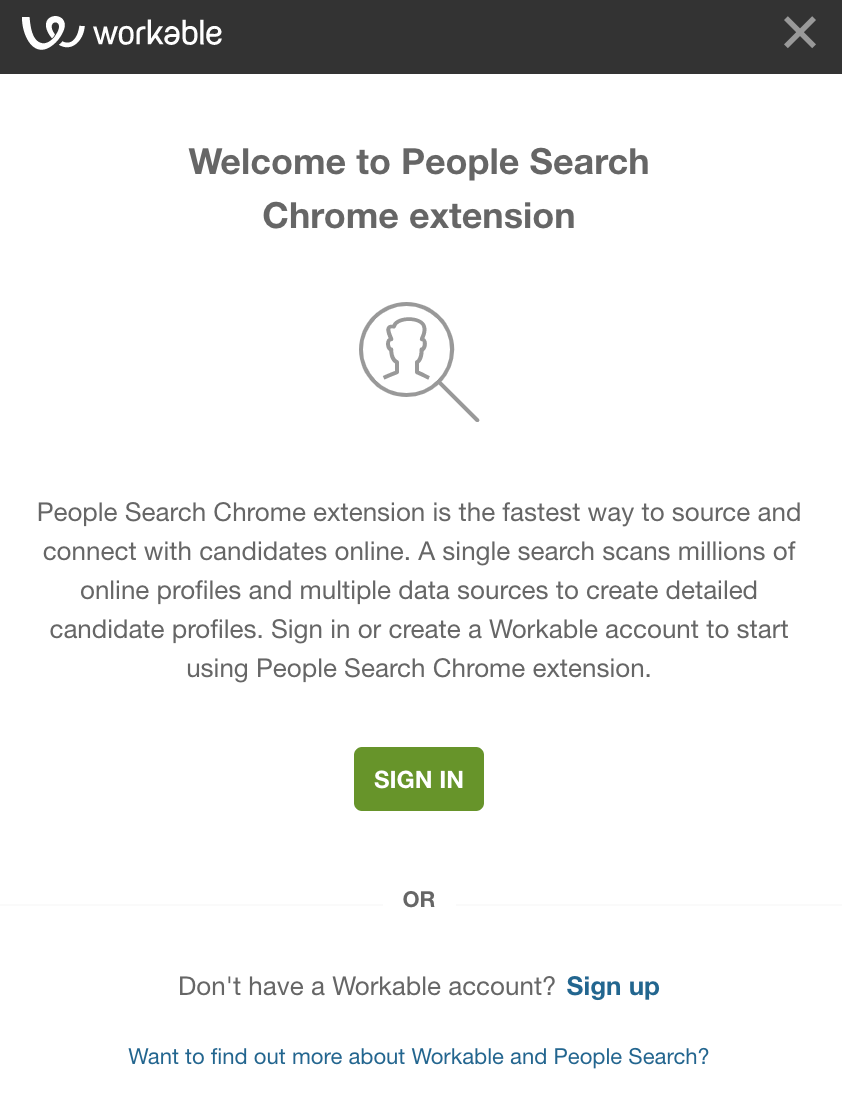 If you have a Workable subscription, the Chrome extension will access the same pool of profile results available to your account (e.g. if you have 1,000 profile views available inside Workable, you will have the same pool of 1,000 profile views available in the Chrome extension. If you use 1 profile in the Chrome extension and switch to using the search inside Workable, you will now have 999 profiles available). A profile is used for each search result generated.
At the top of the People Search panel, you will see four icons:

Magnifying glass: Use this to reveal the 'search by name, email or URL' option. To narrow your search add education, location or company. 
Box/arrow: Click this to be redirected to the People Search page for a more advanced search. 
Cog: See your account settings and check the number of profile views used so far. If you're recruiting at multiple companies you can switch to a different company. 
Cross/X: Click the 'X' icon to close the People Search panel
For most searches (excluding instant lookup from social networks), People Search will return a list of results as a profile preview (see example below).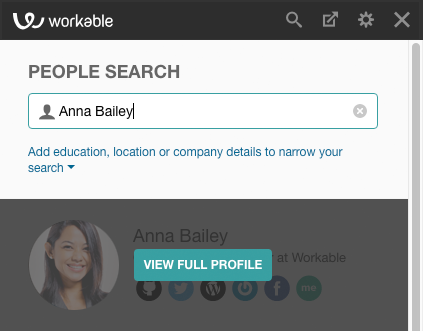 Profiles can contain multiple points of information including:
Name, headline, social media profiles
Email address and phone number
Summary, work experience and education
Keywords

Types of candidate search
Direct search (name, email, or URL)
If you already have the name, email, or social URL of a prospect, search accordingly and add filters such as the prospect's education, location, or company details. People Search will return a list of possible matches, displayed as profile previews. Click a profile preview to view the full profile.
This type of search is useful when:
Someone recommends a candidate by name or LinkedIn profile
You meet a great potential candidate at a networking event
You see a brilliant prospect speak at a conference or event
Social media sourcing
When browsing a profile on Facebook, AngelList, Twitter, GitHub, Dribbble, and Behance, click the 'W' icon to open the People Search panel. People Search will automatically display a full profile for the prospect showing data gathered from multiple sources. (Note: this will use 1 profile.)
This type of search is useful when:
You're doing a focused talent search for multiple candidates on a specialist site (e.g. GitHub)
You chance upon a prospect discussed socially (e.g. Facebook)
You're browsing the social sites you use every day and discover a great prospect
Context search (right-click search)
When browsing anywhere online (including your web-based email accounts), highlight a name and right-click. This will open the contextual menu. Choose People Search to open the Chrome extension and search for the prospect automatically. People Search will return a list of possible matches, displayed as profile previews. Click a profile preview to view the full profile.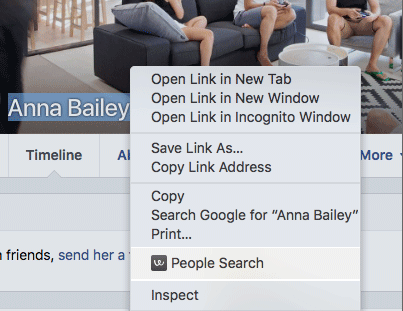 This type of search is useful when:
You use a web-based email account and someone emails you the name of a great prospect
You come across a potential prospect in an attendee list for an event or meet-up
You see a prospect mentioned or recommended anywhere online
Get the complete picture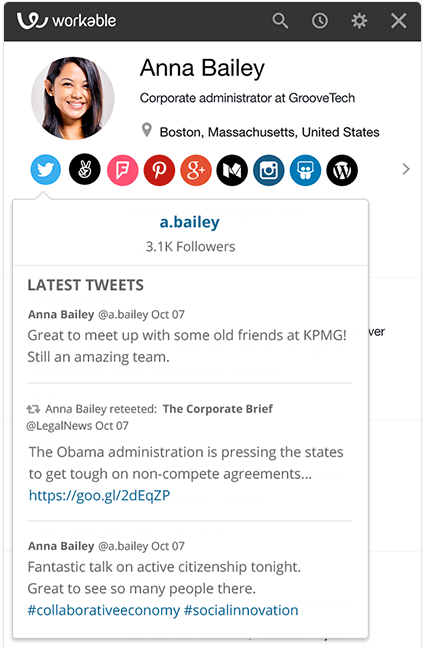 When viewing a candidate's profile, rollover social media icons to find extra details including:
Latest tweets (example shown above)
Contributions and activity from GitHub
Follower numbers, activity and likes from Dribbble
In the education section, roll over the underlined name of any school, college or university to reveal a short description of the establishment.

Add candidates to Workable / Download the profile
At the bottom of every profile you'll see a green + button: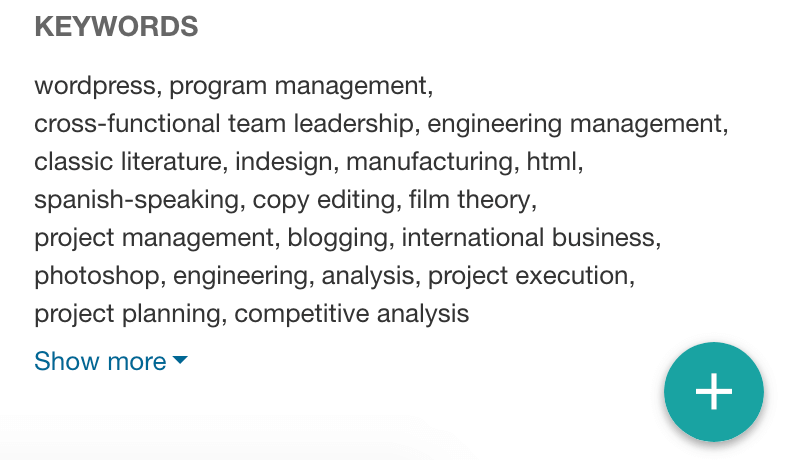 Tap this button to reveal a panel where you can 'clip' the profile into your Workable account. The candidate's information will be pulled into your account for the job you choose. Candidates are not notified when you do this. Alternatively, download the full profile as a PDF.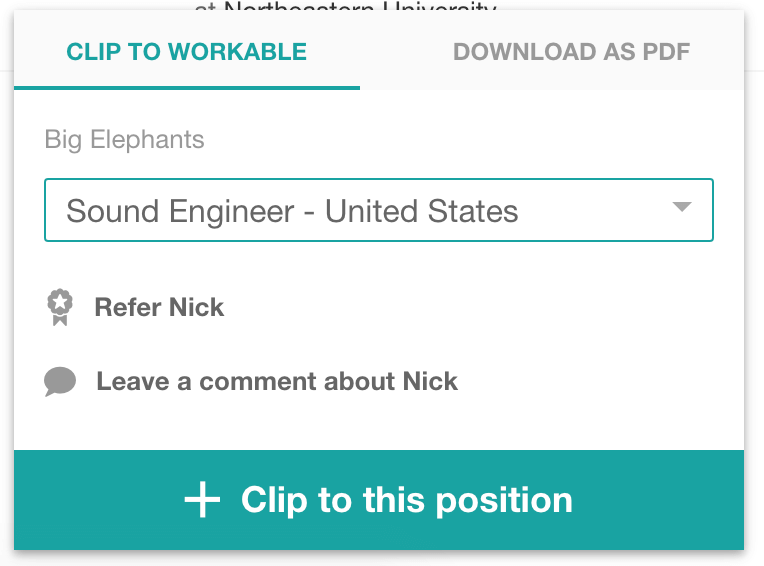 You can also choose to act as a referrer for the candidate and leave a comment which will be stored in the candidate's profile once they are added to your account. (If you have access to Workable Referrals you'll be directed to the portal to complete the referral.)