A data import or migration isn't necessary for everyone. If you would just like to upload multiple resumes then the bulk upload feature is the quickest option.
However, if you have candidate data in a spreadsheet you can use either a Data Import (quick and easy) or a Data Migration (takes a bit longer, but has more flexibility).
Comparing import options
Data import/migration method
Availability
Best for
How to
Bulk upload
All plans
You have a folder of individual resume files on your desktop which you need to upload in Workable in bulk
Use bulk upload to add up to 100 resume files at a time
Data import

One time for free to:

Monthly accounts, up to 1,000 candidates
Annual accounts, up to 40,000 candidates per job

You have candidate data (in a spreadsheet), but no resumes. Candidate data could include name, contact details, internal comments, cover letters, application source, etc.
Use the Data Import template outlined below
Data migration
Premier plan: one-time free migration for these supported tools
You have both candidate data and resumes or you have a data export from another ATS
Use the Data Migration option outlined below
Transfer by Zapier
All plans
Unique situations that do not fit in the above categories
Choose from 27 source apps to send your data to Workable in bulk
Unique needs
Premier plan
Anything not covered by the other methods
Contact your Account Manager with the details of your request
Data Import
One time Data Imports are available for free to:
Monthly accounts, up to 1,000 candidates
Annual accounts, up to 40,000 candidates per job (if more they will be distributed to more than one jobs and the ETA will be adjusted accordingly)
🔍 Additional Data Imports or imports with more than the specified number of candidates will have a cost associated with them.
Templates & Guidance
Candidate data must be formatted according to the template below. Choose the version you prefer:
💡How to use the import template?
Download the template which corresponds to the format in which your data is currently held. Note: changing the document type can cause formatting issues.
Every version of the template has clear instructions explaining the meaning of each column. A sample data set is provided in the third row so that you can better understand what should be included in each column.
Either copy and paste your data into the template or edit your own Excel, CSV, or Google Sheet file to match the column headings as shown in the template.
When your file is complete, contact our support team or your account manager/ onboarding specialist to send in the data.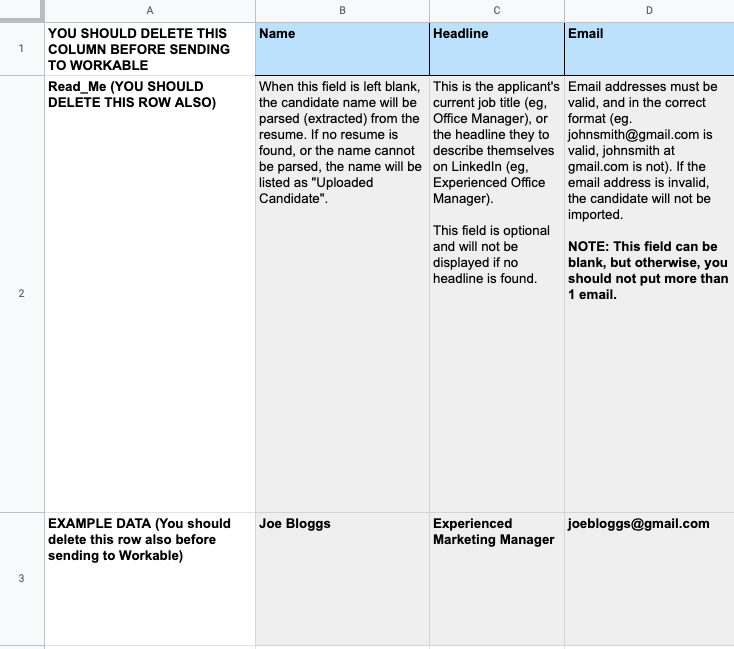 Data Migration
If you are migrating from one of the following tools to Workable we support a one-time migration for free with the Premier plan.
Greenhouse
Lever
Jobvite
Recruiterbox
Google Hire
iCims
JazzHR
Recruitee
BambooHR
TeamTailor
FAQs
Can we import data into Published jobs and Talent pool?
No. All unique job titles associated with candidates will be imported as newly created archived jobs with no job data apart from the job title.
Can we import data using a custom recruiting pipeline or the reporting pipeline?
No. The reporting pipeline cannot be used for data imports. If you are using multiple pipelines you have two options:
Choose one single custom pipeline that will be used for all the jobs.
Create a pipeline solely for the import of data.
Is it possible to add additional columns in the import template?
This is not supported but you can use the 'Comment' column to add extra information to the candidate profile.
How can we share our resumes with you?
You can choose from the following options:
Add the resume URLs to the "Resume" column of the import template. The files must be accessible from public, without credentials, and they should directly trigger the download of the resume.
Share with us a folder with the resumes of your candidates through a ZIP file. The filename listed in the spreadsheet (under the 'Resume' column) must be an exact match with the resume provided in the folder and include the file extension. If resumes are provided under a folder structure, the full path of the resume should be provided (e.g. allresumes/jobtitlefolder/candidateACV.pdf).
Add the resume Google Drive URLs to the "Resume" column of the import template under the following format: https://drive.google.com/uc?export=download&id=1PrzkslyNccw6kQAIdwdwpBD24LaYE7v3. The Google spreadsheet formula that makes the conversion is the following and should be applied to the whole column.

=SUBSTITUTE(SUBSTITUTE(<Resume column>,"https://drive.google.com/file/d/","https://drive.google.com/uc?export=download&id="),"/view?usp=sharing","")