Welcome to the Jungle offers innovative solutions to companies so that they develop their employer brand and strengthen their attractiveness. Their inspiring experiences and content media empower workers and businesses to redefine the rules for more sustainable work, exploring the future of the workplace.
Setting up the integration
🆘 This integration is not available for all Welcome to the Jungle subscriptions. If you do not have access to this feature contact their support team for further assistance.
Log in to your Workable account as a Super Admin to locate your partner token and subdomain.
Partner token:
Click your profile icon in the upper right, and navigate to Settings > Integrations
If the Partner token has already been generated just copy it. If not, click the button to generate a token. Your token is a long string of random letters and numbers.
Subdomain: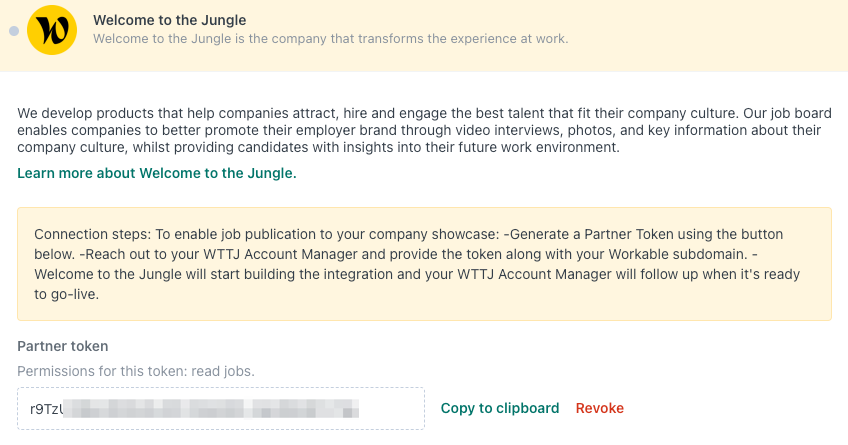 Now, reach out to your WTTJ Account Manager and provide the token and subdomain. Welcome to the Jungle will set up the integration for you and they will follow up when it's ready to use.
Using the integration
Once the integration is activated, all of the jobs with the Published status in Workable will sync to your Welcome to the Jungle account. Newly published and updated jobs sync every 24 hours.
Candidates who apply for your published jobs in Welcome to the Jungle are redirected to your Workable application form. Once they submit the application they'll appear in the Applied stage in Workable and their source will be listed as welcometothejungle.com. On the Candidate Sources report, the source will be listed under the "Other" category.
👉 To track a more custom source please provide a tracking parameter to WTTJ and they'll be able to append it to the job URLs on their side.