Record salary expectations early in the hiring process. You can either ask candidates in the application form or register the candidate's expected salary in a specific spot on the profile after you talk to them on a phone screen. That way you will ensure that both parties are on the same page before you move forward with candidates. 
The best way to record the candidates' expected salary would be with custom fields. That way, you will be able to:
Choose which Workable user types should be able to see the field. In the below example, we have chosen to show this field only to Hiring Managers & Admins. This means that other people with lower permission involved in the hiring process won't be able to see this field. 
See a full breakdown of user permissions.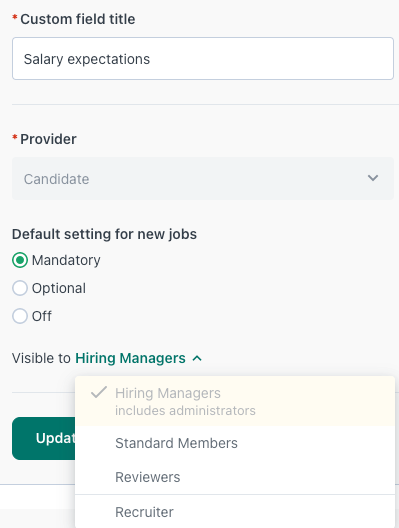 View and extract salary information

as part of the

Candidate Breakdown report. Just tick which custom fields you want to see under Customized data and export the report as a CSV for further analysis.