Capturing structured data around why a candidate was rejected from a job can impact the way your company evaluates its recruiting efforts and processes by revealing any potential trends or blockers that are keeping you from making a hire. ❗Candidates won't be able to see disqualification reasons.
There are two categories of disqualification reasons:
EEO disqualification reasons (only for US jobs) 
Creation and usage
When EEO/OFCCP is enabled on your account you will be required to give a reason every time a candidate is disqualified. This will only apply for jobs located in the US. The disqualification options will vary depending on the stage of the applicant.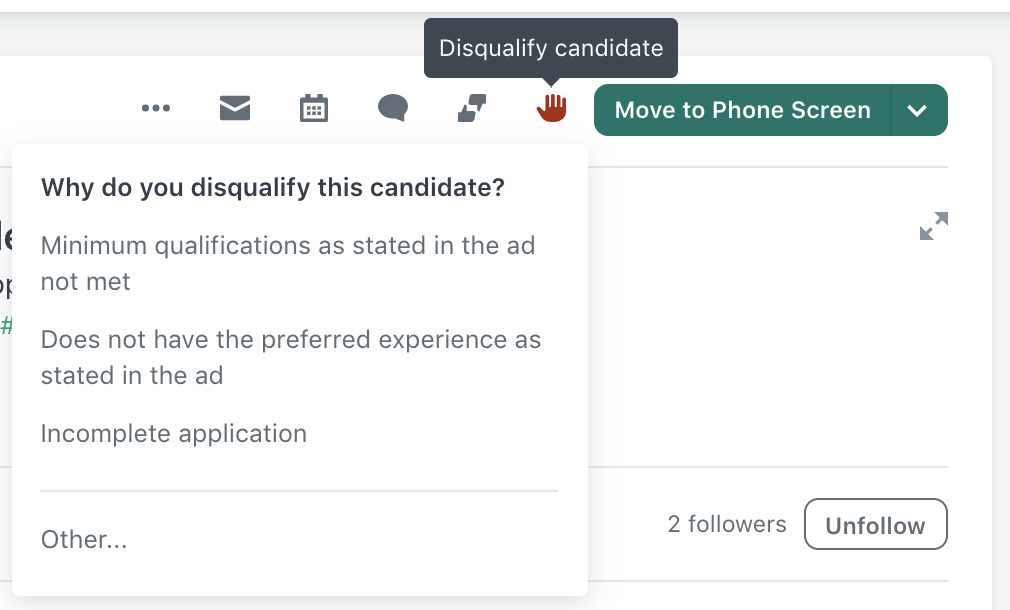 Editing
These rejection reasons are not editable as we are obligated to follow the US government regulations. If you wish to capture a more custom reason, click 'Other' to provide custom reasons for disqualifying a candidate.
Reporting 
Use the Compliance (EEO/OFCCP) report for disqualification reasons reporting. A Super admin can export the results per candidate by clicking the 'Export data per candidate to CSV' button in the upper right:

Disqualification reasons via custom fields
Creation and usage
If you wish to capture more custom reasons or your jobs are not located in the US you could create rejection notes via a dropdown custom field for candidate profiles. Make sure you set the provider to "user" so only members of the hiring team can provide answers. Check more here.
Once the custom field is created, it will appear under the candidate profile. In order to select a rejection reason edit the candidate profile and once you select your option save your changes. 

❗Note that for rejection reasons via custom fields, the selections won't appear automatically when you disqualify a candidate (red hand icon). 
Editing
To edit the custom field or the dropdown answers:
Navigate to the Workflow section of your account
Hover on the specific field and click Edit to make changes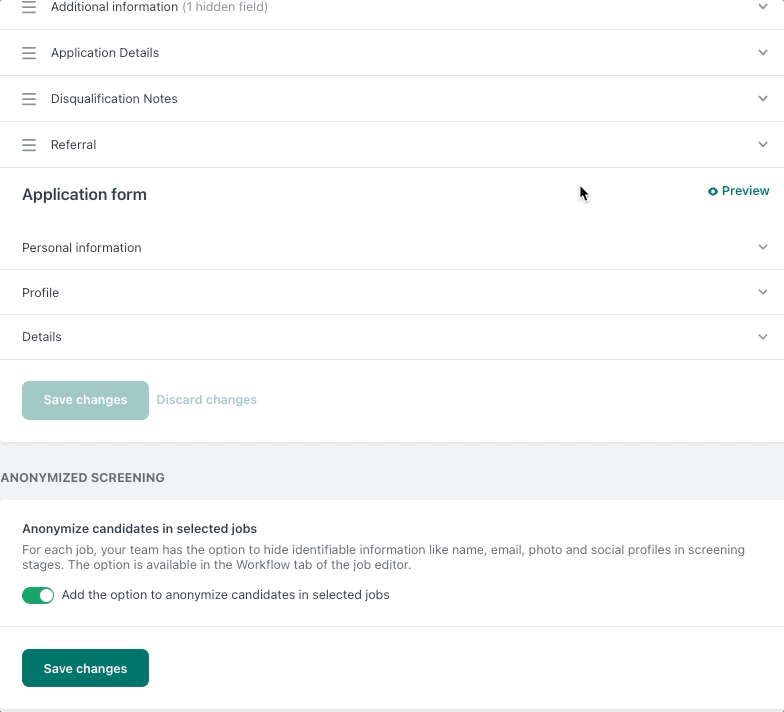 Reporting
Data from custom fields are available to view and export via the Candidate Breakdown report. Under 'Customise data', select which custom fields you would like to see and export to CSV for further analysis.