Saving a job as a draft will be supported later this year. 
Creating a job
When utilizing our mobile app, you have the ability to create, edit and publish jobs on the go. Only users with job creation permission will be able to use this feature (Admins and standard access members). 
If you are not collaborating in any active job, start by clicking Create a new job under the Jobs section of the Workable app dashboard
If you are collaborating in at least one active job, the same button will appear within the job list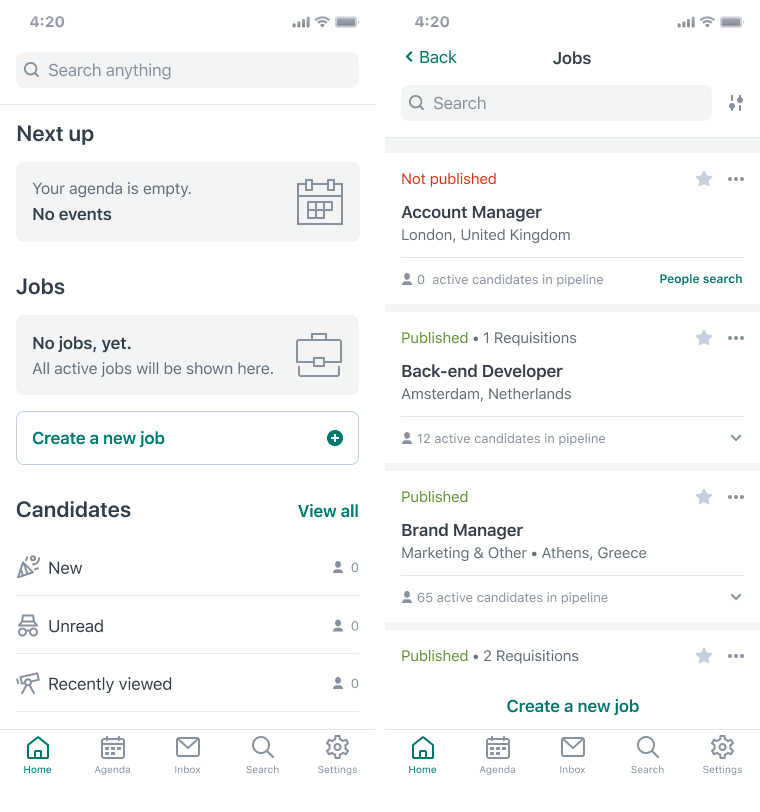 You are now ready to publish a job in just five steps!
Add a job title
Upon typing, you will see a drop-down list with all the available job titles.
You can either select one of the suggested titles and proceed to the next step or type your own title. 
The character limit is 80 characters. 
Add the location
Choose the workplace that best describes your job:

On-site: a city is required under the 'Office location' field
Hybrid: a city is required under the 'Office location' field
Remote: at least a country (or state) is required under the 'Employee location' field; you can choose to show or hide the location on your careers page.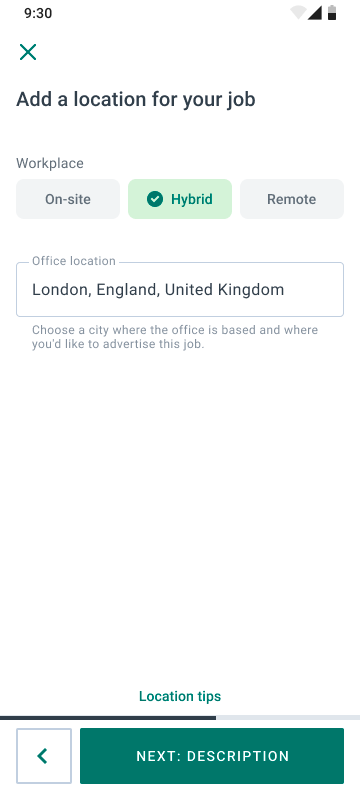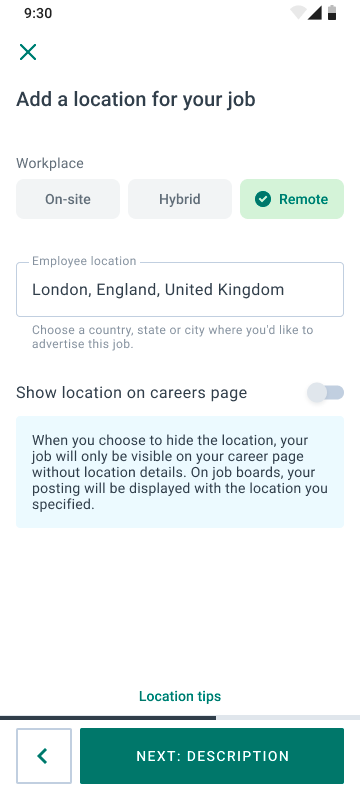 Upon typing a location, you will see a dropdown list with all available locations based on what you've typed. Location can be mandatory for some job boards, so it can't be left blank, even if the job is remote.
Select one location from the list in order to proceed to the next step. Note: You won't be able to type a custom location and save it as an option.
Add a job description
1) Generate with AI
Once the job description is successfully generated, you will see the job editor filled with a description. At this point, you have three options: use the generated version, edit it, or regenerate a new description with a tone of your choice.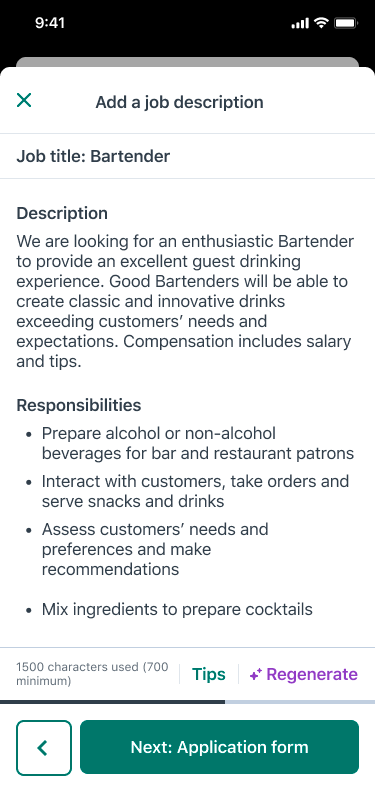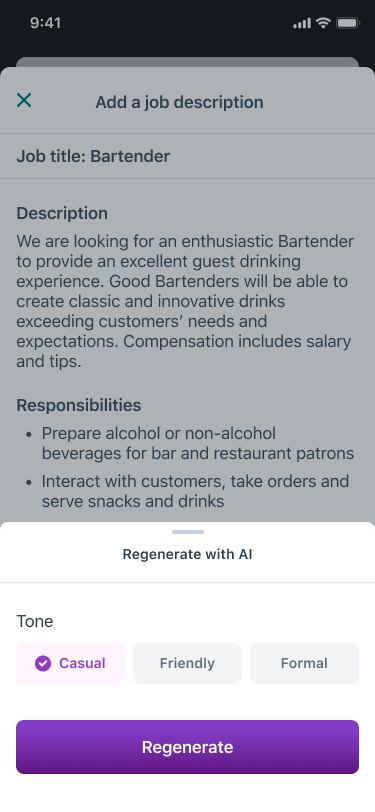 2) Write your own description
In this option, you will see an empty job editor to write your own description from scratch. You can import common benefits based on the job location or type your own.  
A rich text editor will be available with the following functionalities: Headings, Bold, Italics, Insert image & link.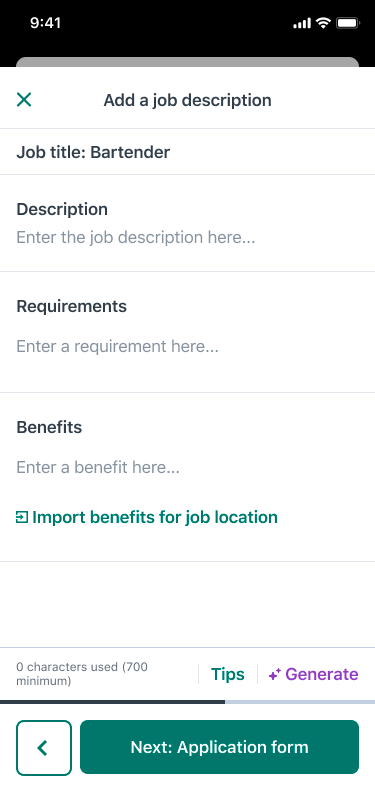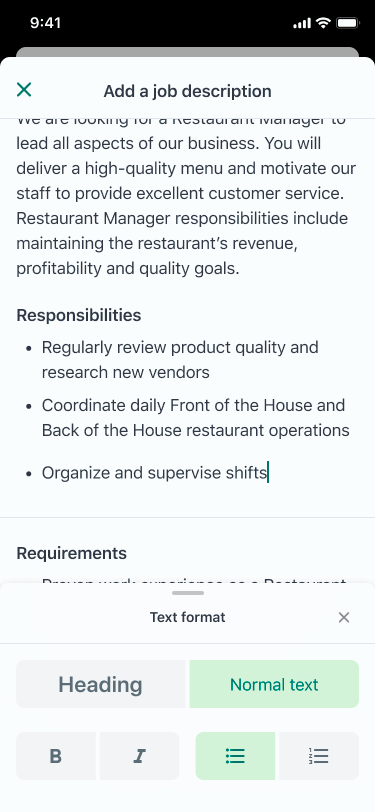 Set up the application form
Edit the default application form and change the setting of each field to be mandatory, optional, or not visible to candidates
Note: Adding extra custom questions is not currently supported via the mobile app.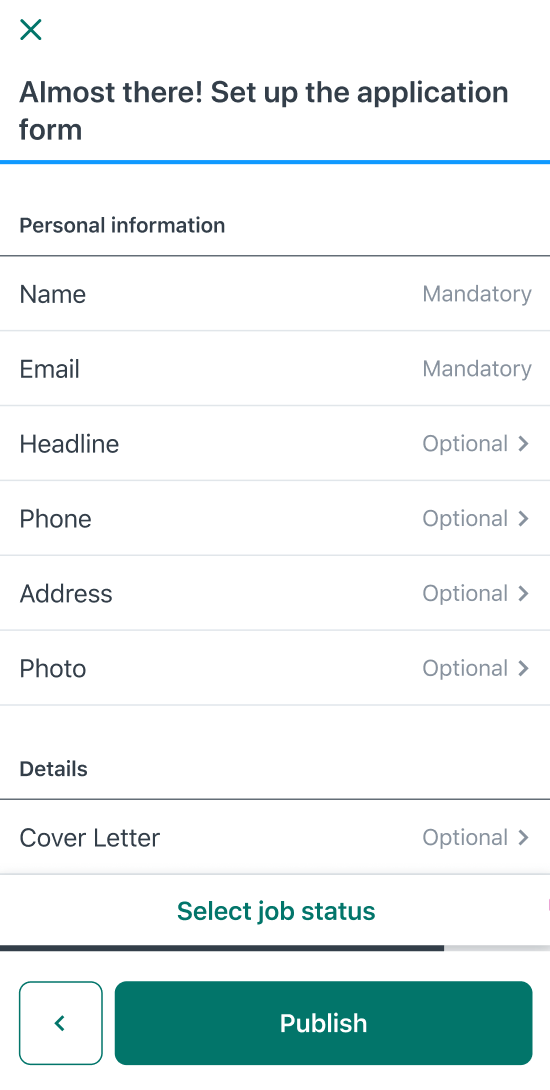 Publish your job
Publish your job right away or click Select job status to post it as an internal/confidential job.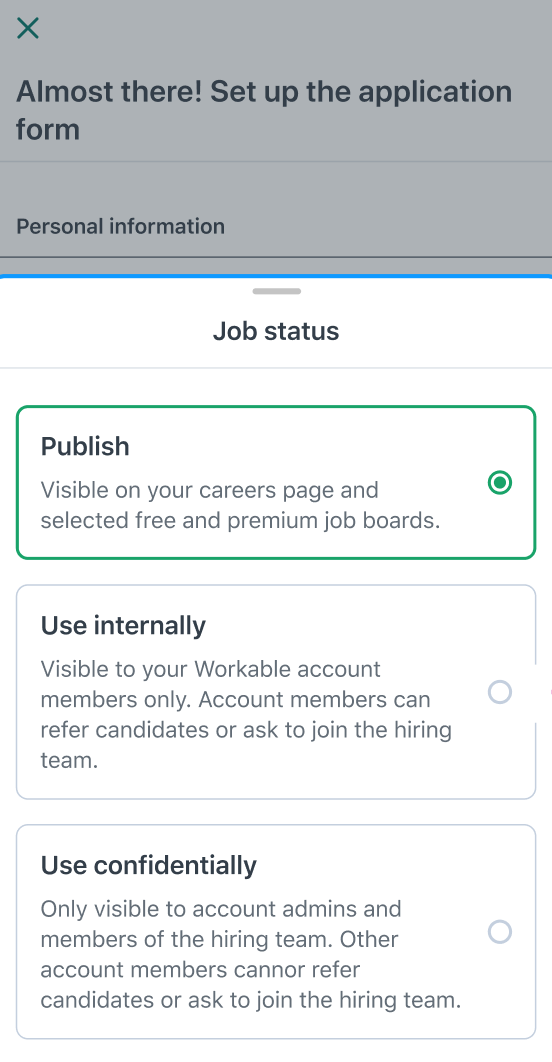 Admin users
Once you click 'Publish your job' you will see a success page together with the job's publish status:
Your jobs will be available right away on your Workable careers page
For free job boards, the job will enter the review queue, where our experienced specialists will check it so that matches the job posting guidelines. The review will usually only take a few hours and will be expedited once your jobs consistently pass the review process.
Job board initialization steps will be available only via desktop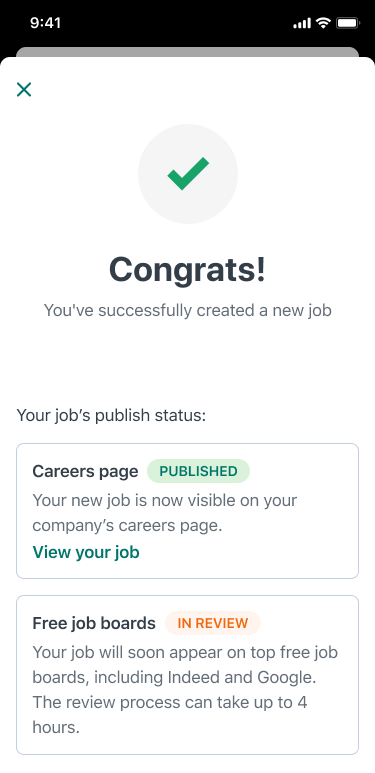 Standard access users
Once you click 'Publish your job' you will be prompted to send a publish request to an admin user. Once the admin approves the publication request the job will follow the same path as explained above. 
Key job functions
In the upper right of a job, click on the three dots for job functions including editing, changing status, archiving, and leaving. 

Change job status
Change the job status depending on your hiring needs. You can switch back and forth between job statuses. The only exception is that you can't transition from Published to Used Confidentially right away; you will need to make the transition Published -> Used Internally -> Used Confidentially. 
Edit job
You can edit active jobs and click Update to publish the changes. Note: It can take 6-24 hours for the changes to be visible across all job boards. The mobile app only shows job title, location and description fields. The below fields are editable only on desktop:
Department

Company industry

Job function

Employment details

Annual salary

Custom questions & custom fields
Archive job
You can archive your job when the hiring process is over. When archiving a job, candidate data will be kept intact, but candidates will be in 'read-only' mode. It will not be possible to interact with candidate profiles.
People Search
This function will redirect you to People Search - search for skills, job titles or names and People Search automatically scours millions of profiles from multiple data sources in real time. 
Leave job
If you do not wish to be part of the hiring process, remove yourself from the hiring team. By taking this action, you will stop receiving any notifications related to candidates under the position.