The new Candidate Database and new Candidate profile are available only for clients participating in our open beta. If your account uses Hiring Plan, the beta will start being launched the week of January 9th.
Check here how to enable/disable open beta in your account.
Access your full candidate database by clicking the Candidates tab in the top menu or by running a search in the search field.
In the candidate database, you'll be able to find profiles for people who have applied for your jobs (or who have been uploaded/sourced to your account) and run focused searches based on keywords or more filtering options like tags, candidate location, and evaluations. You can also operate a variety of bulk actions depending on the job status and your permission.
If you are a Super Admin you will be able to search through all candidates in your account. Non-admin members will see only the candidates who belong to the jobs that they have access to.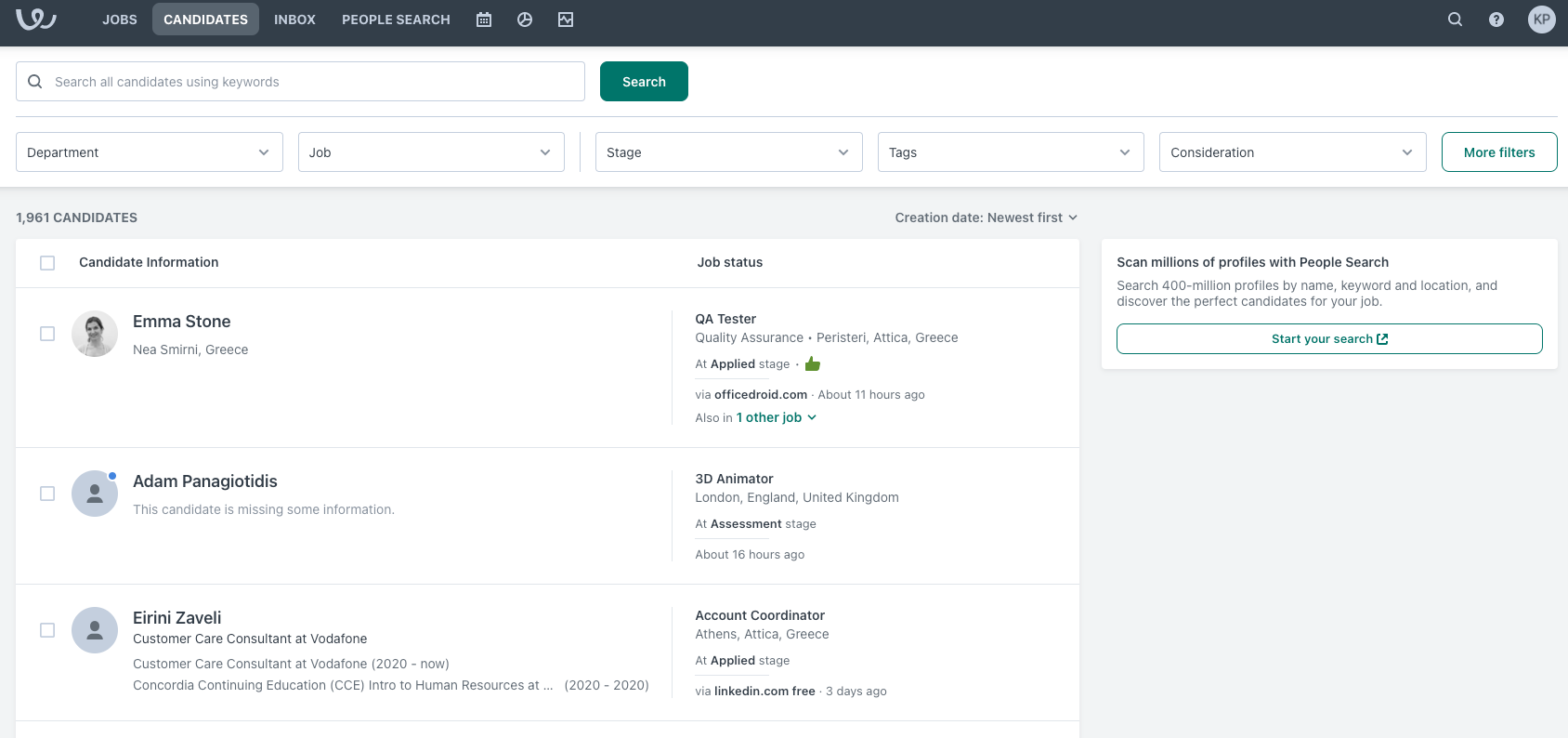 Candidate information
The candidate card will include the following information:
Latest experience and education
Location
Stage (if disqualified will be shown in red)
Most recent evaluation score
Assessment icon (if an assessment is completed)
Video interview icon (if a video interview is completed)
Source
Creation date
Click on the candidate tile to open their profile in a new tab. The blue dot next to a candidate's picture indicates that you haven't reviewed the candidate yet.
View for multiple candidates
When candidates are being considered for multiple jobs they have a unique profile for each job. However, in the database, we will display by default the most recent profile (based on the creation date) from the candidate pool that a member can view. With the same logic, if you sort by the oldest creation date we will display the oldest candidacy.
The rest of the profiles will be nested under the 'Also in x other jobs' indication in chronological order. Other candidacies will be listed here even for jobs you are not on the hiring team but in this case, the candidates will not be clickable.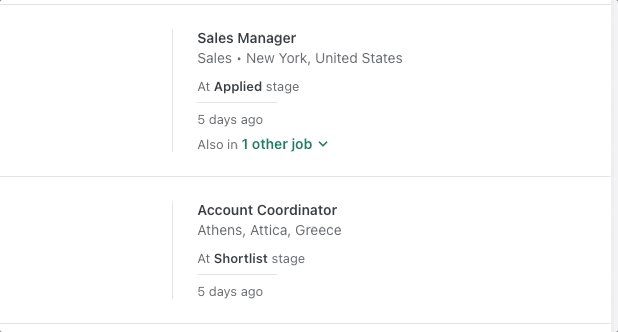 Candidate search, filtering & sorting
Candidates will be by default sorted based on creation date (most recent first) unless you run a keyword search in which case they will be sorted based on relevance. You can change the sorting at your discretion based on your needs.

Before typing your search terms, we will display up to 5 recent searches in case you wish to search for the same term. In order for a term to appear there, you must have clicked on OK/apply after having typed the term. A search is persisted in your browser.
Once you start typing we will display the top 5 search results for quick access.

Click on Search to apply the search term in the candidate database.
You can further narrow down your search by using one or more of the available filters:
Department

Job (with further subsections): the last active date shown under the jobs is the date a job was last activated i.e. from draft to published or used internally/confidentially, from archived to unarchived.



Stage: if you have custom pipelines, then available for selection will be the reporting pipeline stages.
Tags (operation between the selected tags - all, any, none)
Consideration status (

view only qualified or disqualified): if you choose to view only the disqualified candidates the sorting filter will be enriched with two more options.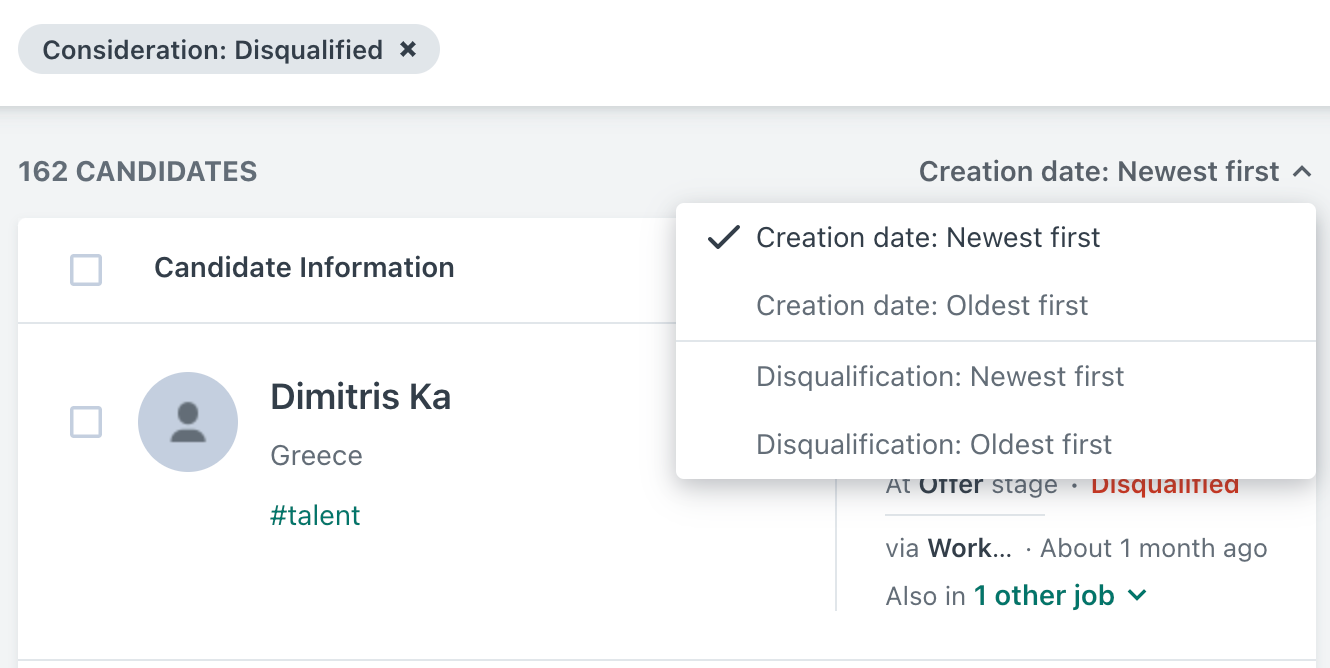 Under more filters:
Candidate location: taking into account multiple location sources (e.g. Application form, resume, People search)
Evaluation score: with the option to show only candidates with an evaluation for their current stage.
Creation date
A respective tile will appear for each filter. To remove one or more filters click the x on the right of the tile.

You can use one or multiple filters at a time. Note that:
when two or more different filters are used, only candidates who meet both criteria will show up in the results

when two or more options for the same filter are selected (e.g., San Francisco and Krakow for Location filter), candidates who meet either criteria will show up in the results
Bulk actions
Select multiple candidate profiles (across jobs and stages) and perform bulk actions including:
Send email, including self-schedule links
Send text
Send Workable Video Interviews/Assessments
Move to the next stage (the next stage for each candidate might be different)
Copy to a job
Move to a job
Disqualify/revert candidates
Delete candidates
Add tags (even if candidates are in archived jobs)

Which actions will be available at the toolbar depends on the user's role and which actions are enabled based on the filters applied. While Super admins can perform all actions for Standard members this will depend on their role in a job.
For example, a standard member that has the role of the hiring manager in a job, and the role of the reviewer in another job, can perform all actions for candidates that are in the first job case but not for candidates in the second job case.
Click here for a detailed comparison of user permissions and what they can do.
Bulk action status and report
After initiating the bulk action, you will be able to see a quick overview of all your actions, monitor their progress, and view your success rate via a notification widget.
Note: An action that has been completed more than 5 days ago, will be removed from the widget. If you choose to dismiss the widget by closing the tab, you won't have access to the actions that failed.
Depending on the bulk action status you might see up to four statuses listed as:
Succeeded: if performed on all candidates selected e.g. 100/100
Failed: if the action couldn't be performed on any of the selected candidates, due to errors e.g. 0/100
Partially completed: if performed on some of the selected candidates, due to errors e.g. 90/100
On hold: if for some of the selected candidates it wasn't completed and the member has to review and decide how to proceed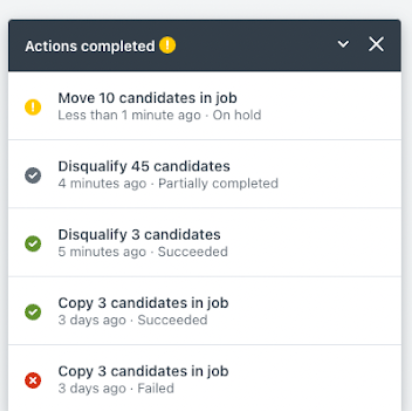 View a detailed report for each bulk action by clicking on the View option against each listed action.

In the report you will be able to view:
The total number of candidates this action was performed against
The number of candidates successfully completed and the list of candidates with a link to each profile
The number of candidates' actions that failed to be completed or are on hold, grouped by error with a link to each profile.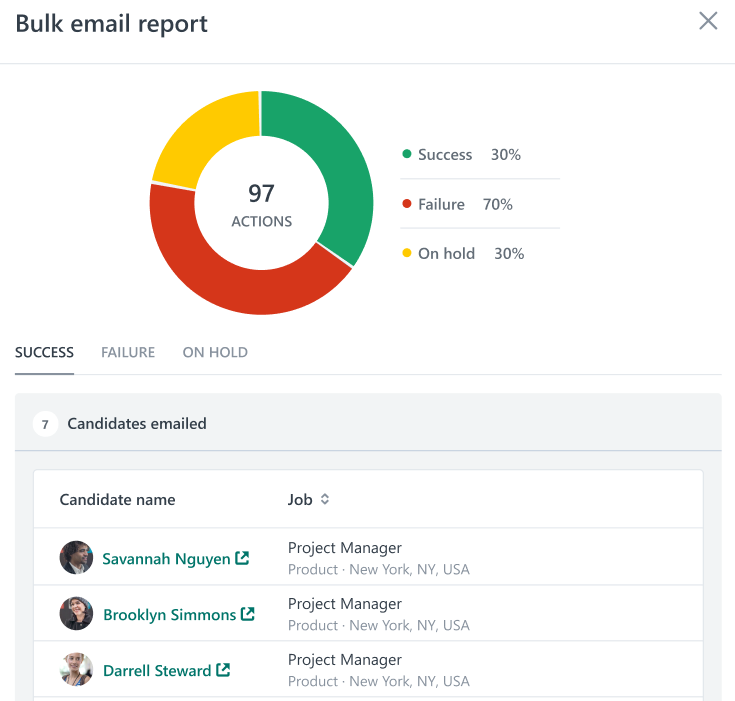 FAQs
What will happen with the anonymized candidates?
The database will work as expected. Anonymized candidates will not be displayed if they are also considered for other jobs or if you filter by location (we anonymize the location as well).
new candidate database. Profiles opened via the candidate browser will retain the
old view
.
Every candidate in Workable has a candidate profile. This is where you can review a candidate's resume and application details. It's also a place for actions; add comments, send emails, invite candidates for interviews or move them on to the next stage in the pipeline.
To access a candidate profile:
Click the Candidates tab in the top menu or run a search in the search field

Click on the candidate you wish to review to open the candidate profile
The toolbar
The toolbar can be found at the top of every candidate profile on the desktop and at the bottom of the profile in the mobile app. It contains fast access to the actions you want to take next. Clicking an action will open an action drawer on the right where the action will be set up and performed.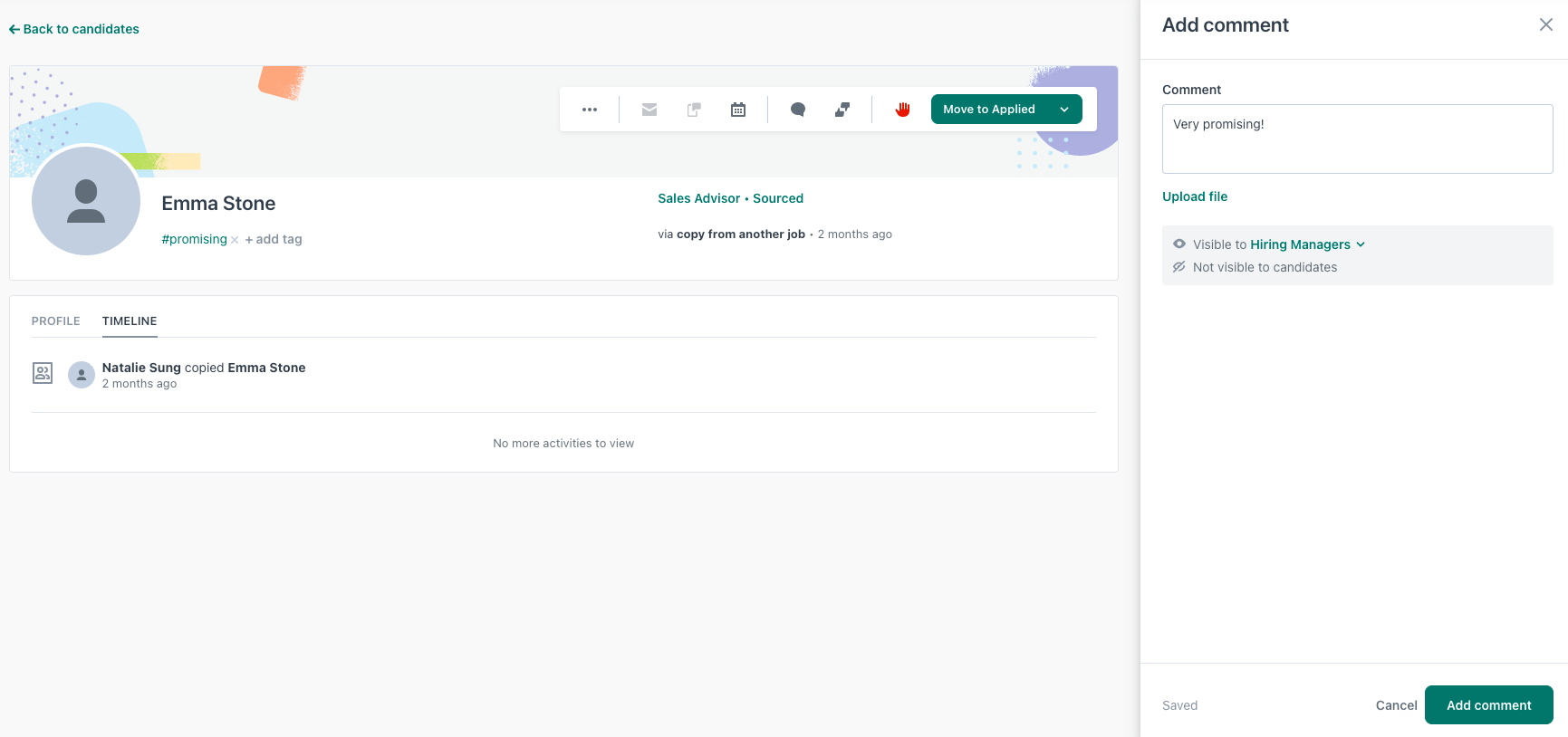 The visible actions will depend on the member's role in the job and the job stage so they may vary. The most common actions are:
Email a candidate
Text a candidate (premium tool)
Schedule an event
Add a comment
Evaluate a candidate
Disqualify a candidate
Move them on to another stage in the recruiting pipeline
Clicking the three dots on the toolbar's left opens a menu to reveal additional candidate actions like:
Request e-signature (upcoming addition)
Request background check (upcoming addition)
Request reference check (upcoming addition)
Request feedback (available only for Bridge candidates - upcoming addition)
Snooze candidate (upcoming addition)
Share candidate (upcoming addition)
Copy to job
Move to job
Delete candidate
Edit candidate (upcoming addition)
If you integrate your Workable account with one or more of the video interview, assessment or HRIS providers we're partnering with then you may see extra icons in certain stages. These icons will let you send a video interview or assessment to a candidate or export the candidate to your HRIS.
Similarly, extra icons will appear for Workable Video interviews and Assessments if you have configured them for the stage. All active accounts will be granted access to premium tools in a limited capacity but they will be able to purchase further access.
The candidate
Under the toolbar, you'll see a panel with some basic candidate details like:
Name
'Headline'; the candidate's current job title (if provided)
Phone number (if provided)
Recent work experience
Tags (you can add a new tag from the + plus icon next to existing tags)
Source
Evaluations for the current stage
Other candidacies
Date of the application or profile upload
Displaying the photo is an option that can be turned on or off under your Privacy settings
Follow a candidate or add a follower
Timeline (split into multiple tabs)
The timeline is a record of all the activities that happen for a candidate in Workable. For better navigation and easier information tracing the full timeline is split into multiple tabs per category:
Profile
Communication
Review
Collaboration
Offer
Files
Timeline

Profile
The profile tab is split into two subtabs:
Details:
Lists all the information provided by the candidate when they applied for the job: work experience, education, skills and matches to any keywords included in your opening
If you or the candidate uploaded a resume file, you'll see that displayed here
Shows custom fields (if any)
Contact details;

You can include multiple email addresses and phone numbers, but one of each will be listed as the 'primary' and will be used when you contact the candidate

Option to view the LinkedIn Recruiter version of the candidate

Social profiles
Answers:
Candidate answers to application questions will be listed here.
Communication
Messages: Emails and text messages with the candidate (also via automated actions) will be listed here. You can adjust their visibility from the arrow menu. Simple e-signature requests will be visible here as well.
Events: All scheduled events with the candidate will be listed here.
Review
Evaluations: Here you will see all evaluations submitted for the candidate since the beginning of the hiring process. T

o limit bias, when a group of users is invited to an event, their evaluations for that event are

hidden from each other

until they submit their own evaluation. Super & recruiting admins are excluded from this rule.

Assessments: Your candidate's assessments will appear here.
Video Interviews: Your candidate's video interviews will appear here.
Reference checks: The candidate's reference/background check information will appear here.
Collaboration
Candidates will never see these comments. They are only for internal use.
Comments: Comments left for the candidate will be listed here. You can adjust their visibility from the arrow menu.
External feedback: Candidate feedback left while sharing a candidate externally will appear here.
Referrals: Any referrals given for this candidate will appear here.
Offer
This tab will appear if you have sent or completed an offer e-signature request to the candidate. Offer audit trails will also appear here.
Files
If a file was attached to a comment or email then a Files tab will be displayed. This makes it easy to jump straight to the files you need and means there's no need to hunt through the candidate timeline. These files could be anything from a candidate's resume to the results of an assignment.
E-signature completion and offer acceptance files will also appear here.
Timeline (all items)
Here you will find all the activities that happened for the candidate since they entered Workable. A descriptive icon will be visible next to each item for easier distinction. Click the arrow icon to expand each item and view more details.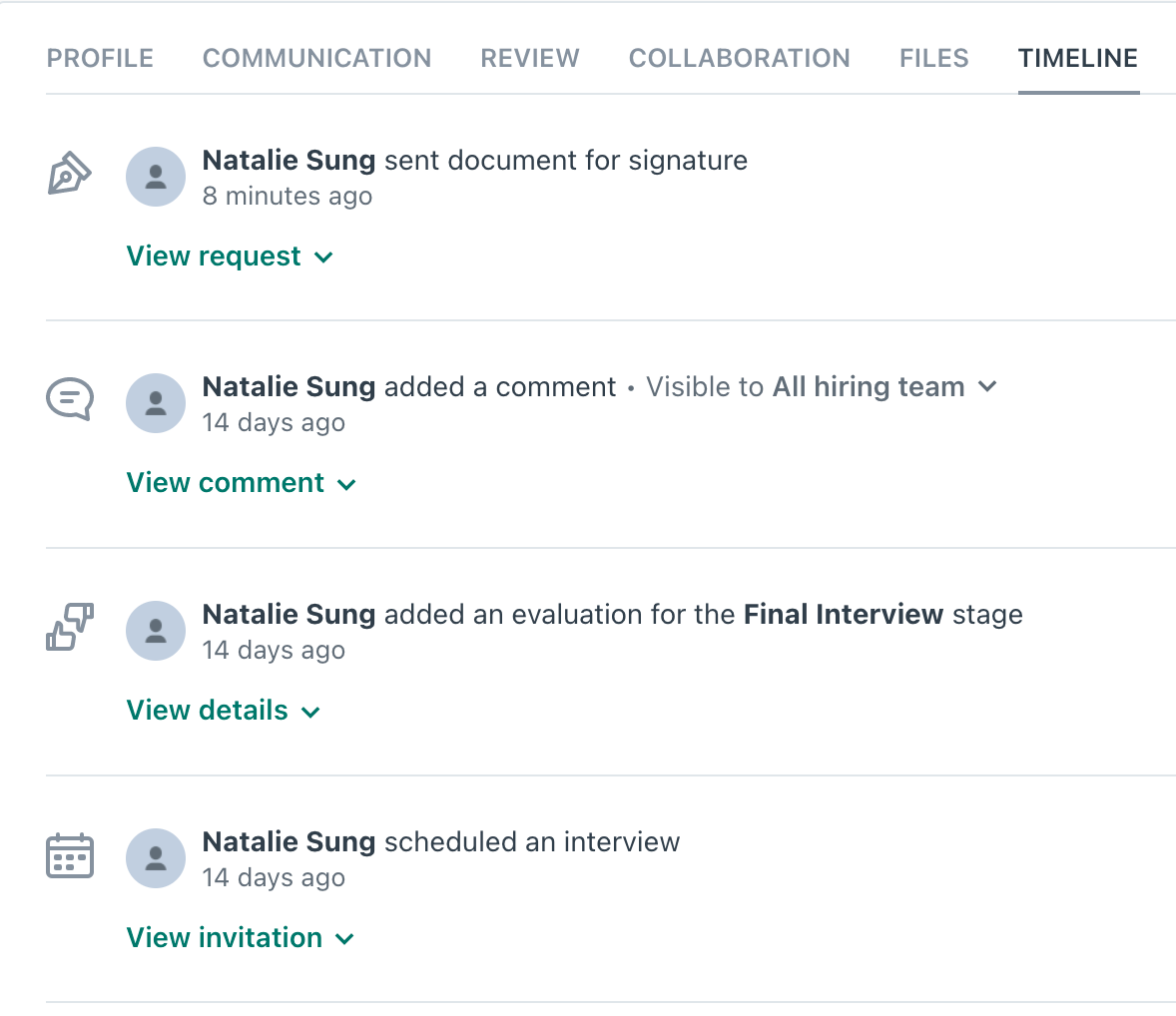 Candidate overview
On the left, you will see a side panel with the latest activities in the profile as well as important information for a quick scan and instant actions. The candidate overview will not be visible if there is no content in the overview sections. In the below example, we can see the next scheduled interview we will attend and a reminder to evaluate a candidate after the interview.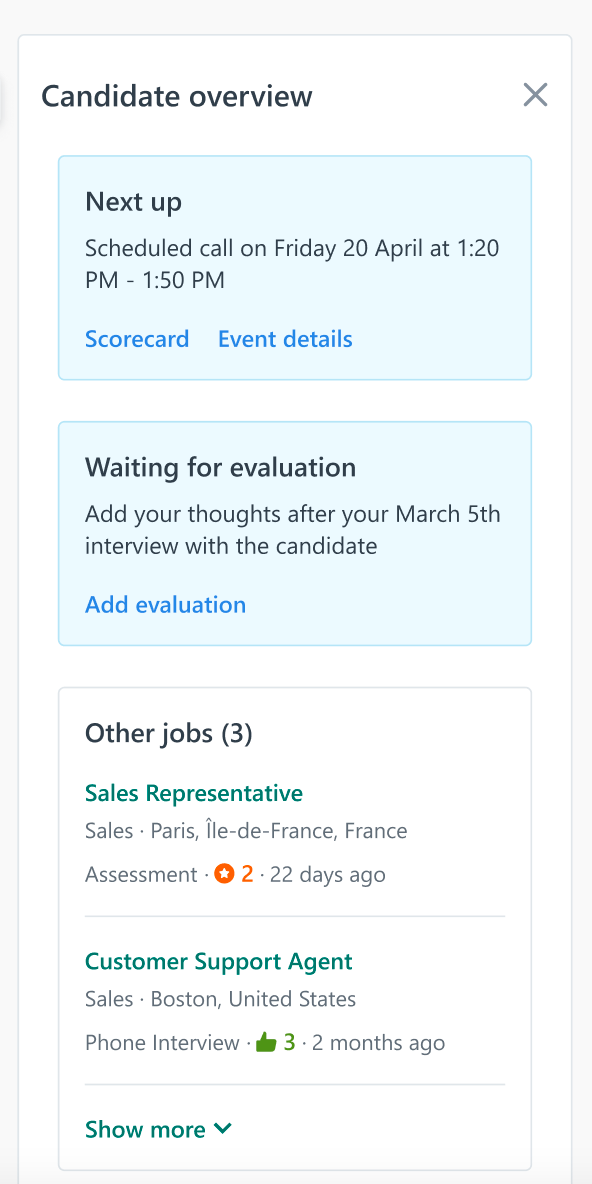 During the open beta, we plan to add the following features:
Candidate profile actions (will be rolled out progressively)

Edit candidate
Request reference and background check
Share candidate
Snooze candidate
Request feedback

(available only for Bridge candidates

Export to HRIS

New candidate profile ported to the candidate browser, including side panel and actions
Enabling/disabling open beta
Each user can enable/disable open beta under the Candidates tab in the top menu.
To enable it, click Try now on the bottom right banner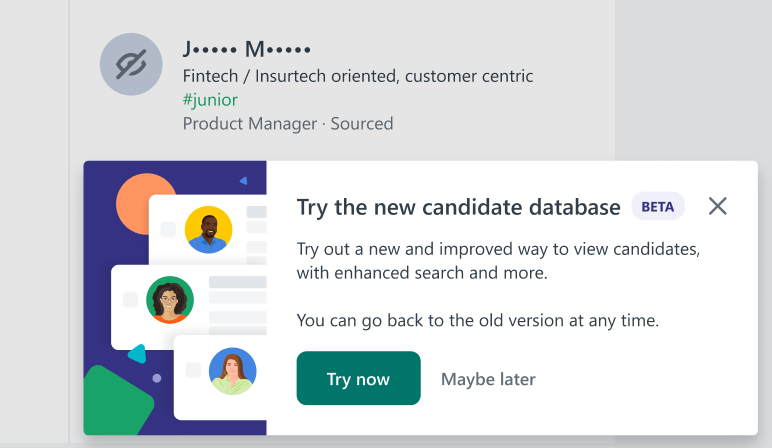 You can go back to the old version at any time by clicking Use the old version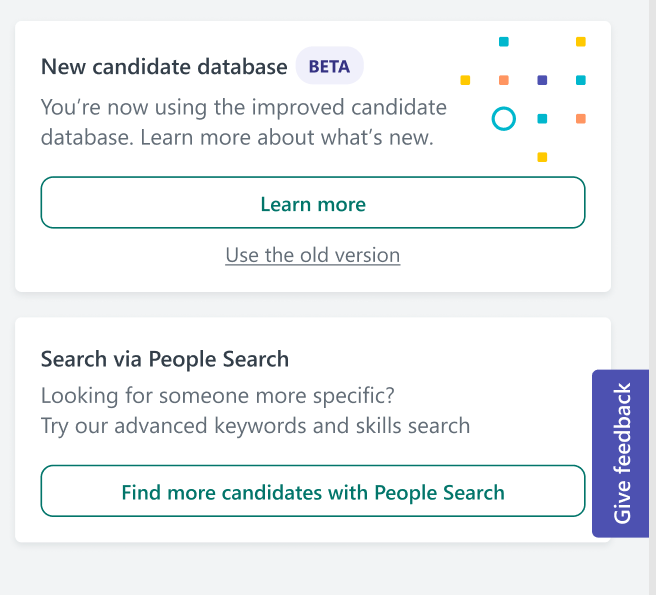 Your feedback during our open beta is much appreciated!