When you collect contact information for a candidate's references, we recommend contacting those references by phone or through your email outside of Workable.
Additionally, Workable integrates with tools like Refapp, Crosschq , and Zinc for reference checking, as well as many background check services, which focus on criminal and identity checks.
Options for storing reference outcomes:
1. Share the profile to have the reference person leave a comment in Workable.
Use the Share Candidate option under the three dots icon to generate a link where the reference can review the candidate's resume and leave a comment.
Disable the "Show timeline and evaluation" switch to ensure that the reference person does not see internal comments or other info left by the hiring team. If there is a video interview this option will be disabled as well. Preview the link before sharing it to verify that extraneous information will not be shared.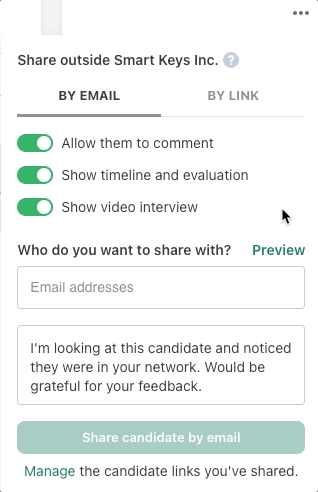 2. Add the reference person's feedback yourself, using a comment on the candidate's timeline.
Use the speech bubble icon to leave comments with any feedback that's collected.

3. Add a pipeline stage for reference checks and include an interview kit with criteria for however many references are typically checked.
You'll be able to add an evaluation rating for each reference as well as a note of the reference person's name and relationship to the candidate.