[Beta] Advanced Careers Page FAQ
Follow
Super Admins & Advanced Careers Page editors
Beta program
Can I have my Advanced Careers Page hosted on my own website?
Yes, your Account Manager can help with this process for which there may be a cost associated. You'll be able to choose the name you want for this URL (e.g. careers, jobs, workwithus, ...), but the link must have the following structure: [careers].your-website.com.
Once enabled by Account Manager and website team, everything will work seamlessly. Your Advanced Careers Page will appear at that link exactly as you've built it. It is still editable through the page builder in Workable - no need to go through web programmers to make updates.
Can I enable/disable the search options for the Jobs section?
Yes, in the Advanced Careers Page builder hover of the Jobs section and click the Edit button that appears in the upper right. Enable or disable the Show Job Search switch.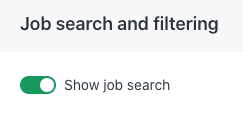 The text on my header is unreadable when I use a darker background image or solid color
Easy-to-read text is a critical part of the candidate experience. You should aim to have contrast between text colors and background colors. For example, white text looks great on a dark background.
Under the Styles menu, set text colors for headings, descriptions and choose a 'light text color'. The light text color can be used on your page in sections where the background color is dark.
By hovering on the Header section and clicking Edit, you can switch the text color by selecting Change the font color. Choose the light text option if the background is dark.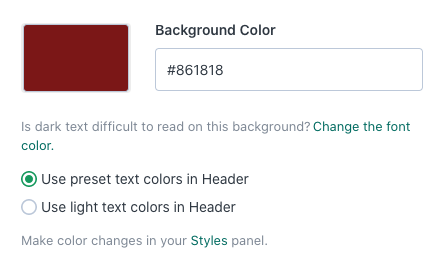 Can I use italics/bold/underlined/links?
Yes, you can format text for Paragraph and Image with Text sections by highlight the text you want to format with your mouse.
A menu will appear with formatting options.