While an optimised job posting can go a long way towards attracting qualified candidates when you first click "Publish," the tips provided below can further enhance this by providing other options to consider in order to fill the pipeline.
Workable offers a variety of different options to reach candidates wherever they might be. Some of the more popular options are provided below.
Job board selection
Not all job boards are created equal. While under most circumstances, posting entry to mid-level positions on broad interest sites like Indeed can produce good results it is also important to have an understanding of where the types of candidates you are looking to attract will search for jobs.
Tech or IT-oriented positions may provide better quality candidates if posted to specialist boards like Dice - where those types of candidates spend the most time during their job search. Consider also that many high level candidates in business roles search for positions on LinkedIn.
Take a quick look on job boards by searching for your job's title and location to determine the amount of competition it has. If the list of recently posted jobs stretches over multiple pages in the results, consider a premium or sponsored posting on the board. These can be purchased in the Find Candidates section of the job in Workable. Beyond ensuring that the job will get higher visibility, this can also signal to candidates that the company is serious about making its next hire.
See the job boards that Workable has posted to under the Find Candidates section for the job. You can also purchase premium posts there too.
In summary:
From the job dashboard in Workable, click the Find Candidates button to see relevant job boards
Consider a premium or sponsored posting for niche roles, or when the competition is expected to be high
Asking for referrals
If a role is particularly challenging to fill, it can often be useful to ask your coworkers for referrals, especially if there is already someone employed in the position being offered. High achieving employees tend to know or network with other people with similar qualities, and Workable makes it easy to request and receive referrals.
Each job in Workable features a unique referrals link that is accessible via the Find Candidates section. Using this link will enable you to send a customisable email to all current users of the account and invite them to submit referrals for the position.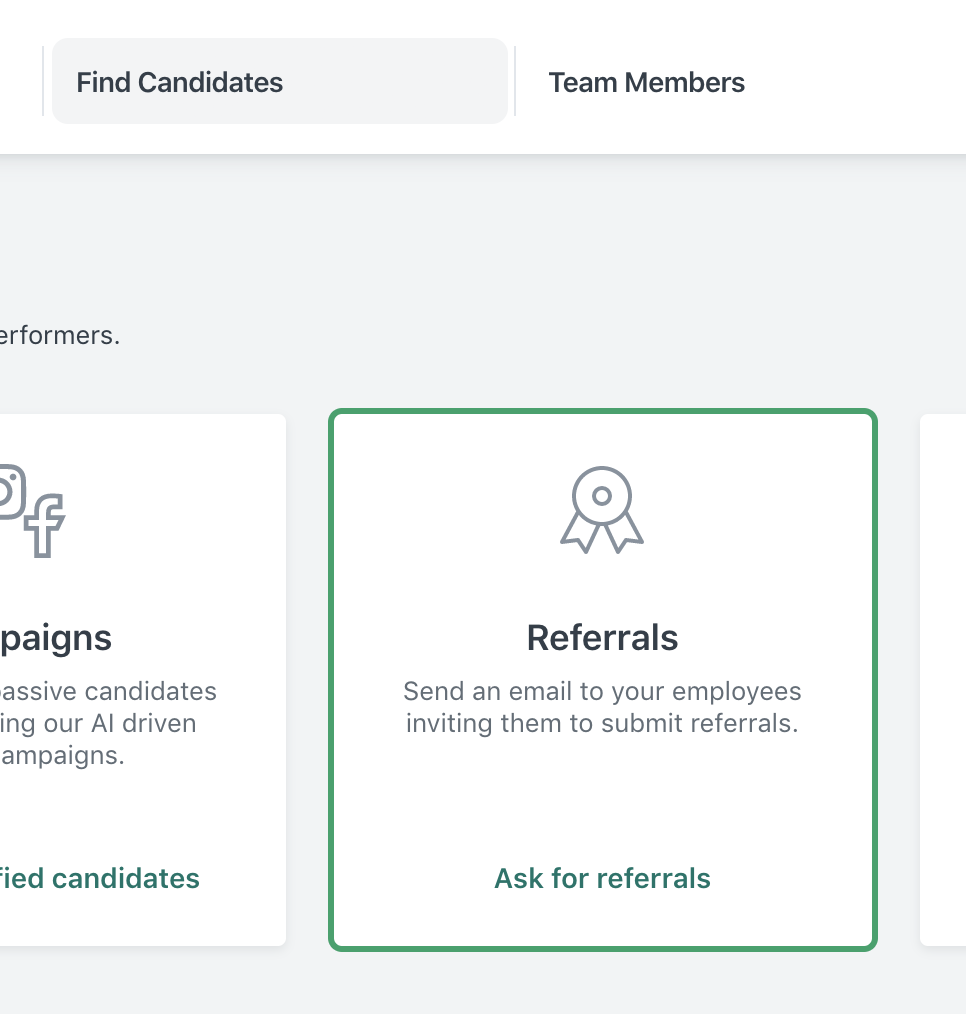 For more consistent benefits over time, consider creating a structured referrals program with the help of our Referrals portal. This allows employees to:
Implementing this will have a number of advantages including faster hiring times and reduced costs. Your colleagues can be a valuable source of candidates, especially in competitive fields. Studies have also shown that both referred candidates and employees who make successful referrals tend to stay longer.
In summary:
Ask existing employees to refer candidates from the Find Candidates section for a job
Consider creating a structured referrals program to reap multiple benefits over time
Using social media
Connecting with your company's existing audience by sharing open roles on social media can also be a good source of candidates. Your audience will already be familiar with your products, services and culture, making them ideal sources especially for a niche field. You can also encourage your colleagues to share open postings on their social media pages to further expand this reach as well.
Through this method, you can reach a wider audience including 'passive' candidates that might not be currently looking for a role. Additionally, this represents an opportunity to open a channel of interaction with potential candidates and can help to highlight the company's brand and culture.
Workable tracks candidate sources automatically to help measure conversions from social posts, giving you an additional layer of data and insights to optimise your company's hiring activities.
Post right to a social account from the Find Candidates section or send the job shortlink to coworkers for them to share.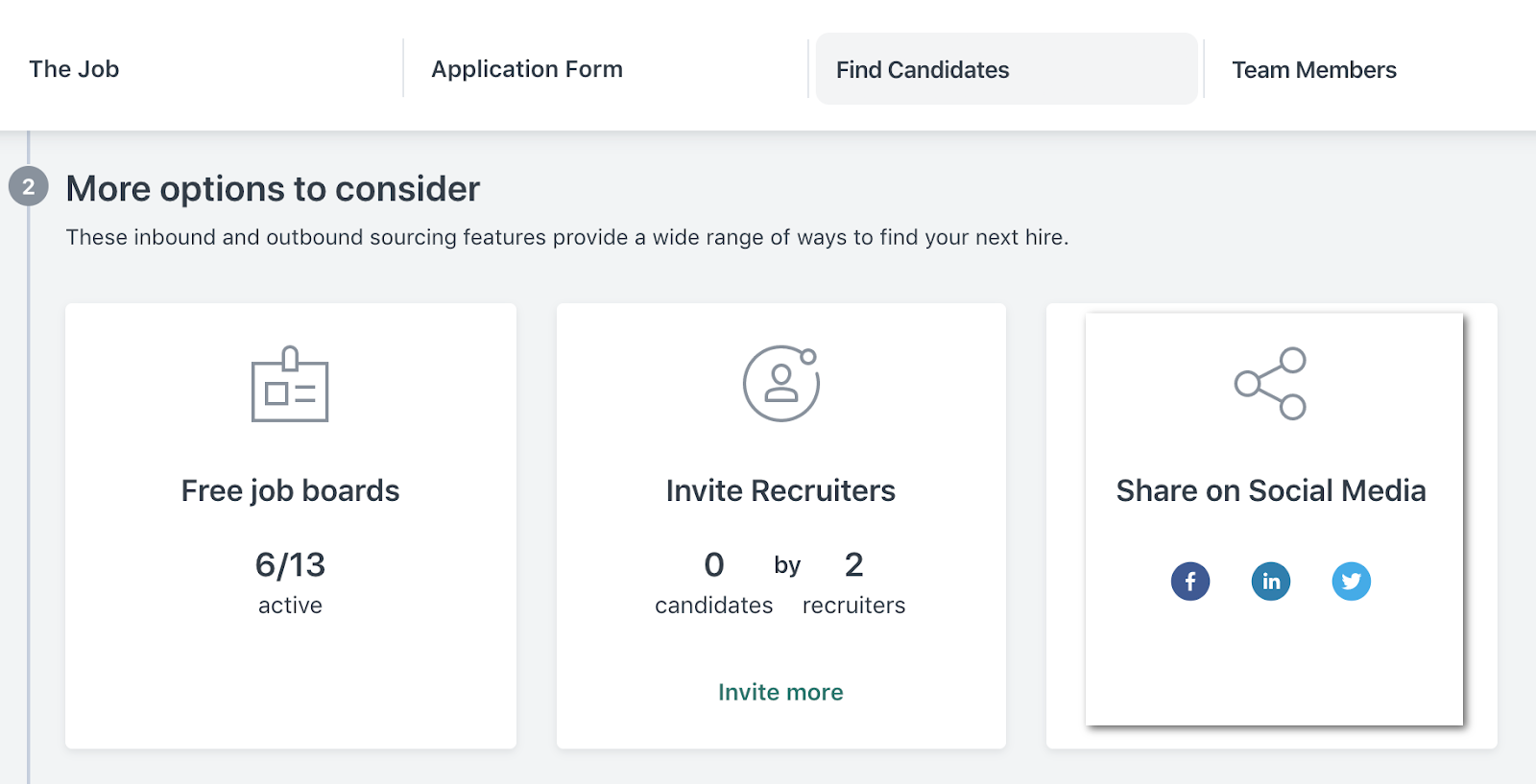 In summary:
Sharing jobs on social media is a quick and easy way to expand your reach
Encourage colleagues to share open positions to their own networks
Use tracking pixels to track conversion rates for additional insights
Leveraging existing candidates
If you've been posting jobs for some time and have built a robust database of candidates, every new role can be an opportunity to revisit more promising candidates that have previously applied. This method can be particularly effective if you've continued to keep in touch and nurtured a good relationship with your candidate base.
Resurface existing candidates by navigating to the Find Candidates tab in your job editor. Workable will search your database to find the 10 best existing candidates for the job; just add them to the new job and continue with your recruiting process.
If there aren't any resurfaced candidates you can run your own manual search. Click on the Candidates link or enter search terms at the top of any page in Workable to access the Candidate Database. From there, filters on the left of the screen will provide a handy way to quickly narrow down the list to candidates you would like to re-visit. You can also search using keywords that will be highlighted on the profiles that contain them.
As you review past candidates, consider using tags to highlight useful skills or attributes that candidates might have. This can shorten future searches and easily allow you to create shortlists of candidates across multiple roles for other jobs going forward. You might find that your next hire is already in the system, pre-screened, and ready to progress.
When reviewing a candidate, click the three dots to copy or move that candidate's profile to a specific job.
Use People Search and the AI Recruiter
Included as part of your Workable subscription, People Search functions as a search engine for candidates. It allows you to quickly find candidates based on your criteria, and easily add them to your account for further review or follow up.
Click on the People Search link from the top of any page in Workable to access this feature. The People Search page itself contains examples of terms and syntax that can be used to get started.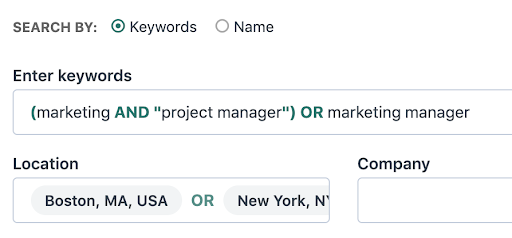 Any promising candidates can be quickly added to a job by clicking the green plus (+) button and following the prompts.
If you're unsure of what terms to use, the AI Recruiter takes the hassle out of determining search terms and reviewing results. Based on People Search technology, this feature will automatically find and generate a list of up to 50 candidates to add to a given job. Best of all, this process is seamless and does not require any user input. Candidates will be searched for behind the scenes, and you can decide whether or not the results should be added to the job.
This can be done by navigating to the Sourced stage of any job and following the prompts to add the results. These candidates are automatically tagged with "#suggested_by_workable" so you can easily differentiate those you've uploaded yourself from AI Recruiter results.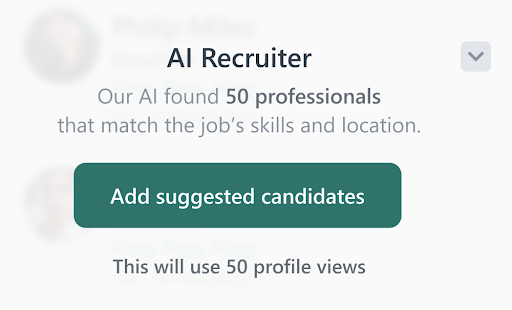 In summary:
Consider a premium / sponsored posting on specialist boards if relevant
Check-in with your colleagues and ask for referrals
Spread the word on social media
Resurface existing candidates in the database
Perform targeted searches for passive candidates via People Search or the AI Recruiter