Super Admins
All plans
Indeed is a popular job board and a major source of candidates. Workable has an integration to enable you to post your jobs on to Indeed easily. They pull them into their system about 4 times per day.


How can I get my Workable posts on Indeed?
Once the job is published, it is sent to Indeed automatically. Indeed's team conduct a short review to ensure that jobs meet their guidelines and ultimately determine what is eligible to be advertised on their site.
It is very important when you create your job post to follow the job board posting guidelines, so make sure that you check the 'do's and dont's' shown at the sidebar of the job editor. You can also rely on premade templates for your job description and requirements and edit them as needed.

If you wish to boost the job's visibility and sponsor the post on Indeed, you need to perform a one-time set up process to connect Indeed and Workable. Then, navigate to the Premium job boards from the Find Candidates section of the job and choose the budget you want to allocate for the post.
Important: To get the most out of your Indeed post, we recommend to double-check if your company already has an Indeed page and posts from there.
How do I find my job on Indeed?
Search for your job on Indeed by using this format in the Indeed job search bar:
company:"[your company name]"
For example, for a company called Stark Industries the search would be:
company:"Stark Industries"
You can add the location of the job as well.

What is Indeed's 'one-source' policy?
Indeed does not accept a job post from Workable if your company has previously posted on Indeed directly without using Workable. If you used to post on Indeed before using Workable, you need to contact their team and ask them to make Workable your primary posting source on their platform. By doing that you will ensure that your posts will not be marked as duplicates and lose visibility.
Based on their policy, Indeed can only help employers directly, so for any inquiry related to your jobs you need to reach out to them. Use the contact form here or log in to your Indeed account and click Need Help? at the top of the page. Provide them the below explanation to help them assist you promptly:
"I am a client of Workable, an Integrated ATS with Indeed, and my jobs are included in their comprehensive XML feed. I would like Workable to be my primary posting source. I need a CS rep to review my jobs to determine if they are suitable for organic visibility per Indeed's Quality Standards."


Can I post directly on Indeed and still get the candidates in Workable?
If you already have an Indeed account and you want to continue posting through there, you can still receive candidates in Workable.
1. Unpublish Workable's job post from Indeed
Visit the 'Free job boards' section from the Find Candidates tab and click on Unpublish Posting in the designated box to remove the post from Indeed.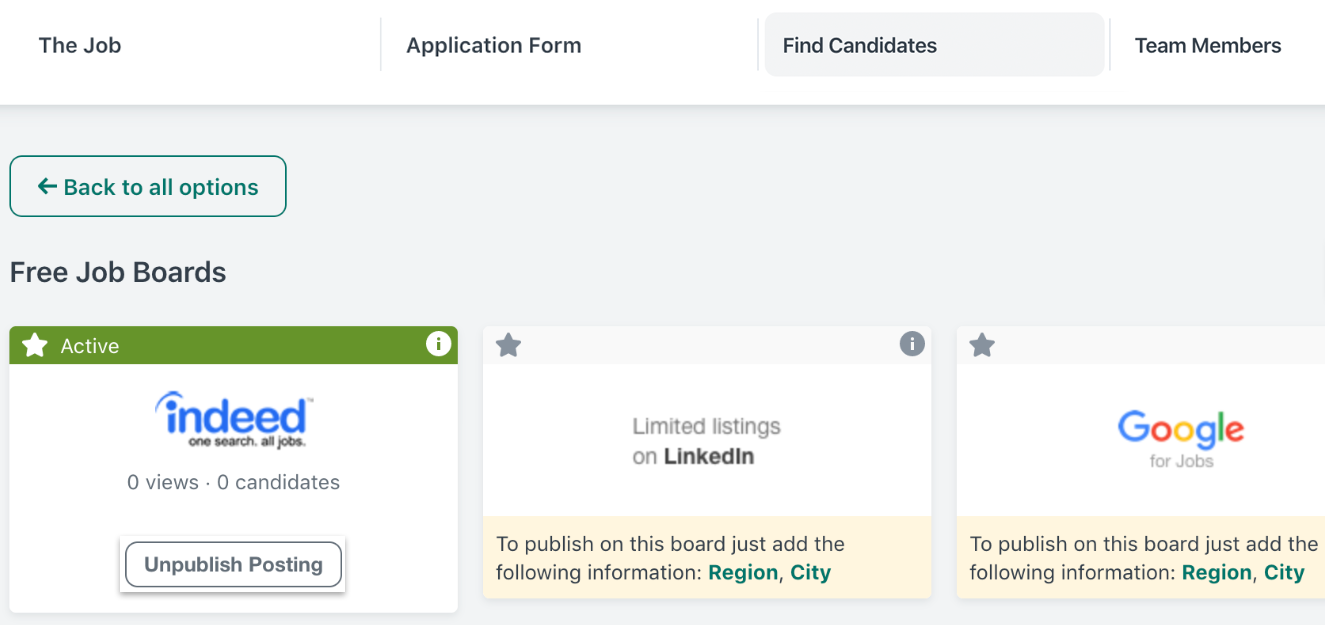 2. Use the job shortlink in your Indeed post
Navigate to the end of the same Find Candidates section and copy the job shortlink. Then, make your post on Indeed as you'd normally do from your account there, but make sure to include the job shortlink in your post.
Candidates who apply from there, will be available in the 'Applied' stage of that job's recruiting pipeline in Workable. The source of the candidates will still indicate that they came from Indeed.
Note: To use the job shortlink on Indeed you may need to request this feature to be turned on from Indeed's team. Candidates who apply from there use the Workable application form instead of Indeed apply.

Does Workable use apply with Indeed?
We automatically use 'apply with Indeed' as it helps your jobs get 12% more clicks and gain traction.
This has some differences from the Workable application, for example the cover letter and photo are always optional fields and there is a smaller file limit for a resume.
If you wish to have this removed, contact our Support team to help.