Is your company undergoing rebranding? Check the needed steps
here
. 
The subdomain is a part of the unique web address that is set automatically by Workable as soon as you create the account. It is the first part of the URL you see when signed in to Workable (usually your company's name): "https://[subdomain].workable.com"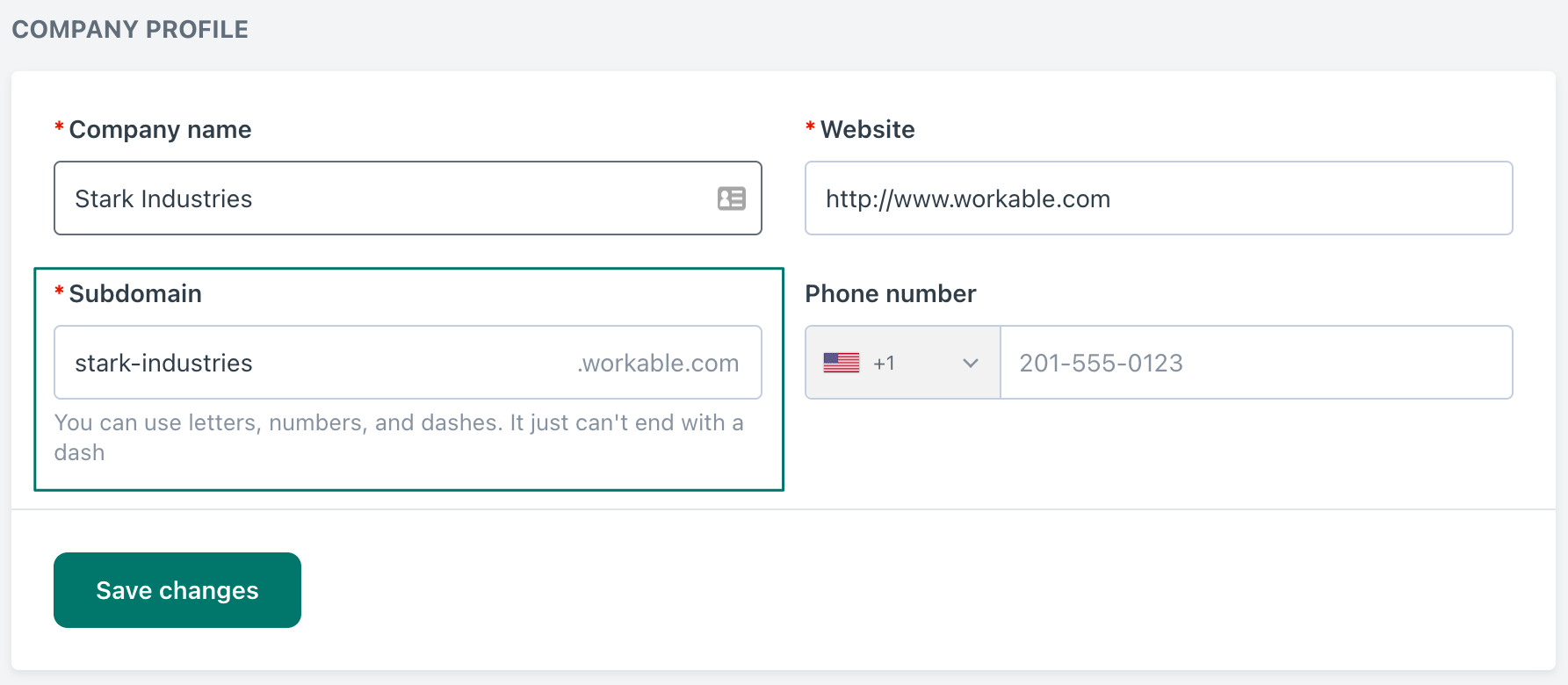 Updating the subdomain
The subdomain can be updated anytime by your account's Admin users in the Company Profile section of the main menu.
It's important to remember that if you decide to rename your subdomain, you are actually changing the address of your Workable Careers page and, consequently, the URLs of your Workable job pages, application forms, and the privacy notice (if you are using our standard version hosted by Workable).
After the change, the following aspects will be affected:
Workable will update the application links for all your job postings published on job boards (free and premium). Any direct links to your job that have been manually shared will not be updated. Links that use the previous subdomain will no longer be valid, and the visitors will be redirected to a page with the 404 error message "This page does not exist".
The integrations that require your Workable subdomain for the setup - including custom integrations - will stop working:

For every integration enabled in Workable, you will need to re-enter the subdomain to establish a new connection in the Integrations > Apps section of the main menu.
For custom integrations, contact your Account Manager for further assistance.

If you are using Workable API to fetch or send data in your account, make sure to update the subdomain you are pointing to so the API call doesn't fail.
Errors when changing the subdomain
The subdomain is not in the right format. Make sure the characters you use are all lowercase with no spaces.
Your subdomain is already taken. Contact us for further assistance. 
You can't change your subdomain when using Single sign-on (SSO). The subdomain is part of the SSO setup, so you will need to contact your Account Manager or success specialist to coordinate the process.