Note: If you have a LinkedIn Recruiter account, connect it to Workable to use Recruiter job slots to promote your jobs on LinkedIn.
If you've created a premium LinkedIn post directly through LinkedIn, you can have candidates that apply routed into Workable.
Create a job on LinkedIn and purchase a pay per click budget
Edit the post on LinkedIn and locate the "How would you like to receive your applicants?" menu
In that section, choose the second option "Direct applicants to an external site to apply" and you'll be prompted to supply a URL
Use the Workable job shortlink as the URL, found in the job editor under the Find Candidates tab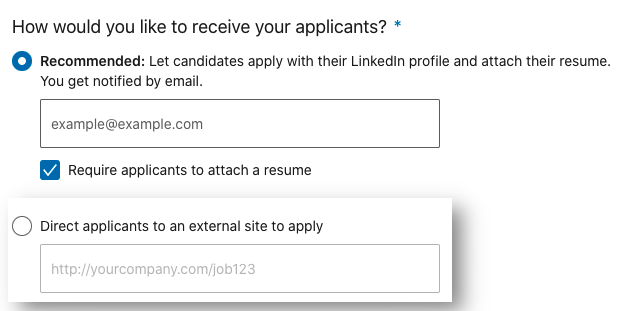 As soon as this setup is ready, candidates who click to apply on LinkedIn will be redirected to the Workable job page to submit their application or will be prompted to apply on LinkedIn via Easy Apply. The applications will appear in Workable as normal with source tracking for LinkedIn.
For all existing candidates, you can download them from LinkedIn and bulk upload them into Workable. The system will parse their profiles, extract their name, headline and email, and find links to their social media profiles.