Super Admins
Growth, Premier
Click on the user icon in the upper right of Workable and navigate to Settings, then Referrals to manage Advanced Referrals users. You'll find options to invite users and can see a list of everyone who has joined the Referrals portal. This is also where you can deactivate users to remove them from the portal.
These users may or may not have access to your main Workable account. Users must be added in the Account Members section of Workable to have access to your main Workable account. They can be added to both "Account Members" and "Referrals", or just one or the other. The invitations are mutually exclusive.
To add users in your Referrals portal:
Click Invite new members
Enter email addresses for invitees in the field that appears, separating each address with either a space or comma
You can invite users with any email domain (e.g. @gmail.com, @company2.com, etc.)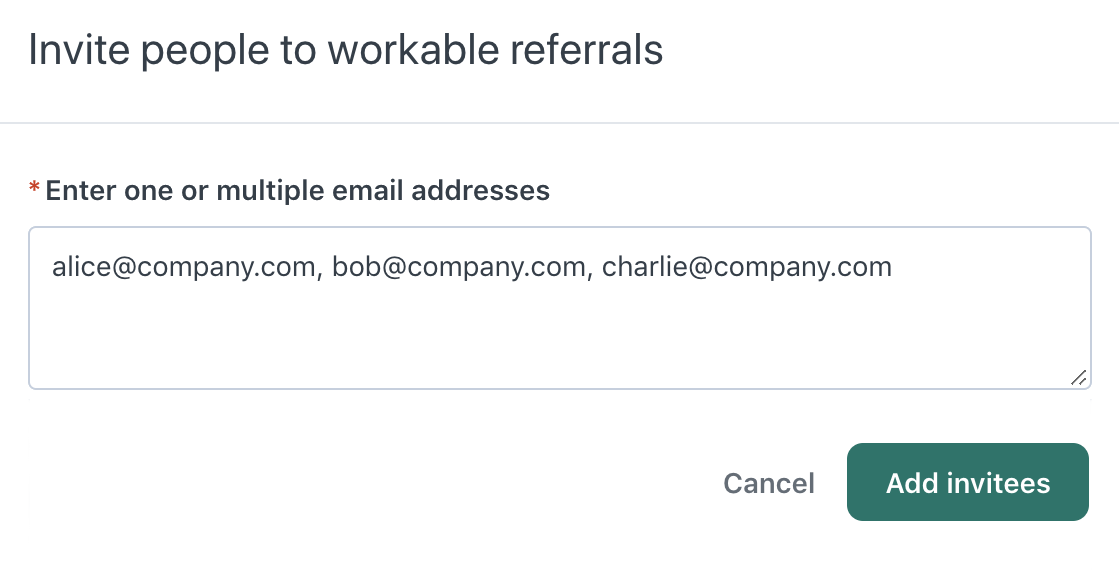 Complete the process by clicking Add invitees and giving a final confirmation to send out invites
Invitees will receive an email with a button they can click to join the Referrals portal
On the same Referrals page you'll find the direct link to your portal. It will look like:
https://[subdomain].workable.com/referrals
Invited coworkers can go to that link any time to access the portal, or they can use the links in email notifications they'll receive.
To remove a coworker from Referrals:
Search for them in list of Referrals users
Hover on their entry
Click Deactivate
Deactivated users are still credited as the source for the candidate.