Rippling offers all-in-one HR services including app provisioning and hardware/software setup for new employees. Connect Workable and Rippling to export candidates that you're hiring from Workable to Rippling. The candidate's name and email will be sent from Workable to Rippling.
Setting up the integration
You must be an admin in Workable to set up this integration.
To start, sign in to your Rippling account:
In Rippling, navigate to the main dashboard
Locate the App Directory section and search for "Workable"
Workable will appear in the search results, click on it
Choose the option to connect an existing account (choose 'new account' if you don't have a Workable account yet)
Enter your Workable subdomain in the field that appears. The subdomain is the first part of your Workable account's URL: subdomain.workable.com
Next, a pop-up will appear and prompt you to sign in to Workable. Sign in and confirm the connection with Rippling
That's it! Workable and Rippling are now connected.
Adding a Workable candidate to Rippling
Rippling admins can manage which Rippling users are able to import candidates under the user settings.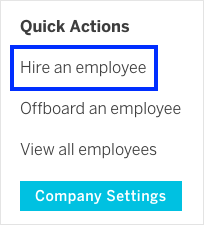 To import a Workable candidate click the "Hire a new employee" option on the Rippling dashboard, then select "Pick someone from my ATS".
A search box will appear where you can look up the candidate. Search for the candidate and select the result to add them to Rippling. Candidates can be added to Rippling regardless of which step of your Workable hiring process they are in.