If you are unable to successfully promote a job using the LinkedIn Recruiter integration, follow these steps:
You must have access to a LinkedIn Recruiter account. The integration is not available for Recruiter Lite accounts. If you do not have Recruiter access, a Workable user who does have access must be the one to publish via the job slots
Check that you're connected to LinkedIn on Workable's 'Your profile' settings page
Verify that the Contract ID saved in Workable under Settings > Integrations > LinkedIn is correct. Compare the Contract ID in Workable to the one in your Recruiter account under your user icon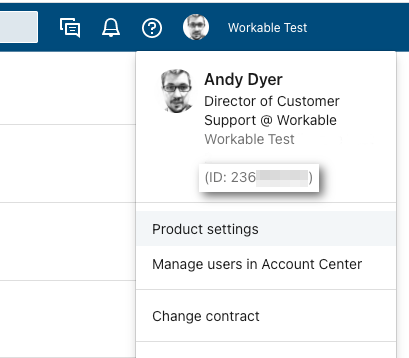 In Recruiter, confirm that you have job slots available to use. If not, you will need to free up a job slot
Add Workable as a job posting partner in Recruiter. In Recruiter, go to admin settings and then the Jobs page. Save Workable as a partner and yourself as a poster.
The job poster added in the below field should be an active seat holder (preferably an admin and active recruiter on LinkedIn). If the person you are trying to select is not coming up, they are likely not a seat holder.
Note: If the default poster leaves your company you will need to complete this step again and add an active seat holder as the job poster.