The no-reply sender option is available only when using automated actions to send emails. This is best for "thank you" or "disqualification" automation templates. When you create an automation and you select the "no reply" option (under the user placeholder), the following will apply to the email that is sent:
Shows your company as the sender
Sent from a generic "no reply" email address generated by Workable
If candidates do reply they are automatically notified that replies are not seen by anyone
It is not possible to access replies
The sender will still become a follower of the candidate even for no-reply emails.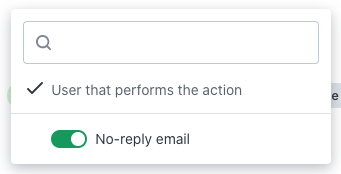 Notes:
No-reply automations cannot be set up for text messages.
No-reply emails will be sent normally to anonymized candidates, with their body obfuscated on the timeline and activity stream.