Want to try out a feature before using it with actual candidates? Learn the best methods to privately experiment with the tools in Workable.
Most features offer a preview option. For example, you'll be able to review application forms, offer letters, video interviews and more before sending anything to a candidate. Additionally, Workable will always make it clear when you are about to send something off to a candidate or make a job public.
To test drive a feature if you don't have any candidates or aren't ready to publish a job, check out these tips.
There's a lot to see, but we recommend trying out the following:
Did you know?
If you're looking to see what else Workable offers beyond the features on a trial account, don't hesitate to contact us for a demo.
Create an internal job
You can set up a job without ever making it public. Internal jobs are used to source, refer or upload candidates before publishing.
Click the Create a new job button on the main dashboard to start
Explore the tabs to build the job and workflow
When you're ready, instead of clicking the Publish button, select the dropdown arrow just to the right of it and pick Use Internally

The job will be activated and will appear on the main dashboard where you can upload candidates and try out more features. Edit the internal job any time by clicking the three dots on the main dashboard.
Add a candidate profile
Next you'll want to add a candidate profile. This could be a real resume or a "fake" candidate.
From the main dashboard click on the Applied stage for the job
Select Add candidates in the upper right
Choose Enter details manually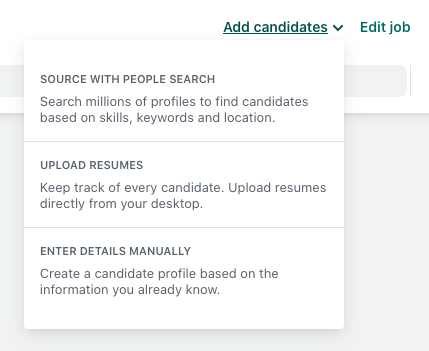 The only requirements to add a candidate manually are a first and last name. However, we recommend including an email address too, so you can get the most out of your tests.
You can use your own email address to add yourself as a test candidate.
Experiment
Move the candidate through the pipeline, schedule events, send email or offers and try out all the feedback and interaction options. Integrating your Gmail or Outlook account enables extra features.
Our video library has short guides to help you out. If you're on a trial, reach out to us for a demo to see Workable's full potential.
Data clean up
When you're done trying things out, simply delete the job or the test candidate. Deleting the job will also delete any candidates added to that job.
This will remove all record and reporting from your account, so there's no need to worry about any tests impacting your reports and KPIs long term.
To delete the job, archive it by clicking the three dots on the main dashboard. Locate the job at the bottom of the dashboard and click Delete. This will also delete any candidates in the job.
To just delete the candidate, open their profile, select the three dots and choose the option to delete.