With certain plans, more department management options are available.
Along with creating sub-departments and segmenting feature usage by department, you can:
Set career page hierarchy visibility
Set department selection options during job creation
Manage career page hierarchy visibility
Set the level at which candidates will be able to see department details.
Consider this example: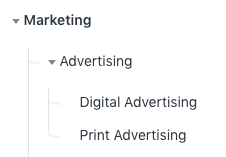 With this structure, you could categorize a job internally for the Digital Advertising team, but for your careers page you may only want to show "Marketing" as the candidate-facing department name.
On the Departments page, set the level of visibility you want candidates to have. By default all sub-departments are hidden so candidates will only see the top-level department name.
Grant visibility down through sub-departments, level-by-level. In the example above, allowing visibility to the next level would show the Advertising department on the careers page. Candidates would be able to sort and filter for that department.
Note: The embedded widget will always show the top level department. Candidates will see other visible department layers when they click on the job to read the description and apply.
Manage department selection for job creation
Set the department levels that should be selectable when creating a job or requisition. You may have (for example) a top-level department for reporting and segmenting purposes, but you want to make sure coworkers choose a more specific sub-department any time they create a job.
You can restrict which level of department is selectable to help job/req creators avoid mistakes. Do this in the Departments settings under the Department Selection section. Filtering and reporting options will not be impacted.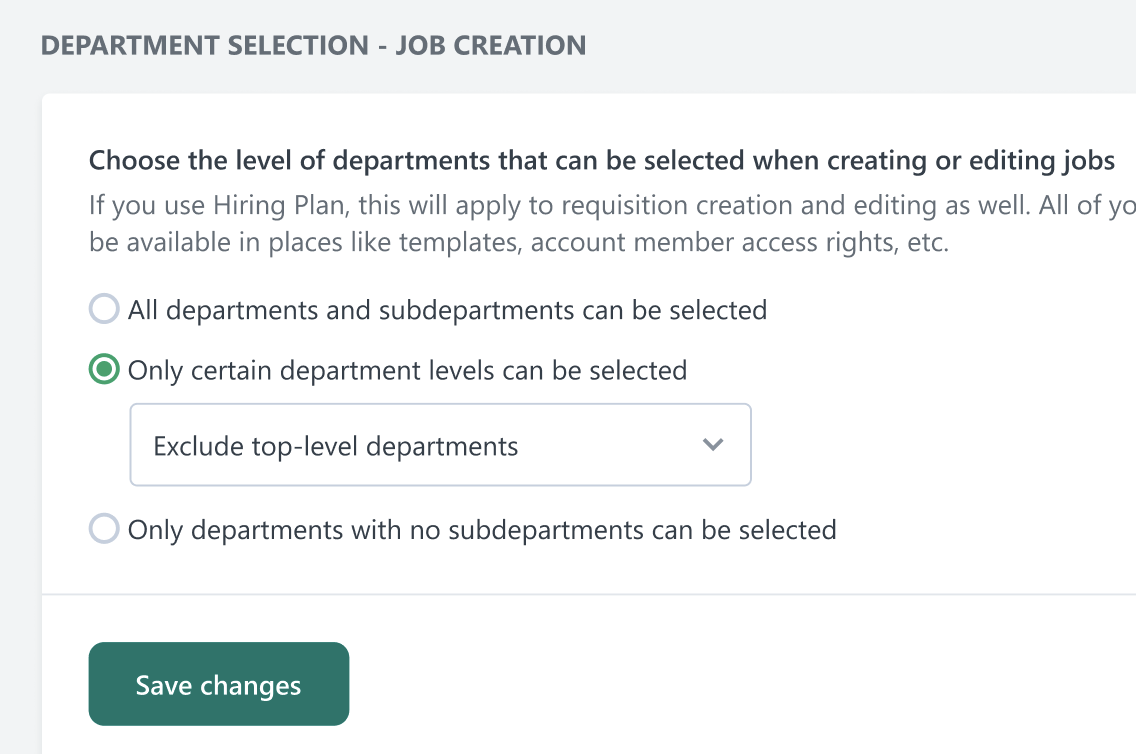 Allow job creators to choose:
Any department or sub-department
A certain level of department (including its sub-departments)
Only departments that don't have sub-departments (the lowest level available for a given hierarchy)