All users on your account can access the Talent Pool by default. This means that:
Account members can access the Talent Pool to upload, refer and interact with candidates.
Account members have access to data in the Talent Pool; every candidate profile and comments made by other users.
To make certain comments confidential, adjust the comment visibility to 'hiring managers' only. Non-admin users will not be able to view these comments.
External Recruiters can access the Talent Pool, but will only ever see the candidates they have uploaded and not applied candidates or candidates that you and your team have sourced.

Restricting access to the Talent Pool
Hide the Talent Pool from the majority of your account members, restricting its access to Super Admins only.
Visit the profile icon menu and navigate to Settings > Privacy. Flip the switch to ON in the Talent Pool Visibility section and click on Save changes.


Enabling speculative applications
When candidates have taken the time to visit your careers page it's likely that they intend to apply, but they might not find an open position that's a good fit. To make the most of this and stay in touch with those most enthusiastic about your organization, enable speculative applications on your account.
Depending on your Careers Page version there are two ways to enable speculative applications:
Basic Careers Page: Click your profile icon in the upper right of Workable and select Settings and navigate to Careers Page. Towards the end of the Career Page section, set the Talent Pool invitation switch to ON.
Advanced Careers Page: Click your profile icon in the upper right of Workable and select Settings and navigate to Careers Page. Access the careers page builder and locate the Jobs section on the page. Edit the Jobs section and enable the switch for talent pool applications.
The prompt text will be visible in your Workable hosted careers page. You can edit it to suit your company profile. Make sure to include the 'account mailbox' placeholder by clicking the [+] icon at the top left of the text box. The placeholder will show the email address to which candidates should send their resume.
Once done, scroll all the way at the bottom of the page and click Save changes You can see how it looks by clicking the link at the bottom right side of the page.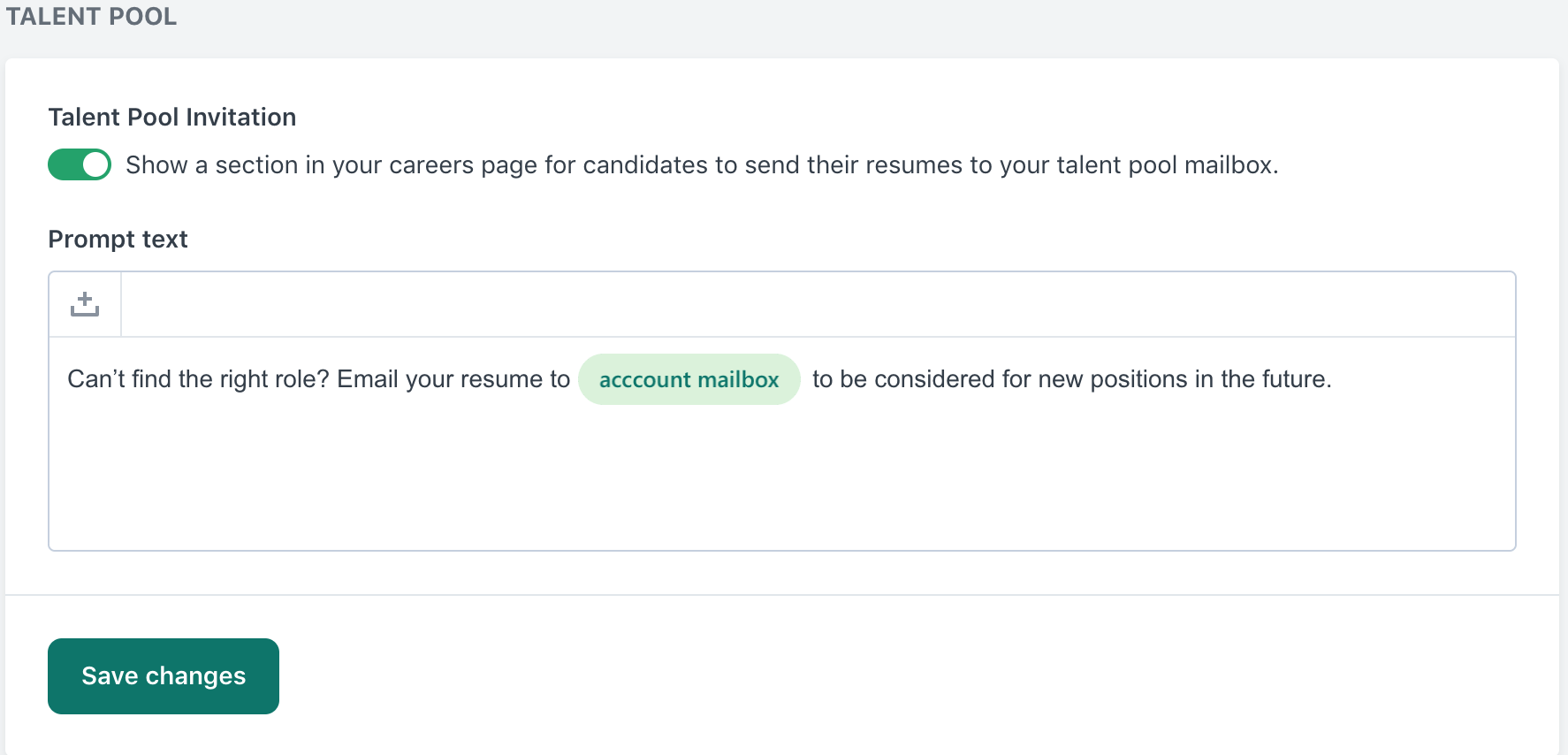 The mailbox address is based on your own subdomain: [subdomain]@jobs.workablemail.com. If needed, the subdomain can be modified in the Company Profile section of Workable.
If you host your careers page on your own website, simply include your account mailbox address with information on how the candidate can apply.